Trailer Tunes: David Bowie And Queen In "Arthur"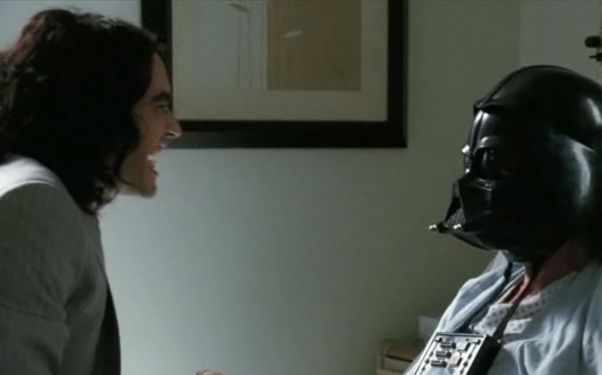 Posted by Brandon Kim on
The Russell Brand remake of Dudley Moore's classic 80's comedy, "Arthur," has seemed like a bad idea from the start. Too many writers, too many revisions, bringing too little that's new to an original film that is already great and should be left well enough alone. I mean, who sees these pictures? Well apparently people do, and admittedly this first trailer for director Jason Winer's 2011 version has some moments to it.
It starts off lively with David Bowie helping the character intros along with a little "Rebel Rebel." We see Russell Brand, looking a bit off as Arthur, but Helen Mirren's Hobson (played originally by the magnificent John Gielgud who an Oscar for his performance) is compelling. Jennifer Garner seems like the perfect woman to be cast in the role of a rich brat no one would want to marry, and Luis Guzmán looks like he could be amusing as Arthur's driver and playmate. And hey, watching Nick Nolte grab someone by the crotch is always a good time.
But then the tired 70's chart topper "All Right Now," takes over and it becomes clear that, unlike the original trailer, there aren't many laughs. Granted, the original was mostly just Dudley Moore laughing, but it was funny, with gratuitous laughter explained in Moore's slurred British accent, "Oh, sometimes I just think funny things!" And it was absolutely liquor soaked, something that is conspicuously missing in this tale of a drunken playboy who must ultimately (sort of) choose between wealth or love.
I love me some David Bowie, and Queen too, so "Under Pressure," the track they wrote together in 1981 that finishes the trailer off, is a hit in my book. But it plays out here like the literal interpretation of some lame producer's notes: Here we'll show everything's going to be all right now, but then he's under pressure again. I do believe this trailer just put "Under Pressure" over it's limit of mindless overuse in film and TV.
There is no sign of any film score here, perhaps they are just going to re-use Burt Bacharach's from the original and are waiting to break some updated version out later. I've heard a rumor that the famous Christopher Cross song, "Arthur's Theme Best That You Can Do," will be making a special cameo appearance, but there is still no hint of it here.