Today's Time Suck: "Desktop Dungeons"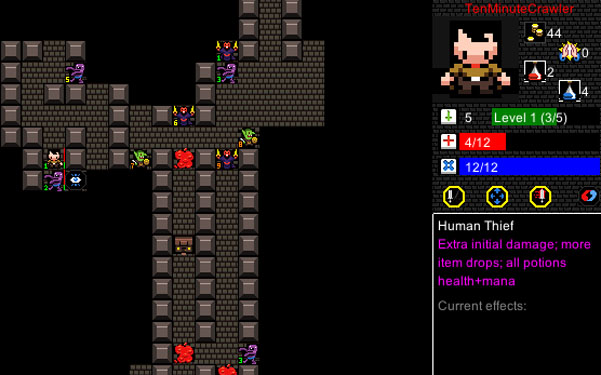 Posted by Chris Plante on
The roguelike is arguably the most merciless and time-devoruing genre in video games. Like a traditional role-playing game, the roguelike player navigates dungeons, collecting necessary items and earning skill points. However in roguelikes, dungeons are randomized and death is permanent. If your character dies, then all progress – the skill points, the weapons, the items, everything – is lost. "Desktop Dungeons," a freeware game now available on PC and Mac, is a roguelike for the impatient gamer.
The game boils the roguelike grind into a dense 10-minute session. Pick a race, pick a class, and then click across a monster-filled dungeon. Battles are fought by tapping enemies. If they have a higher skill number than your character, they're more likely to win the scuffle.
They win, you die, and the game start's all over.
Success is achieved by finding an order to the randomized dungeon map. Who do you kill and what potions do you use when? Deduce the answer and you might defeat the boss. Most sessions end in death, so while a level can be beat in a lunch break, it probably won't be – especially if you're new to the genre.
"Desktop Dungeons" is a game to keep your eye on. It's already made a splash amongst gaming news outlets. First, for a clone that was released on iPhone, then quickly pulled by Apple. And second, for its recent Seumas McNally Grand Prize nomination at the 2011 Independent Games Festival.
Here's hoping we see an official mobile port soon along with future creative endeavors from developer QCF Design.