To Review Early Or Not, in Theater and Film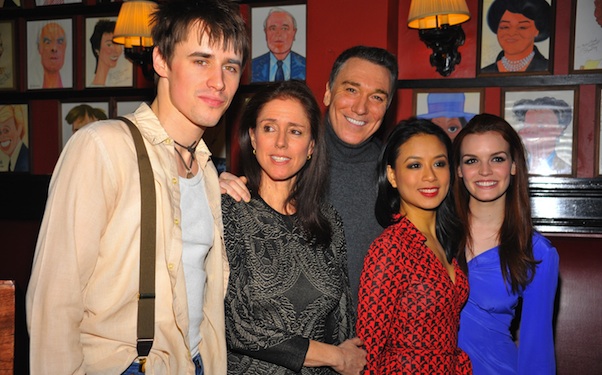 Posted by Matt Singer on
In theater, the show must go on. But the previews typically stop at some point. For "Spider-Man: Turn off the Dark" — a.k.a. "Spider-Man: The Musical," a.k.a. "Spider-Man: In Retrospect, Maybe We Should Have Used Safety Nets" — that point has come and gone at least three times already. A December 21 opening became a January 11 opening became a February 7 opening became a March 15 opening. Producers claim this will be final opening date. Uh huh. People used to claim bloodletting was a cure for pneumonia, too.
Speaking of bloodletting, many theater critics decided enough was enough with the delays and published their "Spider-Man" reviews last night in conjunction with the most recent missed opening. This, in turn, prompted public frustration from the show's producing team. Associated Press quotes Rick Miramontez, a Spider-(spokes)Man saying:
"This pile-on by the critics is a huge disappointment… changes are still being made and any review that runs before the show is frozen is totally invalid."
Invalidating negative reviews is like a publicists super-power. Miramontez is referring to the fact that during preview performances, Broadway shows are still considered works in progress; director Julie Taymor and composers Bono and The Edge are still tinkering with "Spider-Man"'s book and music and testing its complicated aerial effects. So if you saw "Spider-Man" on December 20 it could look very different than it will on March 15 — and not just because someone almost fell to their death that night. As a result, it's customary in the world of theater criticism to review a show during its final previews and then publish on the day of opening. In this case, though, several critics — including The New York Times' Ben Brantley and New York's Scott Brown — decided to publish early. Here was Brantley's stated rationale:
"I would like to acknowledge here that 'Spider-Man' doesn't officially open until March 15; at least that's the last date I heard. But since this show was looking as if it might settle into being an unending work in progress — with Ms. Taymor playing Michelangelo to her notion of a Sistine Chapel on Broadway — my editors and I decided I might as well check out 'Spider-Man' around Monday, the night it was supposed to have opened before its latest postponement."
We already established the producers' argument: we're still working on this show, it's unfair to judge it yet. But as critics have correctly pointed out, it may also be unfair to charge customers full price for an unfinished work. Plus, the producers have a clear financial incentive to stay in previews for as long as humanly possible. As "Spider-Man" continued one the longest preview periods in Broadway history, people continued to pay up to $275 a ticket to watch the Actors' Equity Demolition Derby. A few weeks ago, "Spider-Man" was the highest grossing show in New York. More previews means putting off the inevitable reviews (and the inevitably bad reviews) which means more uninformed theatergoers and more money. Plus, for a show this plagued with problems, a preview — with its promise of technical snafus and flubs — is almost more enticing than a real performance. If something goes wrong, you get to say you were there when it did.
Theater critics' tradition of reviewing a show on its official opening makes a certain amount of sense from a historical perspective. But it also makes little to no sense in a time when social media has given every potential "Spider-Man" audience member a voice with which to critique the show. As old media sat on their hands, regular theatergoers stole their thunder. And, hey "Spider-Man" producers broke with tradition, too. After all, it's not traditional to spend four months on Broadway in previews.
The folks who made "Spider-Man" might be pissed off, but the reality of the theater world is reviews do matter, in a way they rarely do in film anymore. A good theater review in The New York Times can still make or break a musical in a way that a good film review in The New York Times can't in 99% of circumstances. So it's hard to imagine Ben Brantley being "punished" for publishing an early review. Broadway still needs its critics.
Film doesn't. These days film publicists routinely give critics "embargo" dates, which a writer breaks at their own peril. Publishing early can get you kicked off press invite lists and cost you your access to talent for interviews. Some press screening invitations now come with warnings not to post any comments, no matter how informal, on Facebook or Twitter as well. It's hard not to derive a "you-need-us-way-more-than-we-need-you" sort of message from all of that. And it's probably true, too.
Given the fact that the "Spider-Man" producers are just "upset" and not "furious over a broken embargo," I'm going to assume Brantley and the rest paid for their "Turn off the Dark" tickets like any other curious New Yorker. In which case, tradition be damned. You pay your money, you're entitled to an opinion, and if you have an outlet for that opening, more power to you. Despite the bad reviews, the show will go on. Break a leg, guys.
Wait, on second though, don't. Be extremely, extremely careful.