A Spirited Q & A With "Restrepo" Co-Directors Tim Hetherington and Sebastian Junger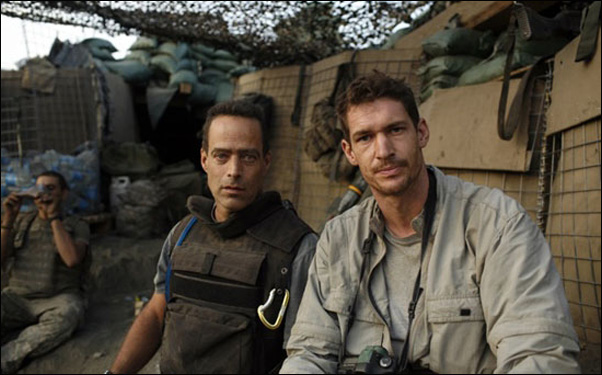 Posted by Matt Singer on
As a way of celebrating this year's nominees for the Spirit Awards in the weeks leading up to the ceremony, we reached out to as many as we could in an effort to better understand what went into their films, what they've gotten out of the experience, and where they've found their inspiration, both in regards to their work and other works of art that might've inspired them from the past year. Their answers will be published on a daily basis throughout February.
How far would you go for a work of art? Directors Tim Hetherington and Sebastian Junger went all the way to a remote part of Afghanistan to bring us their powerful documentary "Restrepo." And when they got there, all they did was spend ten months in the middle of some of the most intense fighting in the war. When they were shot at, when they were blown up by a roadside bomb, they didn't flinch. Even more impressively, they kept the cameras rolling.
This seems like an astonishing sacrifice, but I imagine Hetherington and Junger don't look at it that way. They would probably argue that they made no sacrifice greater than that of their subjects, the men of U.S. Outpost Restrepo, and they who don't view what they're doing as a sacrifice either. For the soldiers stationed at Restrepo, a tiny 15-man encampment on top of a hill in the middle of intimidating Korengal Valley, their work in Afghanistan is exactly that: a job. A dangerous job, but a job nonetheless.
Hetherington and Junger's film makes no attempt to justify or contextualize the activities at Restrepo, when you're in taking fire and mortars, justification and context don't matter very much. Their approach brings the War in Afghanistan into terrifying clarity for those of us fortunate enough to previously know it only as a talking point on news programs.
"Restrepo" makes us reconsider not only the war in Afghanistan, but movie violence in general. It's hard to look at gunfights onscreen the same way after you've seen it. In fiction movies, we never see bullets, just muzzle flashes and men falling over. Most times, there isn't even any blood. "Restrepo" shows us the reality: when you are in a firefight, you can actually see bullets flying at you, red hot lead slicing through the sky like flying razors. I will never forget that image as long as I live.
I think it's telling that Hetherington and Junger answered our Spirit Awards questionnaire in a single voice, as their film was clearly a very successful collaboration between two dedicated artists and journalists. The film is about collaboration, too; fifteen or so men defending this untenable outpost against an endless barrage of enemy fire. What you take away from "Restrepo" aren't the things they accomplished; but they tireless effort they made trying to accomplish them. That goes for Hetherington and Junger too.
Why did you want to make this film?
We felt that – amidst all the political discord about the war – very few people back home understood what the actual soldiers themselves go through. We wanted to make a film that communicated that in as immersive and powerful a way as possible. As journalists we have very strong feelings about the war, but we hoped that a neutral film would allow people across the political spectrum to connect with the topic. It's not hard – or original – to create a film that condemns war; any realistic film will do that well enough. The problem with that approach, however, is that you wind up preaching to the converted and alienating everyone else. We wanted our film to impact everyone in the country. The war itself doesn't seem to be doing that; but maybe our film could.
What was the best piece of advice you received that applied to the making of this film?
Do not, under and circumstances, cede editorial control of the film to anyone else. We had to walk away from a deal and independently finance the film – a terrifying move at the height of the recession – in order to retain full control. But it was worth it.
What was the toughest thing to overcome, whether it applies to a particular scene or the film as a whole?
We spent a total of ten months, between the two of us, filming in the Korengal valley. Frankly, all of it was tough. We did not have a "film crew" or any outside support; we each carried a video camera and shot this film with whatever equipment we could carry on our backs – along with all the gear we needed to survive in that environment. Restrepo was a two hour walk up a steep mountain at 5000 feet. Physically, shooting this film was one of the hardest things I've ever done. And emotionally it was even harder. We got very close to those guys, and the retrospective interviews we did in Italy were absolutely gut-wrenching. Every soldier spent much of those interviews struggling not to cry. What the camera does not show is the filmmakers struggling with those same overwhelming emotions. It was extremely hard on everyone involved.
What's been the most memorable moment while you've traveled with the film, either at a festival or otherwise?
Over and over again we have heard that the soldiers themselves can't speak very easily about their experiences, so their wives and families are never able to understand this thing that has effected their men so profoundly. So at screenings, we would often hear from the wife or mother of a soldier that they FINALLY understand this strange world called 'combat.' It was as if they were able to peek through a keyhole into this very male world that they otherwise could never enter. Those encounters were always very moving and meaningful.
What's your favorite thing about your film that's been largely uncommented upon?
The embed program, which places journalists with frontline combat units, is often looked at very skeptically by the general public. In fact, we exploited that program to shoot footage that is almost never seen in this country. Our movie contains scenes of Afghan civilian casualties, of a dead American soldier, of soldiers scared or sobbing in grief or openly celebrating the killing of an enemy fighter. To their credit, the US military never tried to impede us from shooting or disseminating these images in any way. As journalists, we feel that it is extremely important that the American public have access to this information. But we are not sure that people understand how incredible it is that we were given the open access that we were to this particular platoon.
What's been the most gratifying thing to come out of this film for you personally?
As journalists, we are not accustomed to forming an emotional bond with our subjects. We were able to retain a healthy political neutrality in the film, but on a personal level, the experience of getting so close to the men in the platoon was a profound one. It affected us in many ways, emotionally. Neither of us will ever be the same again, I think.
What's been your favorite film, book or album from the past year?
Tim Hetherington's favorite was 'Carlos' by Olivier Assayas. Sebastian Junger's favorite was 'A Prophet' by Jacques Audiard.
"Restrepo" is now available on DVD, Blu-ray, iTunes and Netflix Instant, among other services. The Spirit Awards will air on IFC on February 26th.