The Precise Number of Groundhog Days in "Groundhog Day"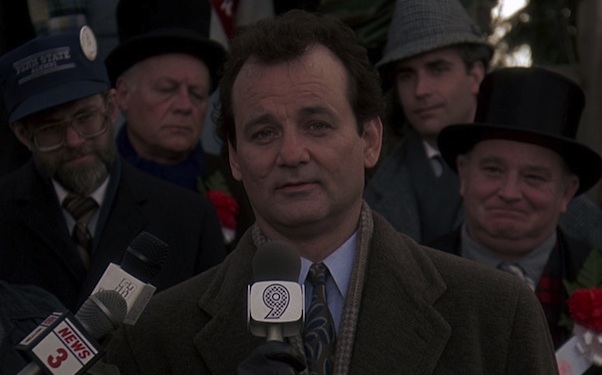 Posted by Matt Singer on
Kudos to Simon Gallagher over on Obsessed With Film. In honor of Groundhog Day last week — when Punxsutawney Phil predicted an early spring (so we got that going for us [and, yes, I am mixing my Bill Murray movie references]) — Gallagher pinpointed the exact number of Groundhog Days Murray's Phil Connors endures in "Groundhog Day:" 12,403 days. That's 33 years and 358 days, well above director Harold Ramis' original on-record guess of about ten years, but right in the range he later gave after further consideration, which was between 30 and 40 years.
Gallagher arrived at that total by adding up every day we see Phil endure, plus any day he specifically mentions but we don't see (he claims he's been "stabbed, shot, poisoned, frozen, hung, electrocuted, and burned," but we only see the electrocution, so tack on six more days). It must be noted that Gallagher's precise number actually involves a bit of conjecture as he had to estimate, with what seems to be a fair amount of deductive reasoning, how long it would take Phil to learn the skills he displays by his final Groundhog Day. For example, on guessing how long would take someone to self-teach themselves to sculpt ice:
"Malcolm Gladwell has stated that it takes anyone 10,000 hours to become an expert at any one subject, and Phil is clealy an expert ice sculptor, since the ice sculpture is the one thing in 'Groundhog Day' that is entirely quantifiable by what we can see on screen (playing one song well does not make anyone an expert pianist, and speaking one French poem perfectly likewise is not an indicator of expertise). Broken down that is an hour a day for 27 years, but we know Phil by now, and we know that when he figures out that something gets him closer to fourth base with Rita, he's likely to pursue it a little more rabidly than that. So I'm suggesting an average of 4 hours per day – based also on his willingness to stick to 4 or 5 hours of card flicking for six solid months, and the impending threat of frost bite over longer periods – which brings that to just under 7 years, based on him working for consecutive days for that whole time, or more likely 10 years sticking to a traditional 5 day a week working directive."
Do check out the whole piece to enjoy just how thorough a job it does of running through Phil's endless wanderings through Punxsutawney. Plus the fact that Gallagher must have surely had to endure a "Groundhog Day"-esque repetition of "Groundhog Day" viewings to correctly measure the number of days only makes his piece more entertaining.
Also: did you know it's Groundhog Day and not Groundhog's Day? Cause it is.
[H/T Movie City News]