The Official Poster for James Gunn's "Super"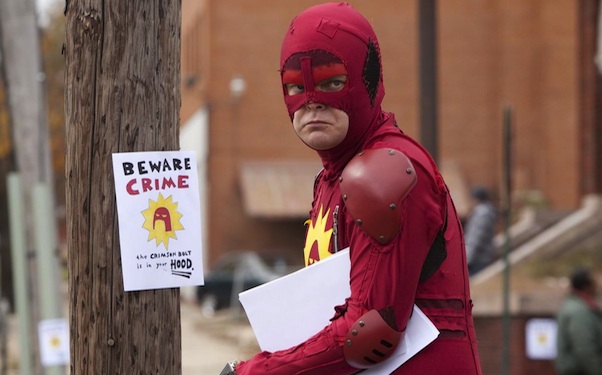 Posted by Matt Singer on
One of my go-to answers to the question "What is a great movie no one ever saw?" is James Gunn's "Slither," which I reviewed for The Village Voice when it was released back in 2006. As I wrote then, "Good zombie movies are metaphorical; "Slither" allegorizes living-dead horror as a critique of the American heartland's boundless gluttony. The film's aliens enter their victims through the mouth or stomach and compel people to consume endless quantities of meat — they grow so morbidly obese that they literally explode with extraterrestrial evil." "Slither" was Gunn's feature directorial debut, but he's also written the smart screenplays for "The Specials" and Zack Snyder's "Dawn of the Dead." Basically, this guy gets it: we don't just go to genre movies for the genre: we want to see that stuff through the eyes of characters we love, all told from a perspective with some intelligence.
Gunn's latest, soon to be released by IFC FIlms, is called "Super" and like his screenplay for "The Specials" — which was the story of a superhero team on their day off — it is a grounded take on the world of men in tights. Rainn Wilson stars as Frank, an regular guy who decides to become a masked vigilante after his wife leaves him for a crime boss. IFC Films just sent by the official "Super" poster and here it is, as large as my column width will allow:
"Super" opens in New York and Los Angeles on April 1 but you can see it first at South by Southwest 2011; it premieres there Saturday March 12 at 10:00 PM at the Paramount Theater. If you're in town for the festival, Gunn, Wilson, and Page are also doing a "Super" panel that same day at 12:30 pm. Go watch "Slither" while you're at it too.