The Golden Globes Hated Ricky Gervais' Performance So Much (He Claims) They Invited Him Back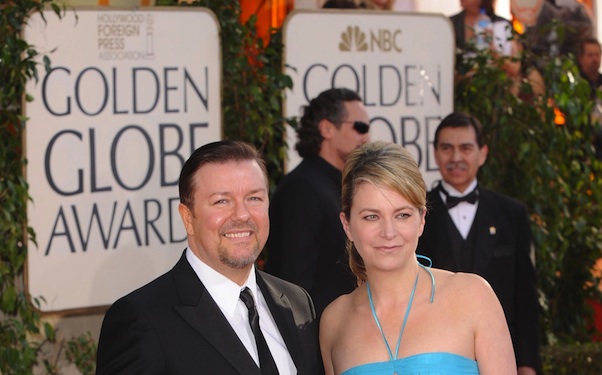 Posted by Matt Singer on
We should all be as bad at our jobs as Ricky Gervais.
Cast your mind back. All the way back to mid-January 2011. British comedian, podcaster, filmmaker, and general mocker of celebrities hosted the Golden Globes for the second straight year and created a MEDIA FIRESTORM by making fun of the Hollywood elite the night was presumably arranged to celebrate (in one of his gentler remarks, he welcomed Bruce Willis to the stage by describing him as "Ashton Kutcher's dad"). At the time, Hollywood Foreign Press Association President Philip Berk told The Hollywood Reporter Gervais "definitely crossed the line" and that "some of the things [he said] were totally unacceptable." Supposedly, when asked if Gervais would be back shortly after the awards, Berk "tersely" replied, "No comment."
Then Berk probably looked at the ratings for the show, saw the enormous amount of publicity Gervais' monologue generated for the Globes — not to mention the enormous amount of attention he diverted from the Globes' ongoing lawsuit — and realized if Gervais came back again it would create an EVEN BIGGER MEDIA FIRESTORM. And now, according to a diary published on Ricky Gervais' site, the Globes have invited him back to host for a third year. It's amazing how something as small as the potential for massive amounts of ad revenue can completely change your perspective on things.
So will Gervais return to the Globes and ignite THE BIGGEST MEDIA FIRESTORM IN HISTORY? "I don't think I should," he writes. "I don't know what I could do better." This is why I respect this guy. He's clearly got enough eff you money from "The Office" to do exactly what he wants to do for the rest of his life. So he makes fascinatingly strange passion projects instead of sellout Hollywood blockbusters, and he does awards shows and makes fun of the very idea of awards shows. And now that he delivered one of the most memorable hosting gigs in awards show history, he's done. Gotta respect that.
UPDATE (02/01/2011, 2:45 PM): TheWrap has an interview with Berk refuting Gervais' comments. "There is no truth to this rumor. We have not asked him to come back," says Berk. So, okay, somebody here saw "The Invention of Lying."