The Dead-Rat-Covered Truth About Movie Theater Nostalgia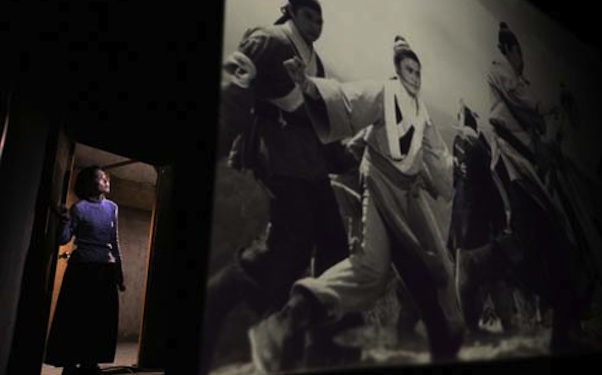 Posted by Matt Singer on
The Internet is a dangerous, dangerous place. One minute you're watching a heist movie on Netflix Watch Instantly, the next you're looking up an actor's name on IMDb, and before you know it you're watching videos of actual robberies on YouTube, four and a half hours have gone by and you've watched exactly six minutes and seventeen seconds of that streaming movie.
On a recent journey down the Internet rabbit hole I randomly found my way to CinemaTreasures.org, a website founded by a filmmaker and a film historian in order to build a living history of every movie theater past and present in the United States. It's a monumental but potentially invaluable website. And, for slightly more casual readers like myself, it's a place readjust my nostalgic impressions about the movie theaters of my youth.
Personally I get almost as nostalgic about movie theaters as I do about movies themselves. Though I can't remember the ending to the movie I saw on Tuesday (it was the one about the guy with that face who's on that show…what's his name?), I can still vividly recall where I saw the important movies of my childhood right down to my seat in the auditorium. Even as I do this I know: I am romanticizing these things to an insane degree. I wasn't going to the classic movie palaces of Hollywood's golden age; I was going to cruddy subdivided multiplexes in the 'burbs in Jersey.
That's one of the things I love about Cinema Treasures. Each theater's page is devoted entirely to reader submissions. Most of these readers are employees of those theaters, often writing with lenses just a shade less rose-colored than mine. It's hilarious to compare the beautiful images in my head with their unflinching accounts of reality. For example:
---
Movie City 5, East Brunswick, NJ
Nostalgic Recollections:Watching "UHF" with my mom and discovering Michael Richards before he became Kramer on "Seinfeld; paying for one movie and getting a free second feature (I remember it being "Flight of the Navigator" and "The Rescuers Down Under" but those movies were released so far apart that can't be right); rounding up as many friends as could fit into two cars to go see Jean-Claude Van Damme's "Street Fighter" for my 14th birthday party.
Unflinching Cinema Treasure Reality: "Where else could you earn $3.35 an hour, wear bad bowties, have an unlimited supply of Savor-All and be berated by management? Good memories include: cleaning garbage cans, disposing of rats falling from the ceiling tiles, breaking bon bon freezers and drinking in the storage room. Not a bad days work!" — Lateguy
Movie City 5 Is Now: a furniture store.
---
Loews Cinema 6, Freehold, NJ
Nostalgic Recollections: Seeing my first R-rated movie, "Terminator 2: Judgment Day;" watching "Being John Malkovich" there for the first time in a completely empty auditorium and feeling like I was discovering the greatest cinematic secret in the history of the world.
Unflinching Cinema Treasures Reality: "It really was a piece of crap. Started as one theater [then expanded]… you could see the break in sections between each duo of theaters and in horrible rain theose sections would leak. Amazing place." — Dave B.
Loews Cinema 6 Is Now: a Work Out World gym.
---
Amboys Multiplex Cinemas, Sayreville, NJ
Nostalgic Recollections: Being awestruck by the sheer size of this 14-screen behemoth, the biggest in my area; taking raindy day camp trips to the theater and the neighboring arcade, Razzmatazz, for movies and games; going to Hulk Hogan's "No Holds Barred" with my best friend and his father and loving it like I had loved no movie before.
Unflinching Cinema Treasures Reality: (Excerpted from Associated Press News Item) "Three police officers and one civilian were injured when violence erupted after a showing of the new drug-gang movie 'New Jack City' at the Amboy Multiplex Cinemas, police said…The incident began between 11 p.m. and 11:30 p.m. as a fight between two people in the theater lobby escalated into several other fights, and two trash dumpsters outside were set afire." — sl
Unflinching Cinema Treasures Reality #2: "I have heard that the Amboy structure has been deemed uninhabitable. The structure was built on partial land-fill on the marshlands of the Raritan River. The ground beneath the foundation of the lobby and concession area had begun to collapse and make the building unstable." — MovieManBill
Amboys Multiplex Cinemas is Now: an empty, abandoned building.
---
I included those where-are-they-nows? because whenever I pass these places, I think back with fondness about those old movie theaters. Reading Cinema Treasures, though, I see them for what they really were: strip mall dumps. They didn't have stadium seating or digital sound. Literally any place I could see a movie today would look and sound better than it did back then. It's easy to get lost in back-in-my-day, get-off-my-lawn-you-3D-loving-kids thinking. Once in a while it's worth remembering that remembrances aren't always perfect.