The Black Keys' "Howlin' For You"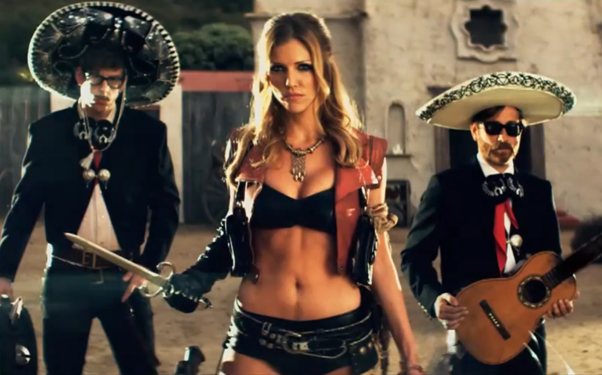 Posted by Brandon Kim on
Robert Rodriguez would blush at the sight of this music video movie trailer by The Black Keys. Even before the hilarious nods to "El mariachi" come into play, it's got homage to Rodriguez written all over it — though there's plenty campy influences at work. The video stars "Battlestar Galactica's" nymphomaniac cylon, Tricia Helfer, and Pitchfork points out, Todd Bridges, Diora Baird, Sean Patrick Flanery, Christian Serratos, and snowboarder Shaun White.
In a matter of seconds, B movie legend Corbin Bernsen, notably appears chomping cigars, forging a variety of steel blades with hammer and anvil, and beating the shit out of a punching bag. You may recognize young Alexa Wolff's dinosaur from previous videos of the band that director Chris Marrs Piliero shot. Also, Patrick Carney and Daniel Auerbach star as Las Teclas de Negro.
Update: If that remains down, you can watch it on IMDB here too.