That Was Then, This is Now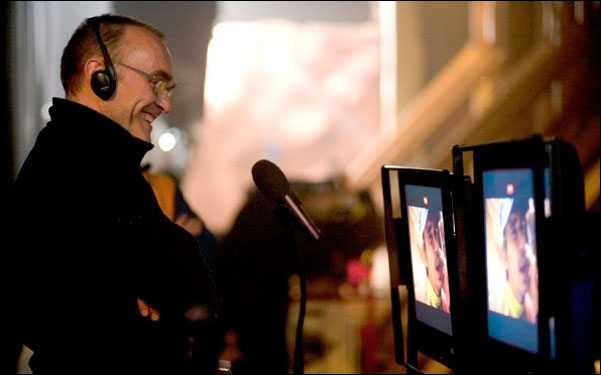 Posted by IFC on
As directors who have continually proven themselves to be at the cutting edge of what's next and new, it's hard to believe that all five of the nominees in this year's Best Director category have already been to the Spirit Awards sometime, if not multiple times, over the last decade. For some, they return with radically different films than they first broke onto the scene with, while others have kept mining the same emotional terrain in new and different ways, but all have applied their vision to the films we continue to be excited about then, now and the future.
Darren Aronofsky is a prime example of this, having debuted with the Spirit Award-nominated "Pi" in 1998 and making the most of a reported $60,000 budget to tell the story of a numbers expert who stumbles upon a code he believes could unlock the secrets of the universe before descending into madness. Even though the budgets have gone up (though not nearly as much as it will on the director's next film, the entry into the X-Men canon "The Wolverine"), Aronofsky has continued to work with many of the same key collaborators such as composer Clint Mansell and cinematographer Matthew Libatique and on "Black Swan," which brings the director back to the psychological thriller genre after stripping down his style for the working class character study "The Wrestler," Aronofsky appears to have put everything together for a film that pulls the wild abandon from his earlier films and the continued refinement of his technical precision.
Lisa Cholodenko was also part of the Spirit Awards class of 1999, competing against Aronofsky in the Best First Feature category where both would miss out to "The Opposite of Sex" director Don Roos. However, like her "Pi" compatriot, Cholodenko is riding high these days after making some films that were considerably different from her gritty debut, first with the glossy mother-son drama "Laurel Canyon" in 2003 and now with "The Kids Are All Right," the first time she has had a writing partner (in Stuart Blumberg) for something more overtly comedic. Cholodenko's commitment to realism and digging deep into characters hasn't wavered – of course, it's one of the reasons she continues to attract stellar casts to her work. However, her ability to handle the lighter moments in "The Kids Are All Right" as apt with comedy as drama, and though she's found fertile territory to mine in her home of Southern California, the possibilities appear to be endless for what could be her next film.
Debra Granik is already said to be working on her next project, a reimagining of Pippi Longstocking, which would actually continue a lineage from the writer/director of films featuring strong female protagonists. It all began for Granik with the 2004 drama "Down to the Bone," which was nominated a John Cassavetes Award at the Spirits and made a star out of Vera Farmiga as a woman struggling with both her marriage and her addiction to drugs. Granik worked similar magic with "Winter's Bone" star Jennifer Lawrence in the adaptation of Daniel Woodrell's novel about a young girl's search for her father amidst the meth-addled plains of Missouri and if the trend continues, whoever will be playing Pippi can be assured of both career-making performance and yet another example of Granik's empowerment of female characters.
When John Cameron Mitchell exploded into the consciousness of audiences and Spirit Award watchers in 2002 with "Hedwig and the Angry Inch," few would expect the director to manage a delicate, yet devastating turn out of Nicole Kidman as a grieving mother in "Rabbit Hole" after pushing the envelope first with the adaptation of bombastic musical "Hedwig" and then with the sexually-provocative ensemble dramedy "Shortbus" in 2006. With "Rabbit Hole," Mitchell pushed in a different direction – our own personal capacity for enduring tragedy and forgiveness – in the story of two parents (Kidman and Aaron Eckhart) dealing with the death of their child. To argue that Mitchell was going for a film that was more relatable would be a misinterpretation, since his gifts as an artist so far has to bring the human experience to the screen in unique ways, but his most traditional movie to date feels next and new for the same reasons it is old-fashioned, it tells its tale well and promises that there's really no barriers the writer/director couldn't cross to do so.
Of the five directors nominated, Danny Boyle appears to be the veteran in this group, coming to the attention of the Spirit Awards first in 1997 with "Trainspotting," but of all the auteurs, he's arguably transformed the most. In the years since that classic of drug cinema, Boyle has worked in nearly every genre imaginable from romantic comedy ("A Life Less Ordinary") to horror ("28 Days Later") to science-fiction ("Sunshine") to rags-to-riches tales ("Millions") before settling into a streak of unabashedly joyous films about the human spirit in recent years with the much-awarded "Slumdog Millionaire" and his most recent Spirit Award nominee "127 Hours," which tells the true story of adventurer Aron Ralston's attempt to free himself from being trapped underneath a boulder. Boyle has defiantly never made the same film twice, much less carry anything on from one project to the next in his recent career except for the enthusiasm he brings to every movie, something that keeps him and the cinema as a whole constantly refreshed in terms of what's new and next.