"Take Me Home Tonight" Celebrates 80's Party Films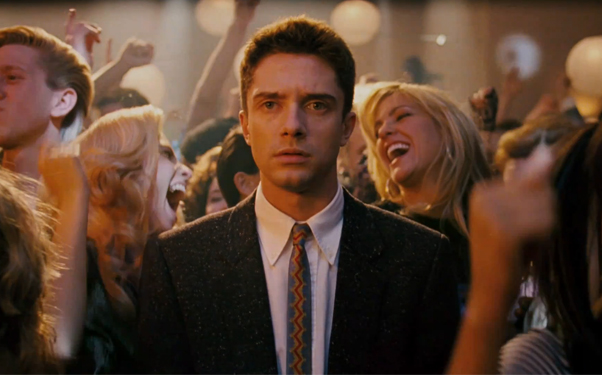 Posted by Brandon Kim on
Everyone looks a little too good in this party film set in 1988 called, "Take Me Home Tonight" — like the wardrobe was designed not around what people were wearing in 80's, but what people were wearing in films in the 80's. I've only seen the trailer though, so maybe there are some hideous paisley shirts and pleated jeans somewhere in this new creation by "That '70s Show" star, Topher Grace.
If you've been missing him ("Predators" doesn't count) here's your chance to get a little dose of Eric Forman. It seems as if we've found the same character, just at the end of the following decade, with the same dry humor.
The drugs have changed a bit, and rumor is that epic amounts of blow get inhaled. The music has all changed too, and some radical tracks from the decade get prime placement in this last "night of unbridled youth" blow out. Naked Eyes' "Always Something There To Remind Me" kicks off the trailer for starters, though who knows if it makes the movie. N.W.A.'s "Straight Outta Compton" obviously does, since it gets a rap-along. There's also a little "Relax (Don't Do it)" and of course, Eddie Money's "Take Me Home Tonight," given genius timing to this ridiculous montage at the end:
The Buggles, Motley Crue, Duran Duran, and Pete Townshend will also be on the soundtrack for sure, along with this cover of Human League's "Don't You Want Me" by Brooklyn's Atomic Tom.
Here's the video they released for it, featuring the film's cast getting real cheesy spoofing 80's films — "Teen Wolf," "Weird Science," "Weekend at Bernies," "ET" (and Alf), "Terminator" (38 by my count) — and check out Topher's Marty McFly around 2:28: