SXSW Announces 2011 Film Lineup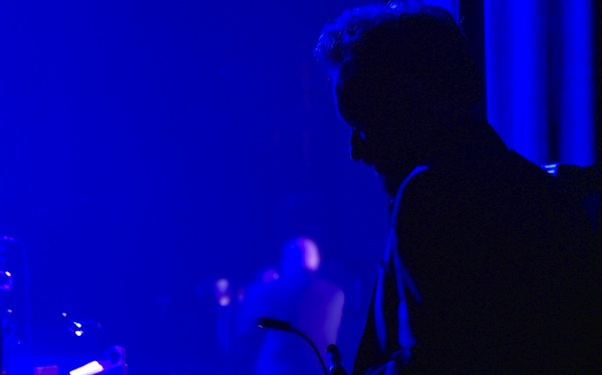 Posted by Matt Singer on
The South By Southwest Film Festival just announced their lineup for 2011 and I'm already exhausted just looking at the list. All told, SXSW 2011 includes 130 features, 60 world premieres, 12 north American premieres, and 16 U.S. premieres. Do they make caffeinated pork down in Austin? They should; we're gonna need it.
Across all the various sections of the festival there are new films by Ti West ("The House of the Devil"), Mike Mills ("Thumsucker"), Joseph Kahn ("Torque"), Joe Swanberg ("Uncle Kent") and many more. Here's the full — very full — list of features.
NARRATIVE FEATURE COMPETITION

"96 MINUTES"
Director & Writer: Aimée Lagos
Four young lives. One night. One terrifying event. These 96 minutes will change everything. (World Premiere)
Cast: Brittany Snow, Evan Ross, Christian Serratos, J. Michael Trautmann, and David Oyelowo
"A Year in Mooring"
Director: Chris Eyre, Writer: Peter Vanderwall
In his first leading dramatic role, Josh Lucas walks an isolated line between solitude and redemption. This quiet cinematic journey tells a of tale grief, solace and peace. (World Premiere)
Cast: Josh Lucas, Ayelet Zurer, James Cromwell, Jon Tenney, Taylor Nichols
"American Animal"
Director & Writer: Matt D'Elia
Jimmy — eccentric, delusional, dying — feels betrayed when roommate James gets a job. During one night of drinks, drugs and women, a classic battle of wills ensues as James prepares for work and Jimmy goes mad. (World Premiere)
Cast: Matt D'Elia, Brendan Fletcher, Mircea Monroe, Angela Sarafyan
"Charlie Casanova"
Director & Writer: Terry McMahon
A ruling class sociopath knocks down a working class girl in a hit-and-run and uses a deck of playing cards to determine his fate. (World Premiere)
Cast: Emmett J. Scanlan, Leigh Arnold, Damien Hannaway, Ruth McIntyre, Tony Murphy
"FLY AWAY"
Director & Writer: Janet Grillo
A poignant yet humor filled story about a single mother of a teenager with autism, confronting her child's future. What will sustain her daughter, and herself? A parent/child love story, when love means letting go. (World Premiere)
Cast: Beth Broderick, Ashley Rickards, Greg Germann, JR Bourne, Reno
"HAPPY NEW YEAR"
Director & Writer: K. Lorrel Manning
A war torn marine returns home to face his fiercest battle yet — the one against himself. (World Premiere)
Cast: Michael Cuomo, JD Williams, Monique Gabriela Curnen, Tina Sloan, Alan Dale
"Natural Selection"
Director & Writer: Robbie Pickering
When a dutiful, albeit barren, housewife discovers that her ailing husband has an illegitimate son, she sets out to find the young man and reunite him with her husband before he dies. (World Premiere)
Cast: Rachael Harris, Matt O'Leary, Jon Gries, John Diehl
"Small, Beautifully Moving Parts"
Directors & Writers: Annie J. Howell & Lisa Robinson
Technology-obsessed Sarah Sparks is pregnant and ambivalent, afraid she relates better to machines than to people. Looking for answers, she hits the road in search of her estranged mother, now living off the grid. (World Premiere)
Cast: Anna Margaret Hollyman, André Holland, Sarah Rafferty, Susan Kalechi Watson, Mary Beth Peil
DOCUMENTARY FEATURE COMPETITION
"A Mouthful"
Director: Sally Rowe
Considered a rising star of haute cuisine, Paul Liebrandt found his career stalled in New York's austere environment post 9/11. Paul struggles over the next decade as he tries to make his way back to the top. (World Premiere)
"Better This World"
Directors: Katie Galloway & Kelly Duane de la Vega
Two childhood friends from Midland, Texas cross a line that changes their lives forever. The result: eight homemade bombs, multiple domestic terrorism charges and a high stakes entrapment defense hinging on a controversial FBI informant. (World Premiere)
"The City Dark"
Director: Ian Cheney
The film chronicles the disappearance of darkness, following astronomers, cancer researchers, ecologists and philosophers in a quest to understand what is lost in the glare of city lights. (World Premiere)
"DRAGONSLAYER"
Director: Tristan Patterson
Killer Films presents the transmissions of a lost kid, falling in love, in the suburbs of Fullerton, California. Featuring skateboarding, the usual drugs, and stray glimpses of unusual beauty. (World Premiere)
"FIGHTVILLE"
Directors: Michael Tucker & Petra Epperlein
A documentary about the art and sport of fighting: a microcosm of life, a physical manifestation of that other brutal contest called the American Dream. (World Premiere)
"Kumaré"
Director: Vikram Gandhi
A documentary about a man who impersonates a wise Indian Guru and builds a following in Arizona. (World Premiere)
"LAST DAYS HERE"
Directors: Don Argott & Demian Fenton
The film follows middle-aged rocker Bobby Liebling, lead singer of the cult hard rock/heavy metal band Pentagram, as he leaves his parents' basement in search of the life he never lived. (World Premiere)
"Where Soldiers Come From"
Director: Heather Courtney
From a snowy small town in Northern Michigan to the mountains of Afghanistan and back, the film follows the four-year journey of childhood friends and their town, forever changed by a faraway war. (World Premiere)
HEADLINERS
"13 Assassins"
Director: Takashi Miike, Writers: Shoichirou Ikemiya & Daisuke Tengan
Distressed by the Lord's murderous rampage, top Shogun official Sir Doi secretly calls on esteemed samurai Shinzaemon Shimada to assassinate the evil Naritsugu. Outraged by Lord Naritsugu's vile acts, Shinzaemon willingly accepts the dangerous mission.
Cast: Koji Yakusho, Takayuki Yamada, Yusuke Iseya, Goro Inagaki, Masachika Ichimura
Ain't It Cool News 15th Anniversary Screening
Harry Knowles will curate a surprise screening in honor of the 15th Anniversary of his popular cult website Ain't it Cool News.
"The Beaver"
Director: Jodie Foster, Writer: Kyle Killen
Two-time Academy Award® winner Jodie Foster directs and co-stars with two-time Academy Award® winner Mel Gibson in an emotional story about a man on a journey to re-discover his family and re-start his life. Plagued by his own demons, Walter Black was once a successful toy executive and family man who now suffers from depression. No matter what he tries, Walter can't seem to get himself back on track…until a beaver hand puppet enters his life. (World Premiere)
Cast: Mel Gibson, Jodie Foster, Anton Yelchin, Jennifer Lawrence, Cherry Jones
"Conan O'Brien Can't Stop"
Director: Rodman Flender
Did Conan O'Brien go on tour to connect with his fans or fill a void within himself? Rodman Flender's documentary captures an artist trained in improvisation at the most improvisational time of his career. (World Premiere)
"Paul"
Director: Greg Mottola, Writers: Simon Pegg & Nick Frost
Simon Pegg and Nick Frost reunite as two geeks who meet an alien named Paul (Seth Rogen) on a pilgrimage to America's UFO heartland. Their road trip will alter our universe forever. (North American Premiere)
Cast: Simon Pegg, Nick Frost, Jason Bateman, Kristen Wiig, Bill Hader, Blythe Danner, John Carroll Lynch, with Sigourney Weaver, and Seth Rogen as Paul
"Source Code"
Director: Duncan Jones, Writer: Ben Ripley
When soldier Captain Colter Stevens (Jake Gyllenhaal) wakes up in the body of an unknown man, he discovers he's part of a mission to find the bomber of a Chicago commuter train. In an assignment unlike any he's ever known, he learns he's part of a government experiment called the "Source Code," a computer program that enables him to cross over into another man's identity in the last 8 minutes of his life. (World Premiere)
Cast: Jake Gyllenhaal, Michelle Monaghan, Vera Farmiga, Jeffrey Wright
"SUPER"
Director & Writer: James Gunn
In this outlandish dark comedy, James Gunn has created what is perhaps the definitive take on self-reflexive superheroes. (U.S. Premiere)
Cast: Rainn Wilson, Ellen Page, Liv Tyler, Kevin Bacon, Michael Rooker
"WIN WIN"
Director: Tom McCarthy, Writers: Tom McCarthy & Joe Tiboni
Tom McCarthy, acclaimed writer/director of The Visitor and The Station Agent, once again explores the depths and nuances of human relationships in his new film about the allegiances and bonds between unlikely characters.
Cast: Paul Giamatti, Amy Ryan, Bobby Cannavale, Jeffrey Tambor, Burt Young, Melanie Lynskey, Alex Schaffer, Margo Martindale, David Thompson
SPOTLIGHT PREMIERES
"A Bag of Hammers"
Director: Brian Crano, Writers: Brian Crano & Jake Sandvig
An offbeat comedy about two misfit best friends incapable of growing up, whose direction is tested by an abandoned child, worn beyond his years; together they invent the family they've always needed. (World Premiere)
Cast: Jason Ritter, Jake Sandvig, Chandler Canterbury, Rebecca Hall, Carrie Preston
"Becoming Santa"
Director: Jeff Myers
In an effort to rekindle his Christmas spirit, Jack decides to spend this season as Santa Claus, but the role of Kris Kringle is more complex than he thinks. (World Premiere)
"Beginners"
Writer & Director: Mike Mills
A young man is rocked by two announcements from his elderly father: that he has terminal cancer, and that he has a young male lover. (U.S. Premiere)
Cast: Ewan McGregor, Christopher Plummer, Mélanie Laurent, Goran Visnjic, Kai Lennox
"Bob and The Monster"
Director: Keirda Bahruth
A highly compelling portrait of outspoken indie-rock hero Bob Forrest, through his life-threatening struggle with addiction, to his transformation into one of the most influential and controversial drug counselors in the US today. (World Premiere)
"Detention"
Director: Joseph Kahn, Writers: Joseph Kahn & Mark Palermo
A downtrodden 17-year-old girl is sent to detention where she must survive a slasher film killer and save the world in time for prom. (World Premiere)
Cast: Josh Hutcherson, Dane Cook, Shanley Caswell, Spencer Locke, Aaron David Johnson
"Elevate"
Director: Anne Buford
From a basketball academy in Senegal, to the high-pressure world of American prep schools, the film documents the extraordinary personal journeys of four particularly tall West African Muslim teenage boys with NBA dreams. (World Premiere)
"Fambul Tok"
Director: Sara Terry
Victims and perpetrators of Sierra Leone's brutal war come together for the first time in an unprecedented reconciliation program of grassroots truth-telling and forgiveness ceremonies. (World Premiere)
"Fubar: Balls to the Wall"
Director: Michael Dowse, Writers: David Lawrence, Paul J. Spence
Documentarian Farrel Mitchner explores the lives of headbangers Dean Murdoch and Terry Cahill. (U.S. Premiere)
Cast: Paul J. Spence, David Lawrence
"Girl Walks Into a Bar"
Director & Writer: Sebastian Gutierrez
A sharp-witted comedy that follows a group of apparent strangers in interlocking stories taking place in ten different bars during the course of one evening in Los Angeles. (World Premiere)
Cast: Carla Gugino, Zachary Quinto, Danny DeVito, Josh Hartnett, Rosario Dawson
"The Innkeepers"
Director & Writer: Ti West
Hotel clerks by day, amateur ghost hunters by night, the last two employees of the historic Yankee Pedlar Inn set out to prove that their place of business is as haunted as its reputation. (World Premiere)
Cast: Sara Paxton, Pat Healy, Kelly McGillis
"It's About You"
Director: Kurt Markus
First-time filmmakers, photographer Kurt Markus and son, Ian, document John Mellencamp's 2009 summer tour and recording of his latest album. This film celebrates the visual beauty and power of Super8 film and the human voice. (World Premiere)
"LBF"
Director & Writer: Alex Munt
A pop-art film based on the novel "Living Between Fucks" by Cry Bloxsome. It follows Goodchild, a young writer back home for his ex-girlfriend's funeral, The Dead Girl. Love, Loss & Desperation. (World Premiere)
Cast: Toby Schmitz, Bianca Chiminello, Gracie Otto, Septimus Caton, April Rose Pengilly
"The Other F Word"
Director: Andrea Blaugrund Nevins
When the most anti-authoritarian among us become the ultimate authorities… we might just have to use The Other F Word. (World Premiere)
"PRESSPAUSEPLAY"
Directors: Victor Köhler & David Dworsky
The first real testimony of the digi-creative revolution. It's an 80 minute global journey capturing how digital technology and mindset has transformed the concept of art and culture. (North American Premiere)
"Something Ventured"
Directors: Dan Geller & Dayna Goldfine
Apple. Intel. Genentech. Cisco. Atari. This film tells the story of a handful of risk-takers who alongside visionary entrepreneurs created these revolutionary companies, and in the process ignited the industry known as venture capital. (World Premiere)
"Square Grouper"
Director: Billy Corben
A colorful portrait of Miami's pot smugglin' scene of the 1970s, populated with redneck pirates, a ganja-smoking church, and the longest serving marijuana prisoner in American history. 
(World Premiere)
"UNDEFEATED"
Directors: Dan Lindsay & T.J. Martin
A volunteer coach helps a neglected inner-city football team in their quest to win the first playoff game in the high school's history. (World Premiere)
"Yelling to the Sky"
Director & Writer: Victoria Mahoney
As her family falls apart, seventeen year old Sweetness O'Hara is left to fend for herself in a neighborhood where her survival is uncertain. (U.S. Premiere)
Cast: Zoe Kravitz, Jason Clarke, Antonique Smith, Gabourey Sidibe, Tim Blake Nelson
"YOU INSTEAD"
Director: David Mackenzie, Writer: Thomas Leveritt
Two rival musicians find themselves handcuffed together at the world renowned music festival, T in the Park, where they are both scheduled to perform. (North American Premiere)
Cast: Luke Treadaway, Natalia Tena, Sophie Wu, Ruta Gedmintas, Kari Corbett
EMERGING VISIONS
"Bad Fever"
Director & Writer: Dustin Guy Defa
A humorless loner attempts to win the admiration of a drifter with his debut performance at the local comedy club. (World Premiere)
Cast: Kentucker Audley, Eléonore Hendricks, Annette Wright, Allison Baar
"The Ballad of Genesis and Lady Jaye"
Director: Marie Losier
A portrait of the life and work of ground-breaking performance artist and music pioneer Genesis Breyer P-Orridge (Throbbing Gristle, Psychic TV) and his wife Lady Jaye, centered around their sexual transformations for their "Pandrogyne" project. (North American Premiere)
"Bellflower"
Director & Writer: Evan Glodell
A love story with apocalyptic stakes.
Cast: Evan Glodell, Jessie Wiseman, Tyler Dawson, Rebekah Brandes, Vincent Grashaw
"The Catechism Cataclysm"
Director & Writer: Todd Rohal
Father William Smoortser drops his bible into a toilet at a rest stop just before embarking on a day-long canoe trip, breaking loose all glorious hell.
Cast: Steve Little, Robert Longstreet, Walter Dalton, Miki Ann Maddox, Koko Lanham, Rico
"Caught Inside"
Director: Adam Blaiklock, Writers: Adam Blaiklock & Matt Tomaszewski
A surfing holiday turns deadly when a group of friends fight over a beautiful woman. (North American Premiere)
Cast: Ben Oxenbould, Daisy Betts, Sam Lyndon, Simon Lyndon, Peter Phelps
"CONVENTO"
Director: Jarred Alterman
Artist Christiaan Zwanikken resurrects deceased wildlife by reanimating the skeletal remains with servomotors and robotics. He breeds these new species in a 400-year-old monastery in Portugal, restored from ruins and converted into his laboratory. (North American Premiere)
"The Dish & The Spoon"
Director: Alison Bagnall, Writers: Alison Bagnall, Andrew Lewis
In this poignant comedy, Rose (Greta Gerwig), reeling from her husband's affair, collides and forms an unexpected bond with a marooned teenager from England (exciting newcomer Olly Alexander) in a boarded-up Delaware beach town. (World Premiere)
Cast: Greta Gerwig, Olly Alexander, Eleonore Hendricks, Amy Seimetz, Adam Rothenberg
"Fuck my life"
Director & Writer: Nicolás López
Love in the times of Facebook is worst than love in the times of cholera. (U.S. Premiere)
Cast: Ariel Levy, Lucy Cominetti, Andrea Velasco, Paz Bascuñan, Leonor Varela
"Green"
Director & Writer: Sophia Takal
An intimate friendship between two women dissolves as they are drawn into an irrational, destructive spiral of jealousy and paranoid fantasy in this haunting examination of the female psyche. (World Premiere)
Cast: Kate Lyn Sheil, Sophia Takal, Lawrence Michael Levine
"THE KEY MAN"
Director & Writer: Peter Himmelstein
Bobby Scheinman is an insurance salesman struggling to provide for his family. Enter Vincent and Irving, two con men who convince Bobby to join them for a moneymaking scheme that quickly spirals out of control. (World Premiere)
Cast: Jack Davenport, Hugo Weaving, Brian Cox, Judy Greer, Ben Shenkman
"New Jerusalem"
Director: R. Alverson, Writers: R. Alverson & Colm O'Leary
Ike (Will Oldham), an Evangelical Christian, befriends Sean, an Irish immigrant, and attempts to ensure his salvation. A meditation on the allure and limitations of modern utopian belief. (North American Premiere)
Cast: Will Oldham, Colm O'Leary, Thomas Bowles, Walter Scott, Roxanne Ferris
"No Matter What"
Director & Writer: Cherie Saulter
The story of Nick and Joey, two best friends living in the crumbling landscape of rural Florida, whose lives and friendship are changed by the journey to find Joey's mother. (World Premiere)
Cast: Matt Webb, Waylan Gross, Amy Seimetz
"Our Day Will Come"
Director: Romain Gavras, Writers: Romain Gavras & Karim Boucherka
Two outcast redheads set off on a roadtrip of hate, violence and self-destruction. The time for revenge has come… (U.S. Premiere)
Cast: Vincent Cassel, Olivier Barthelemy
"Riscado"
Director: Gustavo Pizzi, Writers: Gustavo Pizzi & Karine Teles
What's the importance of luck in life? Is luck part of the craft? (North American Premiere)
Cast: Karine Teles, Camilo Pellegrini, Dany Roland, Otavio Muller
"Septien"
Director & Writer: Michael Tully
A reclusive sports hustler returns home to his family farm after years of absence to reunite with his two eccentric, unhinged and emotionally damaged brothers.
Cast: Robert Longstreet, Onur Tukel, Michael Tully, Rachel Korine, Mark Darby Robinson
"SILVER BULLETS"
Director & Writer: Joe Swanberg
Filmmaking and life converge around a werewolf film. (North American Premiere)
Cast: Kate Lyn Sheil, Ti West, Amy Seimetz, Joe Swanberg, Jane Adams
"Surrogate Valentine"
Director: Dave Boyle, Writers: Dave Boyle, Joel Clark, & Goh Nakamura
Musician Goh Nakamura is hired to teach TV actor Danny Turner how to walk and talk like a rock star for his new movie. (World Premiere)
Cast: Goh Nakamura, Chadd Stoops, Lynn Chen, Mary Cavett, Joy Osmanski
"Turkey Bowl"
Director & Writer: Kyle Smith
Ten friends gather to play an annual game of touch football in this real-time comedy. (World Premiere)
Cast: Morgan Beck, Adam Benic, Kerry Bishé, Troy Buchanan, Tom DiMenna
"Weekend"
Director & Writer: Andrew Haigh
A one-night stand that becomes something else, something important – a (sort of) love story between two guys trying to take control of their lives. (World Premiere)
Cast: Tom Cullen, Chris New
LONE STAR STATES
"Apart"
Director: Aaron Rottinghaus, Writers: Aaron Rottinghaus & Josh Danziger
Young love is derailed by a rare psychological disorder known as icd-10 F24. (World Premiere)
Cast: Olesya Rulin, Josh Danziger, Michael Bowen, Bruce McGill, Joey Lauren Adams
"blacktino"
Director & Writer: Aaron Burns
Sad, fat, black, latino, nerd. It doesn't get any worse than that. (World Premiere)
Cast: Austin Marshall, Devyn Ray, Tiger Sheu, Danny Trejo, Jeff Fahey
"Building Hope"
Director: Turk Pipkin
Filmmaker Turk Pipkin's promise to help build the first high school for a remote African community connects Americans and Kenyans in this true story. (World Premiere)
"Five Time Champion"
Director & Writer: Berndt Mader
A film about love, hope, petty theft, adultery, and the boundless opportunities presented by science. (World Premiere)
Cast: Betty Buckley, Dana Wheeler Nicholson, Jon Gries, Ryan Akin, Robert Longstreet
"INCENDIARY: The Willingham Case"
Director: Steve Mims
Cameron Todd Willingham: A martyr for anti-death penalty activists, a 'monster' for right-wing politicians and a flash point for an astonishing twenty-first century fight between science and folklore. (World Premiere)
"Inside America"
Director & Writer: Barbara Eder
A portrait of six teenagers during their senior year at Hanna High School in Brownsville and "a relentless, downbeat but convincing indictment of a small Texas high school." (U.S. Premiere)
Cast: Raul Juarez, Aimeé Lizette Saldivar, Zuleyma Jaime, Luis De Los Santos, Carlos Benavides, Patty Barrera
"My Sucky Teen Romance"
Director & Writer: Emily Hagins
In a culture that is currently overrun with romanticized vampires, it is up to four geeky teenagers to defend their friend and beloved sci-fi convention from a group of very real, blood-thirsty vampires. (World Premiere)
Cast: Elaine Hurt, Patrick Delgado, Santiago Dietche, Lauren Lee, Tony Vespe
"Otis Under Sky"
Director: Anlo Sepulveda, Writers: Anlo Sepulveda, Anis Mojgani, Roberta Colindrez
Otis is a socially inept web artist who struggles to connect with people. He falls into unrequited love with Ursula, and his world is turned upside down. (World Premiere)
Cast: Anis Mojgani, Roberta Colindrez, Tony Jackson, Jacqueline Leal, Ruth Sepulveda
"WUSS"
Director & Writer: Clay Liford
A high school teacher is severely beaten by his own students. Too embarrassed to inform the authorities, he plots his own revenge. (World Premiere)
Cast: Nate Rubin, Alicia Anthony, Alex Karpovsky, Jonny Mars, Tony Hale