A Spirited Q & A With "Sweetgrass" Filmmakers Ilisa Barbash and Lucien Castaing-Taylor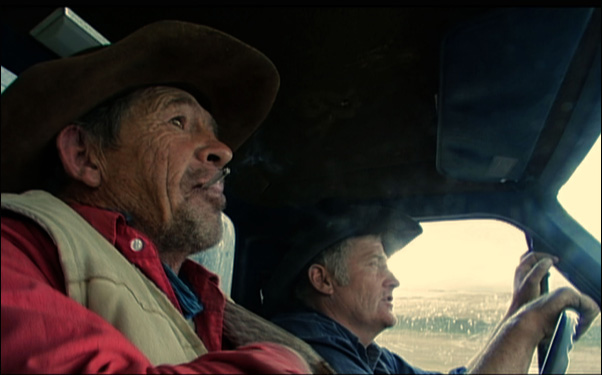 Posted by Matt Singer on
As a way of celebrating this year's nominees for the Spirit Awards in the weeks leading up to the ceremony, we reached out to as many as we could in an effort to better understand what went into their films, what they've gotten out of the experience, and where they've found their inspiration, both in regards to their work and other works of art that might've inspired them from the past year. Their answers will be published on a daily basis throughout February.
Netflix describes "Sweetgrass" as a film that's "raunchy, understated." On its face, this is ridiculous statement: how could any movie be both raunchy and understated? But if any movie could fit those descriptors, it's "Sweetgrass," a quiet meditation on the last gasp of agrarianism in the American West and an unflinching look at some potty-mouthed cowboys. Some scenes do indeed combine verbal raunch and visual understatement. In one unforgettable sequence, a sheep herder calls up his mother to complain about his problems ("It's miserable up here! This is bullshit, Mom!"). As he whines in particularly un-cowboy-like fashion, the camera pans across the unspoiled beauty of Montana Big Sky country. The vista is serene and gorgeous. And it's completely lost on the herder, whose conversation is ugly and petty. Cowboys are people too, I guess.
So are the sheep who play a huge part of "Sweetgrass." They are the last sheep to be taken to those Montana mountains for summer pasture, and we study their movements and behavior the same way we study the cowboys: with amazement and amusement. This film is heartbreakingly sad, both for the men who are losing their way of life and for the sheep who are treated like, y'know, cattle. And it's also hilariously funny, both because of the men, who, yes, occasionally throw a tantrum to their mommies, and because of the sheep, who seem to have a comically lackadaisical attitude toward the herders. They don't let anything ruffle their feather (or wool); they just keep on moving and keep on bleating. Always with the bleating. Sometimes just the sheer multitude of baaaaas make us laugh.
Screenwriters are often taught to "write what they know." But a documentarian must seek out the unknown. Their job is to journey out into the world and then report back what they learn. As you'll see from their Q&A, "Sweetgrass" filmmakers Ilisa Barbash and Lucien Castaing-Taylor were working well outside their comfort zone on this film. They approached this world as outsiders. But an outsider's eye is a curious one, and I think their fascination with what they found in Montana and the strangely symbiotic relationship between man and beast, comes across clearly in the finished film. To say that it was made with an independent spirit would be an understatement. And not a raunchy one, either.
Why did you want to make this film?
Many reasons. Sweetgrass County, where we shot the film, is one of the most beautiful but economically strapped areas of the country. Like much of the West, it's a place of contrasts and contradictions. There are ranchers who'd been there for generations and then newcomer East Coast hobby ranchers, environmentalists and miners. We were living in Colorado at the time, as filmmakers and anthropologists, ready to start a new project. The cliché about anthropologists is that they are always looking for the last of some group of people in a remote part of the world to be doing some particular ancient ritual or activity. The cliché is decades out of date. But the fact that there were people in our own backyard, so to speak, who were of the last generation to be conducting this enormous summer sheep drive into the mountains, that had been integral to the culture of the place since homesteading times, was really intriguing.
What was the best piece of advice you received that applied to the making of this film?
To use a harness for the camera. It's a great piece of equipment that not only holds the camera steady when you need it, but it also holds onto it when you don't–or rather when you are not actually shooting. If you've always got the camera strapped to your body, and the eye piece near your eye, people see the camera as almost as a part of your body or identity so lose track of when you are shooting, and become less self-conscious about your presence.
What was the toughest thing to overcome, whether it applies to a particular scene or the film as a whole?
Well, we were total greenhorns — outsiders coming into a community where everyone knew each other, some many for generations. Lucien hails from England so his accent was so alien to them to be often unintelligible. Plus, he'd ever really ridden a horse, or been on a ranch. By the end of the summer he was shooting (badly) from horseback, packing a pistol and communicating (accent aside) like an old timer.
What's been the most memorable moment while you've traveled with the film, either at a festival or otherwise?
It would have to be the Montana screenings. The Montana premiere was in Missoula at the Big Sky Film Festival. Lucien flew out to Big Timber and joined most of the people in the film and their families for a 30+-person caravan trek four hours to the screening. They filled two rows of a 1200 person theater… a couple of a dozen hardscrabble ranchers and hired hands and 1170 college-educated "tree huggers." A few months later, on the eve of the Montana theatrical opening, we had a free screening in Big Timber for everyone involved in the sheep drive. One former herder wrote to us saying that she'd laughed so hard she spit popcorn all over the person in front of her. Pat's mother chewed him out at the end of the screening for his cussing, insisting, "you didn't learn to talk like that from me."
What's your favorite thing about your film that's been largely uncommented upon?
The film is as much as sheep as it is about people. It's about their overlap — how anthropomorphic sheep can appear, and how bestial humans can be. As such, we don't delve overly into the personal lives of the people in the film; in fact, we maintain what we hope is a respectful distance. Sure, there are all sorts of things that we know about the people because of the time we spent there, but why should we reveal that to outsiders?
What's been the most gratifying thing to come out of this film for you personally?
We've made some lifelong friends. Often when you make a documentary the relationship can be one-sided, film subjects reveal all, then the filmmaker goes away to edit and maybe or maybe not sends it back to the participants. When Billy Allestad got married, Lucien was asked to be the wedding videographer. And our whole family was invited. We're all still in close touch. Our children have gotten a lot out of the relationships they've had with the ranch kids, seeing how hard they work to help their families.
What's been your favorite film, book or album from the past year?
Lucien is reading "Moby Dick" now in preparation for a film about commercial fishing. Again, we're interested in the visual and thematic threads of nature and work. Lisa loved Jonathan Franzen's "Freedom" and Barbara Kingsolver's "Poisonwood Bible." These may seem to be an odd contrast with "Sweetgrass" because they are so heavily character based, both exploring multiple points of view. We also both loved a recent Italian film by Pietro Marcello called "La bocca del lupa," an extremely intimate and poignant love story. Again, nothing like "Sweetgrass."
"Sweetgrass" is now available on DVD and Netflix Instant. The Spirit Awards will air on IFC on February 26th.