A Spirited Q & A With "Lovely, Still" Director Nik Fackler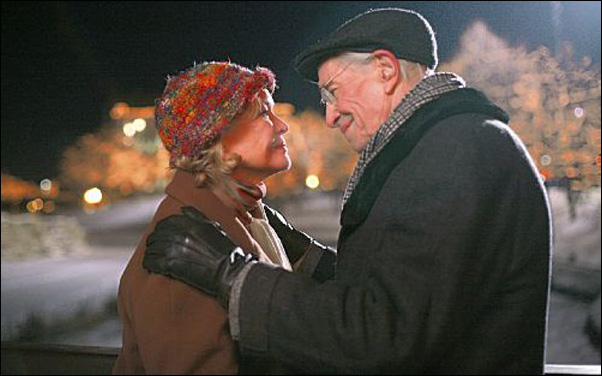 Posted by Stephen Saito on
As a way of celebrating this year's nominees for the Spirit Awards in the weeks leading up to the ceremony, we reached out to as many as we could in an effort to better understand what went into their films, what they've gotten out of the experience, and where they've found their inspiration, both in regards to their work and other works of art that might've inspired them from the past year. Their answers will be published on a daily basis throughout February.
Nik Fackler is just full of surprises. As a 23-year-old directing for the first time, one could've easily expected a romance about what it's like to be young and foolish and wildly in love from Fackler. That last one applies to "Lovely, Still," but in penning a love story of two people closing in on their eighties, the writer/director proved canny beyond his years, attracting Oscar winners Ellen Burstyn and Martin Landau to be in his first feature with meaty roles they rarely get to play these days and crafting a spry, tender tale around them as a pair of senior citizens going out on their first date in the days leading up to Christmas.
As the old Hollywood maxim goes, "90 percent of filmmaking is good casting," and indeed, "Lovely, Still" benefits greatly from being in the company of such seasoned pros as Burstyn and Landau, not to mention nice supporting turns from Elizabeth Banks and Adam Scott. However, Fackler's secret weapon is his screenplay, a fact that didn't go unnoticed by the Spirit Awards since he's been nominated for Best First Screenplay, a recognition of what was on the page as much as what was left off. Hailing from Omaha, Fackler turned down film school to hone his craft making music videos for Midwestern bands like Azure Ray and Bright Eyes where the only dialogue allowed is the lyrics and it's a quality that permeates "Lovely, Still" as the quiet moments permit what lines there are to really sing.
It's actually more of a waltz between Landau's Robert and Burstyn's Mary, with the former only feeling comfortable when in the presence the latter, anxious about social interaction in general and so nervous about impressing his new neighbor that he asks everyone around from his manager (Scott) to his mail carrier about what transpires on date nowadays. The vocabulary is as eloquent visually as it is verbally, bringing an otherworldly quality to Robert's dreams and a warmth to such moments as when Robert learns his feelings for Mary are mutual and sees the red, green and gold lights from across the street light up in unison with the glow radiating from the woman standing in front of him. Although it's troubling to learn that our questionnaire led Fackler to believe he has "confidence issues," it's clear from his first film that he doesn't have any when it comes to a command behind the camera.
Why did you want to make this film?
The answer to this questions changes so often. As I have grown nine years older from the beginnings of writing this story, each year the film takes on a new meaning. The initial flame of inspiration came from being a teenager in love. Trying hard to understand and control the feelings that seemed to transform my perception. As I look back now on the film, I also see a desperate plea for optimism that I, having lost love, will always have the ability to rediscover it again with others. The concept of casting an older couple was a way for me to understand my own experiences and somehow manifest what I want my future, finding love again, to be. Plus, I would have learned nothing making a film about teenagers. I need a challenge to measure and discover myself.
What was the best piece of advice you received that applied to the making of this film?
Every day, Martin would tell me "It's your movie." He kept really pushing that on me. It was more and more helpful each time he said it. He could understand the pressure of being a 23-year-old directing a feature. The constant proving grounds you're standing on. I had to remember it was my film. In the end, after all the fighting and long hours have ended, when I'm an old man, it's still my film. So I better make it exactly how I want it to be. No regrets. It's your movie. It gave me the confidence to stand up to people when I needed to and I'm sure I will be repeating it over and over on my next projects as well.
What was the toughest thing to overcome, whether it applies to a particular scene or the film as a whole?
The hardest part of the process was the end of post. The perfection and trust needed in saying "I'm finished, let's move on." To direct means to create your love and then to constantly judge it, pick apart every aspect of it. It ended up sending me into a really dark place toward the end. But learning to let go was important.
What's been the most memorable moment while you've traveled with the film, either at a festival or otherwise?
The most memorable moment was when the film started working for audiences. The first test screenings – temp score/first cut – we're hard on me. You get lots of notes and it's difficult to hear them sometimes. But, after a year of struggle, there was finally a moment where I could see the audiences reacting the way I wanted them to. Really responding to the emotions. It was like the moment when you finally learn to do something and it just clicks. You get it. From that moment forward, I felt confident in my work and we finished up.
I wouldn't start traveling to festivals unsure of what I was showing. I wanted to finish post-production thinking, "Regardless of what happens with the film, regardless of its success, I have spent nine years on something that is just how I want it to be." It's the best feeling in the world.
What's your favorite thing about your film that's been largely uncommented upon?
The dreams. Me and my DP Sean Kirby spent so much time creating the look of the dreams. I'm interested in experimentation. I like using film as a way to create new visual experiences. Trying out new things – unsure of what the results will be – not relying on CG.
A lot of times you fail, but the glass/dream experiments worked out amazingly. The process came from seeing the photographs of Alan Jarras. Inspired, Sean and I worked with a glass blower in Omaha, NE to create warped pieces of glass. We removed the lens of the camera and used the warped glass instead. We then shot bright multi-colored light through the glass and rolled camera at a high speed. We developed the film and were amazed by the results. It really looks like some beautiful multi-colored universe? Or the inside of a mind? It's really up to the audience's perception.
What's been the most gratifying thing to come out of this film for you personally
Being nominated for a Spirit Award. This nomination has truly inspired me and my output has really shot through the roof because of it. Having recognition for something you've worked so hard on, only makes you work harder. After answering all these questions, I'm realizing I have confidence issues. But it's hard to expose yourself and not begin to slowly go insane.
What's been your favorite film, book or album from the past year?
Film: I saw a beautiful old Claymation film recently by Art Clokey, the creator of Gumby. It was called "Mandala." Really beautiful Gumby-style animations of psychedelic vortexes, tribal masks and alien worlds. It ends with Art Clokey and his wife meditating in a field of flowers. So weird and cool and it's the Gumby guy!
Book: I read a book called "Primal Myths: Creation Myths Around the World" by Barbara C. Sproul. I've been really obsessing over creation myths recently. We're all so used to Adam and Eve that it's great to see what other creative cultures through history have come up with for why we are here. They all share a common explosion of creativity that really inspires me. I want to write my own.
Record: I can't stop listening to Beach House's record "Teen Dream." I had lost a great great love of my life and this record was all I listened too. It has to be some of the most emotionally charged music to have been created in the last 10 years. It's so simple and elegant. I'm gonna go listen to it now.
"Lovely, Still" is now available on DVD, iTunes and Netflix instant. The Spirit Awards will air on IFC on February 26th.