Premiere: Nicole Atkins' Vignettes From "Mondo Amore"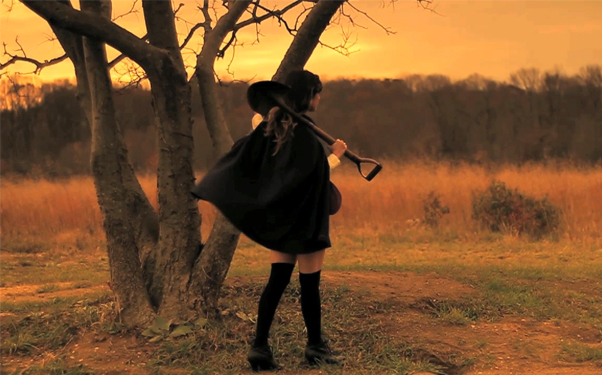 Posted by Brandon Kim on
Brooklyn's Nicole Atkins has become known for her darkly hypnotic voice, after her first full length record "Neptune City" released in 2007 and more recently from touring with the acts like The Black Keys. Next week she releases "Mondo Amore," and she says it's the record she's always wanted to make — ever since she started singing at age 12 in her native Neptune, New Jersey.
Filmmakers Mandy Bisesti and Lucia Holm created three sultry vignettes to go along with three songs from the forthcoming album, the first two of which we have exclusively, below. The lush, lacy look of these vignettes "were born out of years and years of reading fairy tales, books on symbolism, mythology, folk lore, fantasy," Biseti confided. The narrative that the black-caped Atkins becomes immersed in here "plays on the Robert Johnson, Devil at the Crossroads legend where a Faustian bargain is struck — a deal is made with the Devil and the soul is exchanged for other-worldly musical abilities," Biseti said.
Watch the first two parts, "Dark Magic in You Eyes" and "And What I wouldn't Do":
"As the story began unfolding, I kept seeing a shot from this amazing Czech Surrealist film "Valerie and Her Week of Wonders," Biseti continued. "It's a two-second shot in the beginning of the film; the camera zooms in on a bride and you can't see the figures adjusting the brides' veil, just their hands; I loved the mystery of her being attended to by unseen figures."
The track in the first short is "You Were The Devil," and the track in the second is "Heavy Boots," both are on "Mondo Amore," out on Razor & Tie Feb 8th. We'll premiere the 3rd vignette here, on Monday!