A Spirited Q & A with "Black Swan" Actress Natalie Portman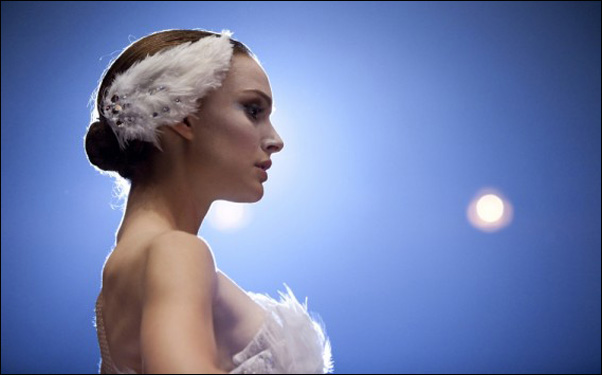 Posted by Stephen Saito on
As a way of celebrating this year's nominees for the Spirit Awards in the weeks leading up to the ceremony, we reached out to as many as we could in an effort to better understand what went into their films, what they've gotten out of the experience, and where they've found their inspiration, both in regards to their work and other works of art that might've inspired them from the past year. Their answers will be published on a daily basis throughout February.
At a recent event in Los Angeles, Darren Aronofsky explained that his lead actress' biggest accomplishment in "Black Swan" was acting and dancing at the same time, physically making the pirouettes seem effortless as she expressed emotions that would go against what she was doing with her body. Certainly, it was a tall order, but given everything else that Natalie Portman has done in the past few years, the idea of doing only two things at once seems almost quaint.
In the decade since Aronofsky first met with the actress over coffee in Times Square to discuss what would become "Black Swan," Portman has become a writer/director (her short "Eve"), a producer (the upcoming "Hesher") and even the co-creator of a Web site detailing the creative process (MakingOf.com), all the while expending her considerable empathy and nuance as a performer on films by the likes of Wes Anderson, Wong Kar-wai, and Jim Sheridan. It's worth mentioning these things because contrary to the anxiety-ridden ballerina she plays in "Black Swan," Portman's understanding of every aspect of production is part of what makes her performance in the film so magnificent.
To quote Sayers' demanding ballet director Thomas Leroy (Vincent Cassel), "Perfection is not just about control…it's about letting go too" and for Portman, it's a role that required both a full command of her body and her mind as she often had to parallel the timid Nina with her darker, poised alter ego, and a fearlessness to match her Spirit Award-nominated partners-in-crime Aronofsky and cinematographer Matthew Libatique as they seem to share a single vision for Nina's descent into madness. Add in 16-hour days, hundreds of takes for the film's climactic "Swan Lake" scene, a dislocated rib that the actress "integrate[d the pain of] into the performance," and you have something that the word "perfect" almost doesn't do justice to since it's inappropriate to define the ineffable magic and mystery that makes Portman so graceful even as her character psychologically falls apart. It took a rare actress to hold it all together and in reworking Tchaikovsky's masterpiece, Portman found hers.
Why did you want to make this film?
I wanted to work with Darren Aronofsky and I had been dying to do a dance-related film. It has always been the most moving medium for me.
What was the best piece of advice you received that applied to the making of this film?
Include the camera.
What was the toughest thing to overcome, whether it applies to a particular scene or the film as a whole?
Shooting late at night. Our days were so long that we often found ourselves at 4:00AM shooting crucial scenes or on Pointe. That was tough.
What's been the most memorable moment while you've traveled with the film, either at a festival or otherwise?
Watching it with my parents for the first time at Venice was very intense. Thankfully, they loved it.
What's your favorite thing about your film that's been largely uncommented upon?
The music by Clint Mansell is masterful and totally sets the tone and pace for the film.
What's been the most gratifying thing to come out of this film for you personally?
I had the incredible opportunity to work with the giants of the ballet world. I also loved our crew and had a beautiful time working with them.
What's been your favorite film, book or album from the past year?
My favorite films have been "Tiny Furniture," "The Kids are Alright" and "Please Give." My favorite books have been [Nicole Krauss'] "Great House," [Jonathan Franzen's] "Freedom" and [Patti Smith's] "Just Kids."
"Black Swan" is open in theaters across the country. The Spirit Awards will air on IFC on February 26th.