Mr Brainwash's Oscar Street Art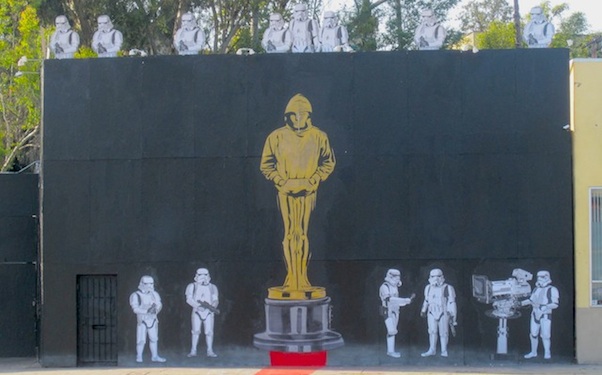 Posted by Matt Singer on
LAist spotted and photographed an big piece of "Exit Through the Gift Shop"-related street art on La Brea at San Vicente. As you can see above it's a giant Oscar decked out in a signature Banksy hoodie, surrounded by Stormtroopers (kinda hard to see at first glance but there's also Stormtrooper cutouts on the top of the building).
There was some initial debate on LAist (and Movieline) over whether this piece was by Banksy or by Mr Brainwash (a.k.a. Thierry Guetta, the oft-mocked subject of Banksy's film). I'm no expert on either's work beyond what's featured in "Exit Through the Gift Shop" but I'd be shocked if this was Banksy's. For one thing, it has a MBW signature. But Banksy's always been about the art and not the artist. In "Exit Through the Gift Shop," he extremely critical of guys like Mr Brainwash, who are less concerned with making art thank in soaking in the fame, attention, and money that comes with being a "celebrity artist." It would be incredibly un-Banksy-like to literally create a giant monument to himself. Also, while the Stormtroopers are certainly good for a chuckle, they don't really connect in any brilliant thematic way with Oscar. Maybe the Oscars are evil? Or Banksy has sold out? Or MBW just likes Stormtroopers and thinks they look coo? Take your pick.
I've said this on Twitter, but "Exit Through the Gift Shop"'s nomination is a win-win for its fans. If it wins, fantastic. If it loses, Banksy'll be tagging up the Kodak Theatre while whoever beats him is giving their acceptance speech. And in that case there won't be any doubt who made it either.
For more pics of MBW's Oscar art, go to LAist.