Morgan Spurlock Continues to Recruit Advertisers, Draws Plagiarism Charges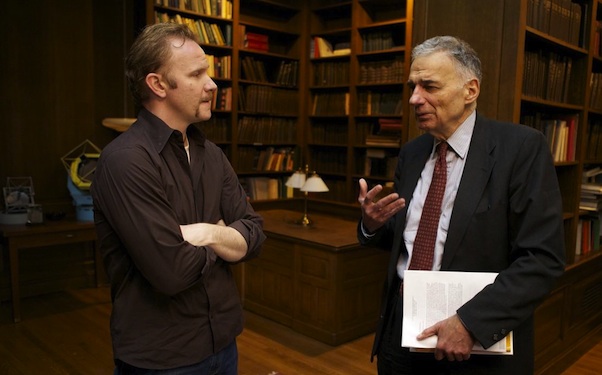 Posted by Matt Singer on
I've interviewed Morgan Spurlock a few times. He's funny, charming, smart, and a very good salesman. That last part's the key to his new project, "The Greatest Movie Ever Sold." It's about the rise of product placement in Hollywood and includes Spurlock's attempts to monetize the project by recruiting advertisers, including an above-the-title presenting sponsor (technically speaking, the movie is now called "POM Wonderful Presents The Greatest Movie Ever Sold"). Sounds like a great meta-movie to me, and a good match of star and subject. When "TGMES" premiered at Sundance last month it received mostly good reviews; you can hear Alison Willmore talk about it on our Sundance podcast.
Even though Spurlock has already sold "TGMES" to Sony Pictures Classics, the sales continue. Advertising Age reports that Spurlock is selling the naming rights to his talk at the upcoming TED Conference on eBay. On the auction page, Spurlock promises that "during my talk I will make reference to your company, reflect positively on your placement and share the process of how you got involved." You can find the auction here — as I'm writing this, the current bid is $510.00.
He may need the money, as today The A.V. Club reported Houston-based artists "The Art Guys" are accusing Spurlock of plagiarizing their ideas, particularly the brand-laden suit Spurlock wears in the film and during some promotional appearances. They claim Spurlock's outfit bears an non-coincidental resemblance to their work "SUITS: The Clothes Make the Man." The Art Guys told Mediabistro, "with all the media attention the SUITS generated, both printed and electronic, including CNN, "CBS News Sunday Morning," and given the fact that there's even a book about it available on Amazon, we find it beyond belief that he did not just steal our idea."
You can compare Spurlock's suit to the "SUITS" at those respective links. There's certainly a similarity. But is it plagiarism? According to the definition I brazenly stole from USLegal.com, plagiarism is "taking the writings or literary ideas of another and selling and/or publishing them as one's own writing." You can't sue someone for plagiarism, but the Art Guys could theoretically sue for copyright infringement, assuming they copyrighted the SUITS. The question in that case becomes whether or not Spurlock purloined this idea or simply dreamed a similar one up by coincidence. According to this law class website from the University of North Carolina, The Art Guys would have to prove that the Spurlock knowingly copied the "protectable expression." Though the Art Guys find it "beyond belief" that Spurlock couldn't know their work, it seems pretty plausible to me. I'd certainly never heard of them before today. Maybe I don't watch enough "CBS News Sunday Morning."
So far Spurlock hasn't responded to the allegations. I presume he's waiting for someone to sponsor the press release.