A Spirited Q & A With "Littlerock" director Mike Ott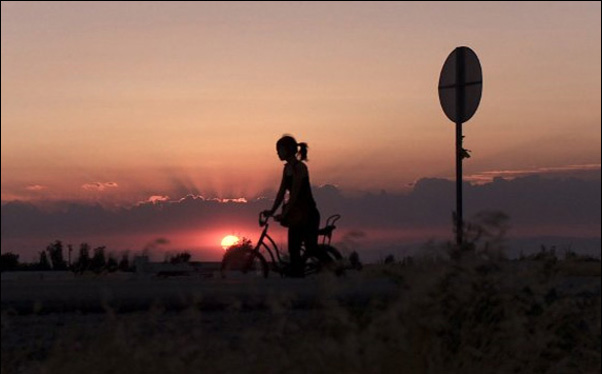 Posted by Stephen Saito on
As a way of celebrating this year's nominees for the Spirit Awards in the weeks leading up to the ceremony, we reached out to as many as we could in an effort to better understand what went into their films, what they've gotten out of the experience, and where they've found their inspiration, both in regards to their work and other works of art that might've inspired them from the past year. Their answers will be published on a daily basis throughout February.
Honored already at the Gotham Awards as this awards cycle's "Best Film Not Playing at a Theater Near You," Mike Ott's sophomore feature will no longer bear that title after its win guaranteed a theatrical run in New York at the Cinema Village sometime in the immediate future. And as it turns out, that was merely a precursor to its win as this year's recipient of the Acura Someone to Watch Award at a Spirit Awards ceremony held earlier, which has done a good job of spoiling the reputation of Ott's film as one of the best kept secrets at any of the festivals it's played since premiering in San Francisco a year ago.
As Ott describes below, the film's success may seem as foreign to him as the plot of his film where a pair of Japanese siblings (Atsuko Okatsuka, who also co-wrote, and Rintaro Sawamoto) get stranded in the California desert town in the title on a tour of Japanese-American internment camps and observe the locals, with the two eventually splitting apart when Atsuko befriends a local boy (Cory Zacharia) and decides to stay when her brother chooses to leave. Then again, in the same way "Littlerock"'s charms have a way of sneaking up on its audience, Ott has been steadily building a résumé of warmhearted but realistic looks at small-town life beginning with 2006's "Analog Days." While his characters often try to find their place in worlds that are unfamiliar, either due to age or locale or both, Ott's ability to make connections between them and to his audience has indeed made him "someone to watch" and more importantly, someone who makes you feel.
Why did you want to make this film?
There's always more than one reason for why you want to make a film, but I think initially I was just interested in trying to examine America through a foreigner's eyes…Re-evaluate the things we see everyday from an outside perspective.
What was the best piece of advice you received that applied to the making of this film?
Don't be afraid to go with an idea that's not your own.
What was the toughest thing to overcome, whether it applies to a particular scene or the film as a whole?
The toughest thing to overcome was just getting the courage to get started and go out and make another film. When you first begin a new project, it always seems like this unconquerable mountain from a distance, so it's easy to lose your nerve to get going.
What's been the most memorable moment while you've traveled with the film, either at a festival or otherwise?
Probably our screening at AFI Fest where the screening sold out and people who didn't get in were screaming and yelling at the door guy to let them in. Very surreal.
What's your favorite thing about your film that's been largely uncommented upon?
I'm really proud of Atsuko's performance in the film. It's so subtle and nuanced and I feel it gets over looked sometimes, since Cory is such a larger than life character. However, I think she did a fantastic job and really holds the film together.
What's been the most gratifying thing to come out of this film for you personally?
I think just how far the film has come. The fact that I'm answering a questionnaire for the Spirit Awards is case in point. The film has surpassed all of our expectations. We were a bunch of artists running around the desert with a camera just trying not to get robbed by meth-heads. Really. I had no idea I'd be screening the film in Egypt, Greece, Iceland, Italy, etc.
What's been your favorite film, book or album from the past year?
"Attenberg" by Athina Rachel Tsangari.
"Littlerock" has no U.S. distribution yet, but continues to play the international festival circuit. The Spirit Awards will air on IFC on February 26th.