Miguel Arteta's Wild Ride to "Cedar Rapids"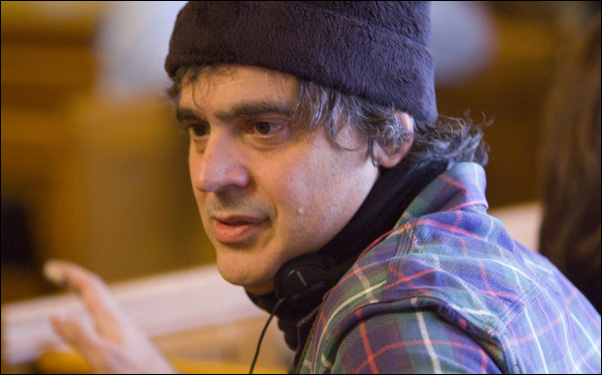 Posted by Stephen Saito on
Making a dick joke is rarely poignantly commemorated in a film, let alone the foundation for one for its most tender moments. Yet in "Cedar Rapids" when the sheltered insurance agent Tim Lippe (Ed Helms) fumbles upon a phallic observation during a hot dog eating contest and awaits approval like a puppy from his newfound colleagues and potential friends (John C. Reilly, "The Wire"'s Isiah Whitlock Jr. and Anne Heche, the woman with the wiener in her mouth at the time), it's a crucial part in what director Miguel Arteta says drew him to his latest film, "that heartwarming feeling that you get when those four people fall in love with each other."
Love has been a complicated thing in Arteta's films to date, sending Michael Cera off to create a confidence-boosting alter ego of himself in the adaptation of C.D. Payne's "Youth in Revolt," a neglected Jennifer Aniston into the arms of a Holden Caulfield-obsessed loner in "The Good Girl" and Mike White on a trip out to California to create a play to win over his childhood friend who's since moved on in "Chuck & Buck." In each case, the director has found the humanity and all of its attendant eccentricity and warmth that burst through when dealing with matters of the heart, which is why "Cedar Rapids" feels like a sly, fresh variation on the fish-out-of-water story since that same romantic sensation that overwhelms Tim Lippe is actually one of camaraderie. No wonder then that Arteta considers what he does to be "flirting with the audience," as he mentions below, along with how his own fish-out-of-water status helped him adapt first-time feature screenwriter Phil Johnston's Black List-approved script set in the Midwest, why he's not drawn to "overtly hip" comedies and the pride of "Chuck & Buck" 10 years later. [Mild "Cedar Rapids" spoilers ahead.]
You've said a goal of yours is to make comedies without cynicism. Has that vision been easier or harder to sell to people over the years?
It depends on how you coded it. "Cedar Rapids," it's a very wholesome and sweet comedy, but it also has a lot of foul language in it. But unlike a movie that just shocks you for shock's value, the foul language just comes with the territory. John C. Reilly's character has to be that way. But I do think it's harder. I think there's a lot of hip comedies nowadays that seem to work from a shock value point of view and don't seem as grounded as they claim to be, in my opinion. So I think this is a bit of a throwback to the Jimmy Stewart movies and the Jack Lemmon movies, sort of everyday guys who get out of where they come from and do something extraordinary.
Ed Helms reminds me of Jack Lemmon a lot. He has this great ability to look like an everyday man, like really disappear. You could believe him as an insurance salesman at an All-State office, but at the same time, he has that ability to be sweet, but have a comic edge, which is truly hard. Truly hard. It's a lot easier to be sarcastic or mean with comedy, but to come from a sweet place, it's rare when that really happens.
Do you take into account what they've done before and consciously try to employ them for a different purpose?
Well, definitely. All storytelling is a way of flirting with an audience and when you're making movies, the baggage that comes with a star is part of how you're flirting with an audience. You think you've seen Anne Heche, but you haven't seen her as a redhead who can make such a compassionate case for why she cheats once a year. And I think what stars bring is something that as a filmmaker you have to have in mind because it's all flirting. You're flirting with a bunch of strangers in the dark.
Having Alexander Payne as a producer will obviously draw some comparisons between your styles. What was it like having him as a creative partner?
It was great. Alexander and his partner Jim Taylor and their producing partner Jim Burke, all from the Midwest, helped an awful lot. Alexander kept an eye on making sure that we didn't cross that line of making fun of characters ever. Like we had our two main characters meet at an Olive Garden and he was like, "no, no, no. Make it a sushi restaurant. Don't stereotype the Midwest, please." And Jim Taylor helped write a lot of Sigourney [Weaver]'s dialogue. He got really involved with Phil Johnston, how to tweak the story. They were very hands on and the three of them fought the studio for my casting choices and then they were very involved with the cuts. It was a really wonderful team and Ed and Phil had a really strong connection and they also had a wonderful voice, so I felt really well-supported on this film.
Since all those guys come from the Midwest, did you feel that you had something valuable to offer coming from a different perspective?
A tropical one. [laughs] I did not know why they picked a Puerto Rican to make their love letter to Midwestern insurance, but God bless them because I had such a good time doing it. I relate to the story "Cedar Rapids," coming from a different culture, coming to the big country of America, being in culture shock, not knowing who to trust, who the good guys and the bad guys are. There's a correlation there to what it's like for Tim Lippe to go to Cedar Rapids to this convention and not knowing who the people who share his values are. The whole thing to me is like "The Wizard of Oz" of insurance. Ed Helms is Dorothy going to the big Emerald City –he thinks he has a goal, but along the way, he meets the three motley crew characters who help him and in turn, he helps them. In some ways, the whole movie is a love letter to friendship and what a delight and a surprise it is that any moment, you might make a lifelong friend and I wanted to capture what it's like in those first few days when you connect with somebody who's going to be your friend for life, they're just magical. They're just so much fun and memorable. So I think the script and the film captures that and I'm most proud of that.
Is it just coincidence or is there something attractive to you about setting your films in small-town America, as your last three films have been?
I'm not interested in making movies that feel overtly hip and I'm pretty put off by that. So I think it just helps right off the bat if you set your film in a smaller town.