A Spirited Q & A With "Lbs." Director Matthew Bonifacio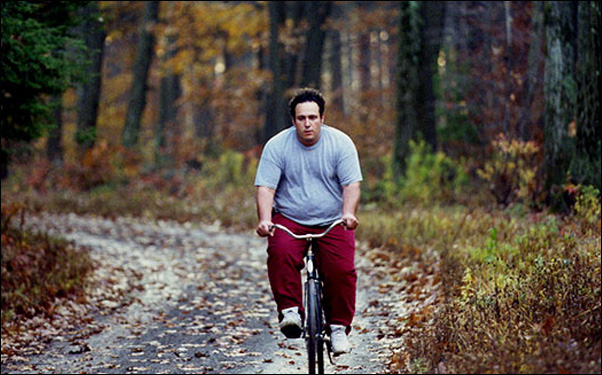 Posted by Stephen Saito on
As a way of celebrating this year's nominees for the Spirit Awards in the weeks leading up to the ceremony, we reached out to as many as we could in an effort to better understand what went into their films, what they've gotten out of the experience, and where they've found their inspiration, both in regards to their work and other works of art that might've inspired them from the past year. Their answers will be published on a daily basis throughout February.
Underdog tales don't come any more tailor-made for a happy ending than Matthew Bonifacio's first feature that's nominated for the John Cassavetes Award at this year's Spirit Awards. In the case of "Lbs.," this is as true behind the scenes as it is in the story about Neil, an overweight man (Carmine Famiglietti) who aims to curb his addiction to meatball hoagies and fried chicken by shacking up in a trailer park with his friend Sacco (Michael Aronov), who simultaneously attempts to wean himself off drugs. For the frizzy-haired Neil, the romance with food gives way to a previously unthinkable affair with a forthright local (Miriam Shor), a relationship that's only superceded in its tenderness in real life by the one between Bonifacio and the film's star and co-writer Famiglietti.
As Bonifacio explains below, the film was born out of the pair's friendship and that warmth is felt in every frame of "Lbs.," which clearly draws upon Famiglietti's personal struggle with his weight as clips and photos from his past are interspersed throughout the early part of the film. And the line between reality and fiction blurs further when you consider that Famiglietti really does lose 100 pounds (and goes through three different hairstyles) over the course of the film, which was shot on a shoestring budget while it allowed for a shoot broken into four parts over the course of 27 months.
However, for all the miles Neil bicycles in the film to drop the weight, "Lbs." as a film has had to go many more. Originally premiering at Sundance in 2004, Bonifacio has already completed two films since then — 2007's "Amexicano" and the upcoming "Not for Nothing" — and endured a string of release dates that never came to be, first with a distributor that didn't come through and then oddly enough, a partnership with a drug company that wanted to use Famiglietti as a spokesperson until their latest product didn't pass government approval.
Ultimately, Bonifacio got the rights back to his film in 2009 and after a theatrical release in New York this past summer, he's self-distributing the DVD through the "Lbs." Web site, which should finally bring some closure to a production that's been over a decade in the making and a smile to anyone's face who listens to Neil's final words in the film as he explains how he wants to fill the void of eating with "something real simple." Clearly, nothing was intended to come easy for "Lbs.," but that's only made its success now sweeter.
Why did you want to make this film?
Primarily, I wanted to help out my longtime friend Carmine Famiglietti with his fight against food. I watched him physically change dramatically over a short period of time and this was a perfect opportunity to help him turn it around. Also, I started out as an actor and was heavily influenced in the mid '90s with the Independent film scene and had been interested in getting into directing and working on the other side of the camera. It was a win-win.
What was the best piece of advice you received that applied to the making of this film?
I played baseball throughout most of my life and was told by a teammate in high school "If you're not practicing, someone else is." It was a Brooks Robinson quote and has always stuck with me. I approached pre-production with the intention of making "Lbs." the best it could be and used my competitive nature to drive me through the tough production days.
I also received great advice years later from an investor for our second feature, "Amexicano." He said, "Study the dailies". It sounds funny but there's so much truth to it. You think every filmmaker does that, but it's easy to settle if the scene immediately comes out good. You have to keep on challenging yourself by exploring and combing through every single frame. If not, you could miss something magical.
What was the toughest thing to overcome, whether it applies to a particular scene or the film as a whole?
I had to learn to have patience and a thick skin with "Lbs." It was shot over the course of 27 months in conjunction with Carmine's incredible weight loss, raising money, and tightening the script. It's easy to say, "We have enough in the can," "Carmine, you lost enough weight," "Let's start submitting to film festivals." But we didn't and made the movie we wanted to make. Having that patience got "Lbs." to Sundance in 2004 and in theaters in 2010. I learned there are no rules or conventional paths. Create your own path. It's much more exciting.
What's been the most memorable moment while you've traveled with the film, either at a festival or otherwise?
I've been blessed with many memorable moments during this journey. The whole Sundance experience was pure heaven and such a positive and life-changing experience that I will cherish forever. Another was when "Lbs." had a special screening at Harvard Medical School. Here you have two guys from Brooklyn and Queens being looked upon with the utmost respect and fielding a slew of questions during a very exciting Q & A. Finally, last year when "Lbs." was in release it opened in Washington DC, a young lady flew in with her mom from Kansas City to see "Lbs." and meet us. She had started her own "Lbs." forum on her blog called Uncovering Pamela. She is such a dedicated fan and religiously updates her blog when there's any news on "Lbs." I've even found myself going to her blog to find out updates! It's all so flattering and a great reminder of the reason we made this film.
What's your favorite thing about your film that's been largely uncommented upon?
I think most people probably don't realize the twists and turns a film like "Lbs.", that has been 10 years in the making, goes through. If you heard of a similar film years ago, it was probably us. "Lbs." was developed in the late '90s when Carmine wrote the initial drafts. I had my first production meeting with him in January 2000. At the time, I responded to the material and was brought on as a co-writer. We developed the script for a year and had a few staged readings. He asked to me to direct.
Principal photography took place between 2001-2003 ("Lbs." is both a pre- and post- 9/11 film). We world-premiered at Sundance in 2004, where we turned down a cable deal because we wanted a theatrical release. "Lbs." was pick-up by a specialty distributor and was never released, leading to a legal battle in 2009. We won back the rights with the help of executive producer Marc Victor and self-released "Lbs." theatrically in 2010, starting out in four cities, which grew to eight. Last summer, Carmine Martignetti, a Massachusetts businessman, fell in love with the film and shared it with his brothers. They funded the DVD release, and here we are in 2011…it's been a wild ride!
What's been the most gratifying thing to come out of this film for you personally?
Hearing the public speak. There's nothing more exciting and satisfying than talking to audience members at Q & As. We've received e-mails from all over the world asking "How can I see 'Lbs.'?" The film's very popular in Sweden, and yet we never played there! What?! I just feel so blessed there are people out there who are interested in something I was a part of. It never gets old.
What's been your favorite film, book or album from the past year?
This year I really enjoyed "The Town" — Ben Affleck was terrific in front and behind the camera, "Cyrus" — I love anything the Duplass brothers make, "Greenberg" — I'll never miss a Noah Baumbach film, "The Kids Are Alright" — excellent performances; Mia Wasikowska and Julianne Moore should've received Oscar nominations, and "I'm Here," the short directed by Spike Jonze, which was probably my favorite film of the year! Fave book? There's two. "Citrus County" by John Brandon and the "2011 Not For Tourists Guide to Los Angeles."
"Lbs." is now available on DVD. The Spirit Awards will air on IFC on February 26th.