"Madden NFL" Has Predicted 6 of 7 Super Bowl Winners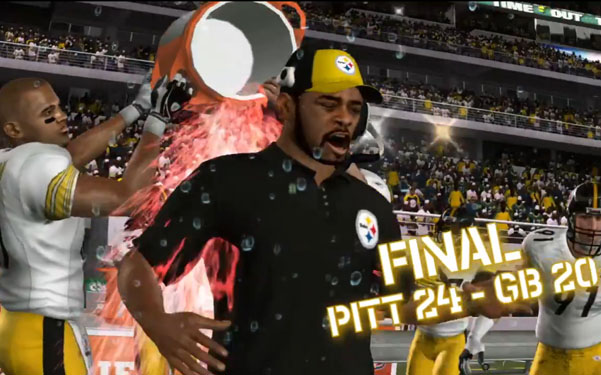 Posted by Chris Plante on
Electronic Arts has used the yearly update to its beloved "Madden NFL" franchise to predict Super Bowl winners for over half a decade. It might sound like a publicity stunt for a sports game on the precipice of a sales drop, but it is also surprisingly prophetic. Since 2004, the Madden prediction has only be wrong once. Who does "Madden NFL" predict this year?
Take a look at the previous predictions alongside the actual Super Bowl scores.
"Madden NFL 2005" — New England Patriots 41; Philadelphia Eagles 31
Super Bowl XXXIX — New England Patriots 24; Philadelphia Eagles 21
"Madden NFL 2006" — Pittsburgh Steelers: 24; Seattle Seahawks: 19
Super Bowl XL — Pittsburgh Steelers 21; Seattle Seahawks 10
"Madden NFL 07" — Indianapolis Colts: 38; Chicago Bears: 27
Super Bowl XLI — Indianapolis Colts 29; Chicago Bears 17
"Madden NFL 08" — New England Patriots 38; New York Giants: 30
Super Bowl XLII — New York Giants 17; New England Patriots 14
"Madden NFL 09" — Pittsburgh Steelers: 28; Arizona Cardinals: 24
Super Bowl XLIII — Pittsburgh Steelers 27; Arizona Cardinals 23
"Madden NFL 10" – New Orleans Saints: 35; Indianapolis Colts: 31
Super Bowl XLIV – New Orleans Saints: 31; Indianapolis Colts: 17
"Madden NFL 11" – Pittsburgh Steelers: 24; Green Bay Packers: 20
Super Bowl XLV – Unknown
"Madden NFL" has a 6-1 record when predicting the Super Bowl winner. That means Madden picks correctly 85% of the time! Good day to be a Steelers fan.
Hear the rustling? It's the sound of a thousand gamblers running to their nearest bookie.