A Spirited Q & A With "Tiny Furniture" Actress/Writer/Director Lena Dunham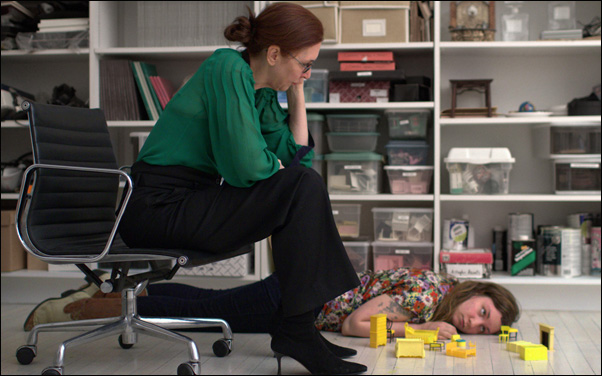 Posted by Stephen Saito on
As a way of celebrating this year's nominees for the Spirit Awards in the weeks leading up to the ceremony, we reached out to as many as we could in an effort to better understand what went into their films, what they've gotten out of the experience, and where they've found their inspiration, both in regards to their work and other works of art that might've inspired them from the past year. Their answers will be published on a daily basis throughout February.
Of all the things written about Lena Dunham in the past year, a span of 12 months that has included a New York Times piece on her ultra-low budget feature "Tiny Furniture"'s successful debut at SXSW in March and culminated with a lengthy profile in The New Yorker upon its release in November, the irony, which has surely not been lost on the actress/writer/director, has been the best teller of Dunham's story is herself. Words have come tumbling out, just as they cascaded from the tongue of Dunham's onscreen alter ego Aura, because it's rare to witness a genuine phenomenon, a singular voice that captures the ambivalence of a particular time and age while wringing it for laughs with an honesty that is both courageous — which as Alison Willmore noted in her review, was due in no small part to "Dunham's nigh-majestic lack of vanity" – and cringe-inducingly familiar.
This isn't to confuse what Dunham has done with "Tiny Furniture" as autobiography, despite the casting of her mother and sister in their natural roles onscreen in the suspiciously similar story of a young woman who moves back in with her family in New York to deal with post-college malaise. Although the parallels to her real life are well-documented, Dunham is hardly lacking ambition. At just 24, Dunham honed her observational style on Web series ("Delusional Downtown Divas") and her first feature "Creative Nonfiction," if not necessarily sharpening it — the charm of her style is in its disarming looseness, as if there's no filter between her mind and her mouth. Yet "Tiny Furniture" is precise in the feelings it elicits, no doubt a product of Dunham's script, nominated for Best First Screenplay, and the keen-eyed cinematography of Jody Lee Lipes, also nominated for a Spirit Award.
These days, if Dunham doesn't know where life will take her next, it's because of all the many choices in front of her — she's already at work on her first TV series, the Judd Apatow-produced HBO series "Girls," an adaptation of David Levithan and Rachel Cohn's "Dash and Lily's Book of Dares" for "The Social Network" producer Scott Rudin, and also co-wrote "You Wont Miss Me" director Ry Russo Young's next film "Nobody Walks." Whatever direction she decides to take, Dunham is clearly going somewhere no one else has, and quite possibly taking what we hold as the standard for great comedy with her.
Why did you want to make this film?
"Tiny Furniture" was doing laps in my head for almost a year before I wrote it. I waited until my desire to tell the story was almost unbearable before I started to write. The time between graduation and landing in the adult world is painful, frustrating, funny, oddly universal — many of the qualities I search for in a favorite film. I needed to give it a shot.
What was the best piece of advice you received that applied to the making of this film?
The film's editor, Lance Edmands, encouraged me to show more private moments with my character. The DP, Jody Lee Lipes, gave me permission to take my time with scenes, breathe, even though they're dialogue heavy. These bits of wisdom really aided the neither-here-nor-there dramedic tone I was hoping for.
What was the toughest thing to overcome, whether it applies to a particular scene or the film as a whole?
There were benefits and challenges to the incredibly low budget. The benefits: creative freedom, forced resourcefulness, people doing it for the love of the game. Challenges: never enough time, manpower or snack foods.
What's been the most memorable moment while you've traveled with the film, either at a festival or otherwise?
Seeing the film play for the first time in front of an international audience in Israel. No one laughed and I was terrified, but afterwards people seemed to have liked it. (They just thought it was a drama.)
Also, the time I heard three octogenarian women discussing how much they hated it in a bathroom in Sarasota, Florida.
What's your favorite thing about your film that's been largely uncommented upon?
I love when people notice the costumes. Every actor dressed themselves, and it feels like a testament to how well they knew and loved their own characters.
What's been the most gratifying thing to come out of this film for you personally?
The chance to work more, and with additional resources, and most of all with people I admire.
What's been your favorite film, book or album from the past year?
"Fish Tank"
"Tiny Furniture" remains available on demand continues to play around the country — a full list of screenings is here — and will return to Los Angeles at the New Beverly on February 16th and 17th. The Spirit Awards will air on IFC on February 26th.