"The King's Speech" Shot on a Former Gay Porn Set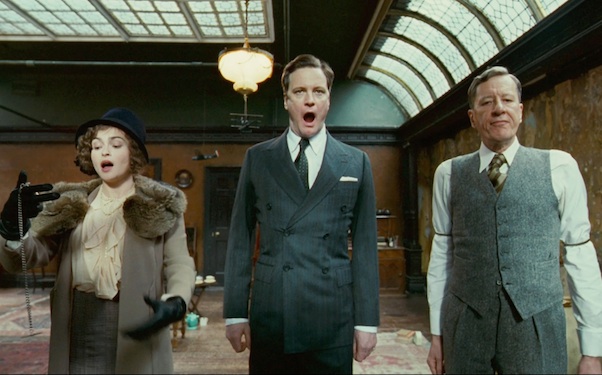 Posted by Matt Singer on
Movieline has confirmed the most awesomest movie news of the week: the discovery that tawny Oscar nominee (and Best Picture frontrunner) "The King's Speech"'s primary shooting location, the handsomely disheveled office of speech therapist Lionel Logue (Geoffrey Rush), was previously used as the set of a gay porn film entitled "Snookered." After rumors — and some extremely NSFW photos — first surfaced online, Mike Ryan from Movieline spoke with "Snookered" director Jonno — just one name, thank you very much — to get the, um, hard facts:
"According to Jonno, his video (which was done for the website UK Naked Men) was indeed shot in the exact same room as "The King's Speech" at 33 Portland Place, though well before the King of England ever stepped foot onto the set. "Snookered" was filmed in August of 2008; "The King's Speech" started filming in November of 2009.
Well, at the very least, we know where the inevitable "King's Speech" gay porn parody (which will have to be called "The King's Penis") will be shot. Go to Movieline for the full story; for the long and short of the photographic evidence, or if you're just in the mood to look at pictures of naked men hanging out amongst classy, Academy Award nominated art direction, go to (the highly NSFW) QueerClick.