Justin Bieber's Faith Based Music Sells Out One Less Lonely Girl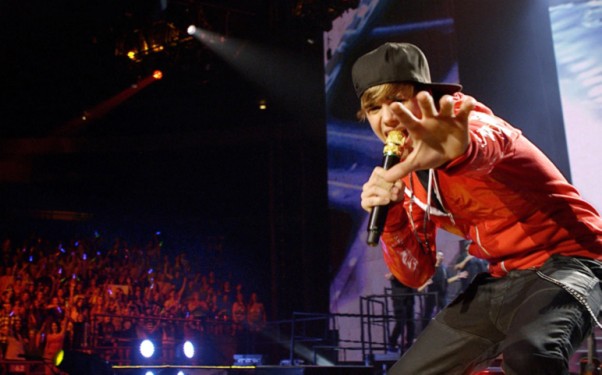 Posted by Brandon Kim on
Omg you can almost feel Justin Bieber's hands on you, as they reach out in 3D during his biopic/concert/Christian movie "Justin Bieber: Never Say Never." The movie, which opens today, followed a marketing scheme used by films like "The Passion of the Christ" — minus Mel Gibson's anti-Semitic slurs — screening ahead of time for Christian faith leaders. THR reports that Paramount has even handed out "spiritual discussion guides" for the movie that depicts a devout Bieber praying before his concerts.
Biebers manager, Scooter Braun played down the marketing strategy saying, "There are some stars who speak their faith because they're trying to do outreach to that audience and there are others who share that side of their lives because that's who they are," Braun said. "And I think that's just who Justin is."
He's also a very successful capitalist, tallying up hundreds of millions in merch revenue. "We're selling millions of calendars, posters have been humongous, dolls and millions upon millions of T-shirts," rep for Bieber's product line told THR. "And it's a global phenomenon. We had a seven-figure order for trading-card packs in Israel."
Biebs has even been lending his name to the nail polish line One Less Lonely Girl, which completely sold out of their lacquer shades, inspired by Justin Bieber's songs. The nail polish, first sold exclusively at Wal-Mart, is blowing up this month after moving more than a million bottles with glittery names like "Step 2 The Beat Of My Heart." But the 14 different shades are due back in stores today, just in time to paint tweens tootsies for the opening of "Never Say Never."
It seems a good occasion to re-watch 80-year-old actor Gordon Pinsent anguish over celebrate Bieber's puerile autobiography!