Julia Roberts' Opera Sing-Along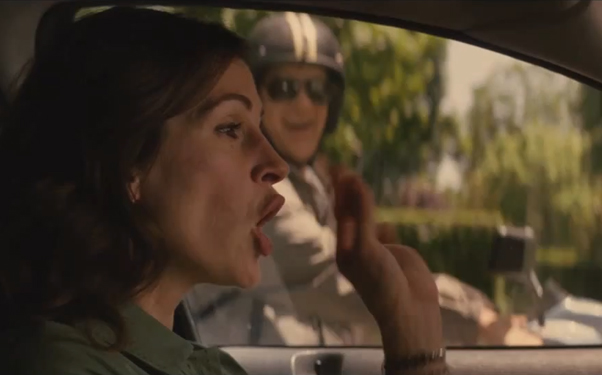 Posted by Brandon Kim on
Tom Hanks went on the "Jimmy Kimmel Show" last night promoting his film "Larry Crowne" in which he stars with Julia Roberts. It's only Hank's second time directing a feature and the first time since 1996's "That Thing You Do!" As Cinematical points out he also co-wrote with Nia Vardalos ("My Big Fat Greek Wedding"), so the film is his baby — his bosom baby, if you will (see the Toddlers & Tiaras skit he did for Kimmel).
In this first clip of the forthcoming summer comedy, Julia Roberts sings along to some opera in an attempt to drown out her car's annoying GPS voice. A giant dork, played by Tom Hanks, rides along on a scooter outside trying to get her attention, and then plays hero to her miserable husband's technical ineptitude.
Roberts plays Hanks' teacher when he goes back to college trying to find a new career after getting "downsized." The ensemble cast includes George Takei, Pam Grier, Wilmer Valderrama, Cedric the Entertainer, Jon Seda, Rob Riggle, and Dale Dye.
(Clip begins at 1:00)