A Spirited Q & A With "Tiny Furniture" Cinematographer Jody Lee Lipes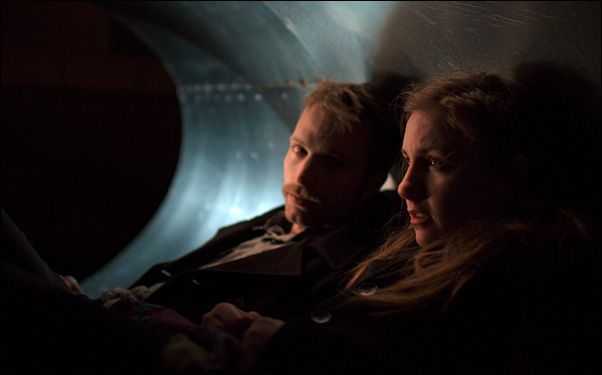 Posted by Stephen Saito on
As a way of celebrating this year's nominees for the Spirit Awards in the weeks leading up to the ceremony, we reached out to as many as we could in an effort to better understand what went into their films, what they've gotten out of the experience, and where they've found their inspiration, both in regards to their work and other works of art that might've inspired them from the past year. Their answers will be published on a daily basis throughout February.
It would be one thing to say that Jody Lee Lipes had a beautiful year, but it would be equally accurate to say he made the year beautiful for the rest of us. Following the accomplishments of lensing Antonio Campos' "Afterschool" in 2008 and directing the doc "Brock Enright: Good Times Will Never Be the Same" in 2009, 2010 began with a bang when Lipes landed at SXSW with the wondrous "NY Export: Opus Jazz," the film he co-directed with Henry Joost that updates Jerome Robbins' urban ballet that functions as a pure distillation of cinema and dance. He later headed to Cannes with the contemplative "Two Gates of Sleep," Alistair Banks Griffin's drama about two brothers transporting their mother's corpse across rough terrain, and if there's a common thread between the three vastly different films, it's how Lipes can convey a sense of dignity in both the lightest and darkest corners of the world and of humanity in general.
During his time in Austin, Lipes clarified to Aaron Hillis that he would prefer to be described as a filmmaker rather than a director of photography, a distinction that makes sense well beyond the fact he's already worn many other hats besides that of a cinematographer. And yet his name has become a badge of honor on any film that lists him in the credits, a promise to the audience that their eyes will be dazzled.
Incredibly, as Lipes mentions below, he almost wasn't hired for Lena Dunham's "Tiny Furniture," the film that garnered him a Spirit Award nomination for best cinematography. If there was any risk in hiring him, it surely paid off since it was his camerawork that brought focus to the writer/director's cockeyed view of the world, operating almost as the prim and proper Laurel to the blustery Hardy of Lena Dunham's Aura, the free-thinking, overprivileged/ understimulated New Yorker that barrels through the wilderness of post-collegiate life. Dynamic duos like this don't come around often, so it's no surprise Lipes and Dunham have continued their collaboration on the upcoming HBO series "Girls," which in addition to his work on the Sundance winner "Martha Marcy May Marlene," suggests 2011 may even be a more momentous year for the filmmaker than 2010. At this point, momentum may be the only thing that could widen Lipes' scope.
Why did you want to make this film?
I had just finished working on "NY Export: Opus Jazz," the largest production I had been a part of up till that point in my career, and I was looking to shoot a really small film without crew or any of the machine that comes along with a budget. So when Kyle Martin told me about Lena's script and the scale he was imagining for the film, I really wanted to read it. I remember calling Lena when my plane was taking off as I was returning from some job in California, I sort of begged her to give me a try on that voicemail cause she had already decided against working with me. Luckily, she reconsidered.
What was the best piece of advice you received that applied to the making of this film?
Just watching Gordon Willis' work prepared me for this film in a lot of ways. He is one of my favorite storytellers.
What was the toughest thing to overcome, whether it applies to a particular scene or the film as a whole?
The toughest thing about "Tiny Furniture" was the camera we were using (the Canon 7D), it's not very forgiving and it's painful to operate. My longtime friend and AC quit the first day cause it was so difficult to work with. In the end, the movie got a lot of attention because we were one of the first couple features to work with that technology, but it's not something I'm planning on doing again.
What's been the most memorable moment while you've traveled with the film, either at a festival or otherwise?
The most memorable moment was watching Lena on the Craig Ferguson show in December. It was kind of hard to believe a year after we starting shooting this no-budget film in her parents' apartment that Lena had come so far and achieved so much. It's really been a pleasure to watch.
What's your favorite thing about your film that's been largely uncommented upon?
My favorite thing about the film was the complete lack of expectation about the product we were making while we were making it.
What's been the most gratifying thing to come out of this film for you personally?
The most gratifying thing to come out of this process has been the extreme pleasure of working with Lena, Judd Apatow and Jenni Konner on Lena's new HBO show. It's amazing to learn from and collaborate with such gifted and dedicated minds.
Your favorite film, book or album from the past year?
"Catacombs" by Cass McCombs is the album I've listened too most over the course of the last year, he is simply the best.
"Tiny Furniture" remains available on demand and continues to play throughout the U.S. A full list of screenings can be found here. The Spirit Awards will air on IFC on February 26th.
[Additional photo: "NY Export: Opus Jazz," Credit: Yaniv Schulman, 2010]