A Spirited Q & A With "Marwencol" Director Jeff Malmberg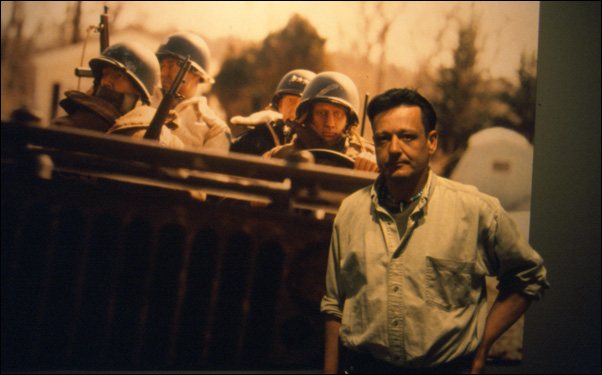 Posted by Stephen Saito on
As a way of celebrating this year's nominees for the Spirit Awards in the weeks leading up to the ceremony, we reached out to as many as we could in an effort to better understand what went into their films, what they've gotten out of the experience, and where they've found their inspiration, both in regards to their work and other works of art that might've inspired them from the past year. Their answers will be published on a daily basis throughout February.
One of the many unshakable aspects of the documentary "Marwencol" is that feeling of discovery, not only of its subject Mark Hogancamp, a man whose recovery from a brutal beating leads him to seek out solace in a World War II-themed dream world he's constructed of dolls in his backyard, but also of the film's director Jeff Malmberg, a longtime editor making his feature debut as a director. Malmberg's Avid skills were surely instrumental in piecing together Hogancamp's life with a structure that resembles the man's own memories in a fractured narrative that's often rich with detail, yet it was the filmmaker's dedication to and recognition of Hogancamp's remarkable story over the course of four years that makes it such an enveloping experience, delving into a mind that was once closed off by the comforting limits of the imaginary place Hogancamp's created for himself to opening up to the possibility that others could appreciate the unique gifts it has to offer the outside world.
That remarkable intimacy was something I alluded to during the film's premiere at South by Southwest when I wrote in an earlier review, "'Marwencol' is a film that never sits in judgment of its subject, a quality that allows for unforced answers to the usually ineffable questions of how art is created, how it can heal and how artists can reconcile their reality to the one that stands outside their door." It was just the start of a festival run that led to awards in Austin and subsequently Silverdocs, Seattle, Woodstock and Boston, among others. Naturally, that trend towards trophies has continued on to the Spirits where Malmberg has already picked up prizes for the Truer Than Fiction and FIND Your Audience Awards at an earlier ceremony, making a win in the best documentary category just icing on the cake, which we dare say would be a fitting way to honor a film with so many layers.
Why did you want to make this film?
I was at a point where I wanted to try my hand at directing something. As soon as I committed to that idea, I ran across some of Mark Hogancamp's photographs in the art magazine Esopus. I was immediately captivated by them and by Mark's story. The article was wonderfully open-ended about what it all meant and as a reader, I had so many questions. It wasn't long before I realized that this was the subject that I'd been looking for.
What was the best piece of advice you received that applied to the making of this film?
A friend of mine who is a writer told me when I was knee-deep in editorial that when it came to structure the only thing I really needed to do was to stay true to my experience of having met this person and let the audience take that same journey that I was allowed to take. It was advice that came at a time when I was really trying to find my way through hundreds of hours of footage. It sounds so simple and obvious now, but when you're dealing with a world as rich as Mark's and you've been shooting for years, you're almost frozen by all the possibilities of where you could go.
What was the toughest thing to overcome, whether it applies to a particular scene or the film as a whole?
Mark is a person with a lot of layers – both in his real world and his imaginary world. And those layers often intertwine. Every time I went to visit Mark, I'd find out something new that would affect my understanding of everything that had come before. Mark is also someone that was at a bit of a crossroads personally as I was getting to know him. So trying to be true to all those layers and that metamorphosis was a big challenge – and of course, the most rewarding thing, too.
What's been the most memorable moment while you've traveled with the film, either at a festival or otherwise?
The first screening when it premiered at South by Southwest was a highlight for me. Just watching the audience going on that journey that the film was offering up and feeling them really take Mark into their hearts. You work so long by yourself in a dark bedroom and then one day the movie is born and out in the world – that's what that first screening felt like to me. I remember feeling both grateful and relieved.
What's your favorite thing about your film that's been largely uncommented upon?
I really think the film's score by Ash Black Bufflo is beautiful and very much the emotional core of Mark's world. To me, the score works so well and provides so much that you're not really noticing the music at all. Ash Black Bufflo really got where I was going from the beginning four years back – I was getting tracks before I started cutting so the shape of the film really started with that music.
What's been the most gratifying thing to come out of this film for you personally?
Finding out how much I really loved the process and experience of making a documentary.
What's been your favorite film, book or album from the past year?
My favorite films were "The Oath" by Laura Poitras, "Armadillo" by Janus Metz, "A Different Path" by Monteith McCollum, "Paris Return" by Yossi Aviram, "Familia" by Mikael Wistrom and Alberto Herskovits, and "45365" by the Ross Brothers, and my favorite albums were "Foreign Landscapes" by Hauschka, "The Unfazed" by Dolorean, "Dark Night of the Soul" by Danger Mouse and Sparklehorse, "All Day" by Girl Talk, "Bromst" by Dan Deacon, and "Broken Bells" by Broken Bells.
"Marwencol" is currently playing in theaters across the country – a full list can be found here – and it will be available on DVD and Blu-ray on April 12th. The Spirit Awards will air on IFC on February 26th.