Interview: Team Bondi's Brendan McNamara on "L.A. Noire," Part 4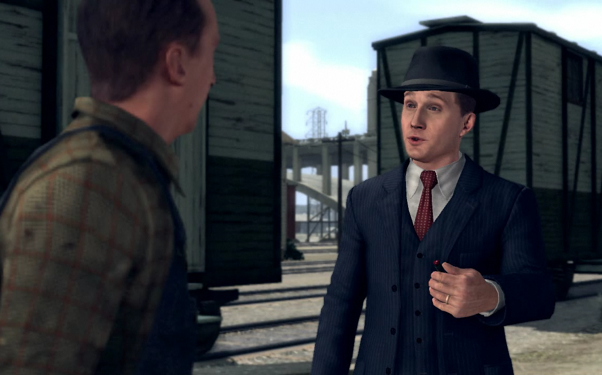 Posted by Evan Narcisse on
[Find Part 1 here, Part 2 here and Part 3 here.]
The developers at Team Bondi have essentially tried to build a deduction engine, where the player's given clues and tasked to figure things out. Can you talk about how building something that's intuitive and not necessarily inherently mechanical posed some challenges to you?
In terms of the integration? That went through a million iterations. Originally, we were going down the street of natural language programming, which would've ben almost like a chat-bot, where you could talk to things and it would respond back to you from a database. And trying to make that kind of interesting, and trying to work out where it went, and then trying to attach a voice to that.
Because if you did do that kind of a chat-bot kind of thing, then you have potentially millions of lines that it needs to say back in an interesting kind of way. So, after awhile, we worked out that we were four or five generations away from when that's going to be possible in a game. And then we went down a route where you can try to intimidate information out of everybody. That's one of the other things about he LAPD back in the day; they were probably more hands-on than nowadays, but in a kind of firm-but-fair way. But, then I started walking around the office as people were playing and testing, and I just watched everybody just slapping people constantly.
Well, slapping IS fun… But, how do you go from that to the gameplay seen in the latest trailer?
So, it was this kind of joint slap-a-thon around the office. After seeing that, we sat down for awhile and tried to say, "OK, well if the key thing in our game is to decide if someone's lying or not, how are we going to make a contest out of that?" The only way you could really do that was to make those people withhold information or give you misinformation. That's when we got to this kind of, "truth, lie, or doubt what they're saying" mechanic. And that kind of blew the script wide open.
Because we had to have three responses for every question. And we had to be able to take the story slightly a different way, depending on how you did that. I think that was kind of a key moment for the game. Everybody's got to find their gameplay, so that's how we found ours.
And speaking of trailers, in the second one from a few weeks ago, you guys teased the serial killer. Do you feel that's giving away too much at this point, with a couple of months to go before the game comes out?
In some ways, yes, but in other ways, no. It's funny, looking at the Web, and everyone's saying the game's all about a serial killer. But that's just the homicide desk. The traffic desk has a different kind of plot that runs through it. And the arson desk has different things. And the vice desk has different threads that run through those cases. That's definitely not what the overarching game is about. But there's actually more unsolved murders than we had time to cover, which are real and from the period.
When I was shown the game, Rockstar mentioned the amount of research that went into the game in terms of drawing from real-life cases from 1947. And you guys are actually solving cold cases. Not solving them, but basically making up solutions.
Yeah. We're trying to. One of the first things we did when we were doing the research is we went to the L.A. public library and we almost went blind on the microfiches there. And we've got every newspaper from 1947. So the News, The Examiner, The Times and The Daily Record.
So, we've got all four of them here, got printed copies of them. And we strolled through all of that stuff. And the great part of that is, if it's a murder for instance, you can see it's sort of day one, the Black Dahlia, and then you can follow it through issues right up to–which happened in January, and you can follow it right through to about August where the case just keeps going through the papers.
And the papers were coming out four times a day in those days. Newspapers were how you got your news and your entertainment. So you could follow those kinds of things. So it's interesting to see some of the cases, how they developed, and what the evidence was, and all that kind of stuff. That part of it, from the point of view of doing the research, is really good. There are other cases like the Black Dahlia, which is probably America's Jack the Ripper, and totally unsolvable. So you get to go through all that. The research phase, it was quite good fun.
So, to wrap up, is there another genre of film or literature that you would love to kind of play around in the way you have in noir?
Yeah, there is. And [Rockstar exec] Sam [Houser] and I talk about this all the time because we see the last 10 years in games (or even before that, really) as kind of a journey to what sort of entertainment we actually want to make. And this is another step along that route. Because now we're saying that human interactions and humanity is going to be part of video games.
So instead of punching people here, you can actually talk to them and you can read what they're saying and decide whether you're going to emphathize with them in someway or another. So it's just another thing you add to the tool kit of people making games. It just means that you can have a chance to get it to a bigger audience, and take it to completely new places. Yeah, I have some new ideas. Sam and I are kicking those around at the moment.
But, nothing you feel you are at liberty to share?
Well, I keep telling people I want to do a romance but that makes people laugh.
No, not at all. It's funny to hear you say that. Because if you can compare comics and video games, romance comics used to be huge for 30 or 40 years, and they just kind of disappeared. And the same people we revere for making awesome superhero comic books in the '60s and the '70s–like Stan Lee and Jack Kirby–did that romance and lovey-dovey stuff in the '40s and the '50s.
Yeah. I know. The whole thing is like, can you make characters that you really care about? The ones that you care about as much as in your favorite film or novel? I just think everything we've done on "L.A. Noire" is just another step along the route to doing that.