Interview: Team Bondi's Brendan McNamara on "L.A. Noire," Part 3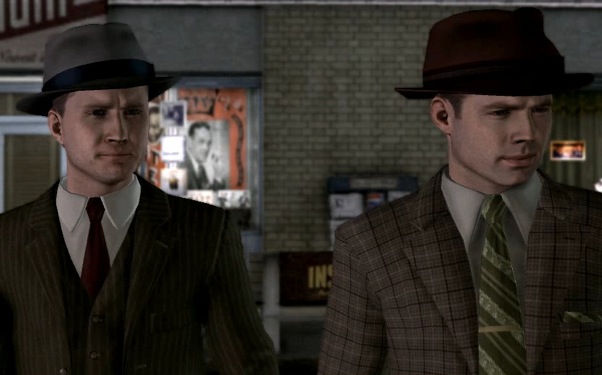 Posted by Evan Narcisse on
[Find Part 1 here and Part 2 here.]
Back to making the game, you guys were in development starting in 2004. Console transition happened from PS2 and Xbox 1 to Ps3 and Xbox 360 around 2006. At what point did you have the whole hardware epiphany, in terms of what the upcoming systems could do? Or is that something that didn't even come into play with the way your process worked?
When we first started out, we were with Sony, and we had a lot of access to what the early PS3 hardware was. To a certain extent, the early hardware was touted to be a lot more powerful than what it ended up being. Having said that, it's still a powerful console and there's plenty of processing room in it, too. So to a certain extent, we went for a lot more than we should have. I think that's kind of a good thing in a way. Because, now, the game still holds up even though we've been working on it for a long time.
I remember one milestone in particular in terms of the tech stuff really coming together. We'd been working on this case which is for another beat desk in the precinct house, where we had a case where someone was cashing bad checks. You could go to jail for that in those days. The player has to interview a bank manager and that was the first time we ever had someone go and speak to any one character with a MotionScan head. He was talking to you and he was thinking about what you were saying. And we had your partner there, too.
And when we first got that working, we showed that to all the people at Rockstar in New York. The producer, Jeronimo Barrera, he asked us to put a camera in so you could move the camera around the scene in 3D, so you could see that it was actually the game's real graphics engine and that you weren't just actually looking at a video.
And what year would that have been?
Oh, probably around late 2007, early 2008. The other thing you got to remember about our development on "L.A. Noire" is that it was written almost like a text adventure in a way. The character would say things and they'd say things back to you. It's slightly different than making the usual game because the logic of it says, I've talked to you but I haven't talked to Bruce, so I have to talk to somebody else. So I have one part of the information, but I don't have another. I haven't picked up a clue. So I do that.
So there's millions of logic bombs that you could possibly have in the script depending on who you talk to, and what order they talked to you, and what you found. But to a certain extent, the game had to go through all of that, and to go through all that QA testing before we could start recording. Because once you start recording in MotionScan, then you have all the usual problems of a film, in terms of continuity. We recorded Aaron, and Aaron was in there for a long time recording.
But, if we recorded him six months later again, he might have got fatter, skinnier, or changed his hair. So the whole process is slightly different to a conventional game where you can go back in and keep recording audio all the time. You need to arrange for a lot more actor availability and factor in that they might have actually changed.
Right. That's an interesting point. Because you are using actual talent for visuals and not just voice, you're dependent on their whole performance in a much more important way than traditional mo-cap.
Yeah. You could have a scene because we screwed up on QA'ing the dialogue. And we go in and shoot the scene again, and his sideburns are like a couple centimeters shorter. And when you're talking to him you see that part of his hair go up and down. That's the price of the fidelity we achieve with MotionScan.
That's pretty awesome. But you of course can fix some of that stuff in post-production, I imagine?
No, it's really difficult to fix. Because you'd have to go in there and change lots and lots of frames. There was a sequence which we were trying to find for ages, where he sneezed in the rig, Aaron Staton. I mean, it's not the kind of thing you'll use over and over again in the game, where he's sneezing constantly. Where are we going to put that? But when he does sneeze, you can actually see his face go red for a few frames as his skin goes red. Then you can see it calm back down again. It's pretty amazing, but that kind of thing makes it so we have to nail specific takes on the initial performance capture.
That's intense. So talk about Aaron Staton and the casting. How did you get involved with him? Rockstar started working with celebrities–Ray Liotta in "GTA: Vice City," for example–and then they moved away from that. What were the choices that were made about who to get for what particular roles?
Well, the idea was, we didn't think that we needed particularly anybody who was like a huge name. We just wanted quality actors. Obviously, Hollywood is a great place for that. So we used a casting agency called Schiff/Audino. And Laura Schiff, she cast the "Mad Men" TV series. And it was just kind of by a lucky accident. Like, I didn't even really know "Mad Men." It had been out here but I didn't know the series very well.
And [Rockstar exec] Dan Houser, who's in New York, he's a fan of the series and a fan of the writing. And he said, "There's this guy Aaron Staton on the show. I think he could really do it and he'd be great." And we didn't think we could get him at the start because he was doing the show. Laura approached him and, of course, he had to read through the material. It was just the outline because the game's got 2200 pages of script. But, he liked it and he came down to have dinner and a chat with us. And we just thought that we'd get on.
And once Aaron signed up to do it, loads of people from "Mad Men" kept ringing us up, saying, "Oh, I want to be in it. I want to be in it. Can I be in it?" Because they just heard that it was this kind of new type of video game and going to be done in an interesting way. So, we were really lucky there. We got Kartheiser and all sorts of people from "Mad Men" in the show.
That's a pretty great package deal to get.
Yeah. We got all sorts of people who have done many different things in Hollywood. And we got John Noble as well. And John's kind of a different story. Because John is obviously Australian. He does "Fringe." We talked to him maybe as far back as 2005 about it and he came into Sydney and we showed him what we were trying to do.
And he thought it was kind of wild and crazy and didn't know if we could do it or not. We stayed in touch. Whenever we were doing a test, if he was home for Christmas or something, he'd come in and do a test for us which was amazingly kind of him. And then when we finally got down to the show, he just took some days off, took a weekend off from Fringe and came down and did all his stuff in two days for us which is amazing.

So, now that you guys are kind of in the homestretch. And you're probably eagerly waiting what the reception is going to be. Have you thought about that much?
Yeah. We are eagerly awaiting with all fingers and toes crossed. Because it is radically different to what anyone else would have played, I think. If cop show is really familiar, I think your frame of reference in terms of games is zero.
Exactly. That's an interesting point. This is the kind of thing that we always talk about when we talk about video games as a medium. What's the give and take between a video game and other mediums? It seems that when other mediums try to pull from video games, they get the most broad, nuance-free ideas from video games about shooting lots of dudes, and cool camera angles, and stuff.
But when video games pull from other mediums, sometimes, it's like very basic plot structure or character motivation, and not anything a little more sophisticated. So it seem like you guys are trying to be a little bit more shaded.
Oh, yeah. And we're trying to take games to places they haven't been. Like I said, in this game, asking questions is as important as pulling the trigger. And who has ever done that before? It's a totally new experience for video game audience. But if the future of games is just drive somewhere and shoot somebody, it's not a very interesting future.