Interview: Team Bondi's Brendan McNamara on "L.A. Noire," Part 2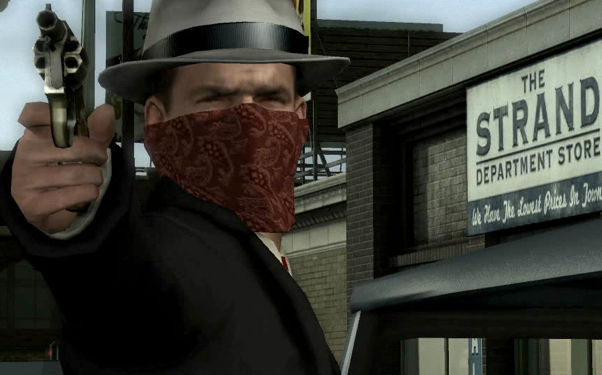 Posted by Evan Narcisse on
[Find Part 1 here.]
So, once you settled on detective fiction and the hard-boiled film noir take, and then the technology came into being, what specifically about postwar L.A. made you gravitate to that time and place?
Well, for me specifically, when I grew up in the '70s and stuff, I'm a child of Vietnam. Australia is fairly closely linked to America in lots of ways. I read a lot about WWII and this moral authority that America had during the second World War and how they get to Vietnam and where we are now.
For me, it's the chance to explore that underbelly of the American dream. It's about what Hollywood meant–as much of the Golden Age of Hollywood, everything from Gone with the Wind and all that kind of stuff–and what still might carry over from that era. Hollywood kept churning out these bright cheerful movies, but the film noir guys were trying to show what was behind the lights. So, that was a really interesting thing for me to pursue.
That's a very good point. I feel like what happens after all these soldiers come home, some get married, have two kids, and get a job and a car. But, other have darker urges that maybe the war uncorked.
Yeah, totally. Things like "The Best Years of Our Lives," which I only saw about five years ago. It was an amazing movie. Guys coming back from the war. Some of them go back to model marriages and can't live in them. Some of them come back with their arms shot off and all that kind of stuff. The girlfriend turns up at the station and doesn't want to know. There were some amazing pieces like that made at the time, that have kind of fallen by the wayside–even though that won an Academy Award at the time.
L.A. is a city that can be interpreted so many different ways. It's where you go to become a Hollywood star but also that whole idea of lost souls that resonates there, too.
Yeah. I really like it as a city, but for some reason, I feel like it's one of the loneliest places around, too. And one of the reasons for that, I think, is because it is a particular kind of 20th Century city. You think about New York and it's kind of built on the European model in a way; it's like the grid but it's different.
Then, you have L.A, which is this kind of vast sprawl coming from the idea of "give everybody their home and give them part of the dream." But you have to connect that up with freeways, which means that everybody has no central connection to the city. And, just because they did that, the downtown area isn't a real hub. I always thought it was the most interesting part of town, because everybody ended up so faraway from each other and they just let it rot.
And a lot of cities around the world, Sydney especially, kind of adopted that model, the L.A. kind of model. And it's interesting to see how people try to reconstruct it. And now in L.A., they're reconstructing downtown and trying to make it the center of the city all over again. It's kind of an experiment and I don't know how it'll all work out.
That remains to be seen, I think. Since this is a project that draws really heavily on film noir, and maybe some hard-boiled detective literature novels. Can you talk about what some of the influences that you might have pulled into the creative process?
Yeah, I think we have a bunch of things. I always start with literature. I read Hammett and Chandler a lot when I was a kid and just loved that kind of sense that you could boil something down that tightly. I always wondered why, Chandler especially, didn't write more books. He seemed to get tied up in screenwriting.
James M. Cain, I started reading after I saw some of the movies made from his work, like "The Postman Always Rings Twice." And then I'm a huge fan of James Ellroy, who I think writes better dialogue or the most modern form of dialogue than anything else currently around. So that's where we were inspired from literature. And what we do here is we have film nights of all the old film noir movies.
We make the teams sit there and watch them. And that's everything from "M" and all the way through to "House of Bamboo," and "The Sweet Smell of Success" in the '50s. Recently, we've gone through "Double Indemnity" and "Out of the Past." So, all those kind of movies. We're just trying to grab as much as we can from all those kind of things. And like I said, the interesting thing about that is how they use the lighting and the amazing way they used dialogue, I think. You rarely see a dialogue-heavy film like that anymore.
I'm going to go off on two tangents here, so please forgive me. The first one, I was wondering if you ever read any Robert B. Parker? Robert B. Parker, he wrote the Spenser novels. They started out popular in the '70s. Got turned into a TV show in the '80s. He's very much in the Hammett/Chandler kind of thing.
Oh, OK. No. I'd like to read them.
It's good stuff. It's a little bit more modern because it obviously takes place post-Vietnam. But he made everything feel like classic hard-boiled/noir and the dialogue is very snappy. The themes are kind of the same, too.
The other guy I really love is James Lee Burke. I just think that guy is incredible. Incredible prose. If I could write one paragraph as good as that.
The other tangent I had was how film noir is pretty much a genre that's pretty much disappeared nowadays for whatever reason. But I don't know if you ever saw that movie "Brick." It's with…
Yeah. I did. I loved it too. Yeah. It's funny. Because it's sort of like film noir dialogue in high school.
The thing I love about that movie is it takes a classic film noir plot device, which is the illegitimate pregnancy, and it places it in a social sphere where that kind of transgression still matters. Nowadays, people get pregnant out of wedlock. They have abortions. It's not a big deal. But, in high school, it's still like, "oh my God, this is a scandal."
Yeah. And, back in the day, divorce was still a crime. That was usually the big one that a lot of the movies revolved around. And they're also using the cigarette plot device which is almost like a matchbook, isn't it? Like what the particular brand of cigarette is and all that kind of stuff. A very clever film, I think.
Yeah, very much so.
Great performance by the lead guy in it as well.