Interview: Team Bondi's Brendan McNamara on "L.A. Noire," Part 1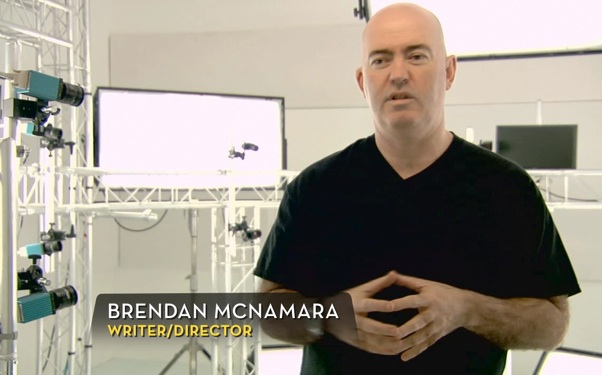 Posted by Evan Narcisse on
After re-envisioning the Western with last year's hit "Red Dead Redemption," Rockstar Games' next game takes on a new archetype of 20th Century cinema. "L.A. Noire" put players in postwar Hollywood in the shoes of a young police detective, working to quell crime on multiple desks in one of the precinct houses. Austrailian dev outfit Team Bondi's been developing the game for several years, but will finally see release on May 17th. Now that the game's in the home stretch, studio head Brendan McNamara can talk about what's gone into making the
Brendan, can you give a quick rundown of Team Bondi history. How the studio came together and how long you guys have been in business for?
We've been in business since 2004 basically when six of us came out from London to Sydney to start Team Bondi. And previous to that, we worked at Sony, where we had our own label within Sony called Team Soho. We made the Getaway for Playstation 2 and, when that did very well for us, we came out here.
We wanted to do this thing called "L.A. Noire," so we came out here and set up. And that was for selfish reasons, as I had little kids and I just wanted them to grow up in Australia because I think it's a fun place to grow up. We started with six people and we've been up to about 120 at some places in the project. We're about 80 people at the moment. And it will wind down some more as we come to the close.
So, "L.A. Noire" has been pretty much the all consuming passion of the studio since its inception, right?
Yeah, yeah, No, I think there's other people who can do more than one thing at once but it's probably not me. This title's been pretty all consuming in terms of what it's asked of you, and what's been asked of the team. And I'm probably just not capable of doing more than one thing at once.
A big part of the story with L.A. Noire is the MotionScan technology, and what it allows you guys to do in terms of facial animation. Which came first, was it the idea for the technology or the idea to have a game mechanic of a detective reading faces?
When we initially set out to do this way back in 2004, we thought about why crime fiction is so popular, throughout cinema, and on TV. There's something attractive
about the whole whodunit thing and sitting there and trying to work it out for yourself, whether that's in a novel or whether that's in TV. People obviously like the whole idea of trying to get to the bottom of a whodunit and trying to be able to make up their minds up for themselves. We were wondering how we could do that in a game.
Obviously, some of it was, can you just runaround and pick up clues, and decide for yourself whether that thing is important? Even that sort of stuff was difficult. Because most things in a game, if you just go pick them up, they're just going to submerge into your hand.
So we wanted to be able to pick them up, and look at them, and examine them, and turn them over, and do all that kind of stuff. Then we started talking about what's the key scenario in this kind of game beyond the clue-finding? Once you've done the crime scene and you've found your evidence, you'd get a list of suspects. And you whittle all those suspects down to whoever you think is the person who actually perpetrated the crime.
You get them in a room, and you try to break them down, and get them to say they did it or why they did it or all that kind of stuff. That part was obviously the key to that kind of TV show detective experience. We were thinking for a long time about how we could do that and we knew when w we needed to try and pull that off. I've been working in motion-capture for the last 12 years or so, and I've never been convinced that facial motion capture could actually pull off that "what you see is what you get" believability.
What was it about the current methods of motion capture that you felt was lacking?
The previous ways of recording a performance have focused on capturing bone structure and animating around that. I've been doing research for a long time to try and do something where it was more about the outside of the face rather than the inside. It's the muscles on top of the cheekbones and what have you that do all the emoting, after all. We pitched that to Sam and Dan, and some of the other guys at Rockstar, and they were saying that level of fidelity would be what was key to pull off the kinds of things we had in mind.
Having said that, I don't think it was actually working in a really good way until probably even 18 months, two years ago. What we had in previous iterations was this giant text adventure that you'd play with all these characters on screen who weren't saying any of the dialogue.
It was all just text on the bottom of the screen and we could just foresee that everyone was going to go, "Wow, what's this all about?" Thankfully, there was a bit of hooray moment when the MotionScan began to work as we wanted. Faces started to go in the builds of the game and people could actually see what it was like, and sort of capture what the game was all about. We were really lucky, in a sense, that the guys hung in there for so long to let it blossom into what it was going to become.
It definitely sounds like you guys came at it first from the idea of wanting to create this kind of fiction, rather than wanting to create some new technology first.
Oh, yeah. That's definitely true. I look at film noir and even things before that, like "Metropolis" and Fritz Lang. The thing that I really liked was how, with the use of two or three lights in a scene, you can get so much drama. I think that's pretty amazing in the older cinema.
When we first went over to a new generation of console, I knew we could do fancy simulated lighting on the Xbox 360 and PS3. The question then became how do we want to express ourselves with lighting? Then it dawned on us: well, why don't we do film noir? But, as familiar a concept as a cop show is to most people, we wanted to do a fresh kind of game. The core game mechanic isn't shooting people; the core game mechanic is asking people questions.
And do you feel there's some confusion about that? Because you guys are working with Rockstar, people expect an action-heavy chaotic experience. When I sat down in front of the game a couple of weeks ago, I was actually pleasantly surprised by how much different it was in tone compared to some of Rockstar's other titles.
When people first sit down with it, they generally seem to be kind of shocked, that A) Rockstar would do this kind of game, and B) how the audience would react to it. But we've found that most people who have seen it think that Rockstar are the only people who would do this kind of thing. They're the only people who are brave enough to try and go out and try and create a new genre. They kind of did that back in the day with "GTA," and created that kind of sandbox mayhem. Now they're saying, there's an older audience out there. It's a potentially much broader clutch of people, who'll be wanting different kinds of game experiences.
What we've seen throughout development is a lot of people sitting on the sofa playing "L.A. Noire" with their girlfriends and friends and passing the controller around, and almost playing it like a TV show. It's kind of an interesting phenomenon. We like to imagine three or four people sitting there at home watching an episode of "CSI" or playing a case in "L.A. Noire," and all being equally entertained. It's different from the normal game experience, I think.