How Ye Olde Joysticks of Yore Begat Gamepads of Today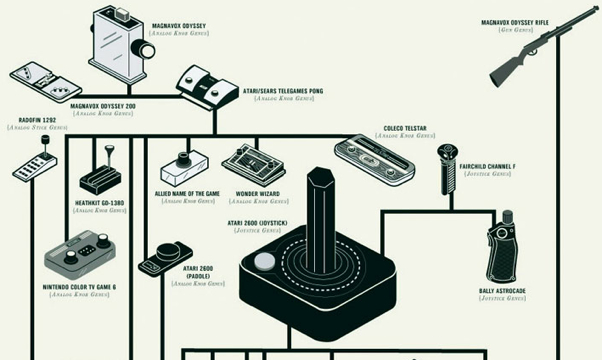 Posted by Evan Narcisse on
If you're a philosophical, new-fangled game enthusiast stepping in front of a Kinect, you may think to yourself, "How did we get here?" It's a fair question, seeing as how the old arcade thrills of the early '80s came through the relatively simple combination of a an analog joystick and a single button. Some might that that control methods have gone from simple to complex and that the re-introduction of simple has come via the Nintendo Wii and the responses of the PlayStation Move and Kinect for Xbox 360.
Now, a handy illustrated chart shows the way that input devices for the video game medium have changed over the last 38 years. Aside from being a warm trip down nostalgia lane, it's also instructive as to how various trends have changed, disappeared or re-appeared as video games have evolved. Take light guns, for example. You've got the Magnavox Odyssey rifle right up there at the top as one of the earliest ways to play a game. Then light guns mostly disappear for about a decade until the NES Zapper makes "Duck Hunt" a national pastime. From there, various companies make gun-style peripherals for their various games, but none are mainstays once the joysticks and control pads become the standard.
You can also see the entire lifeline of specialized music instrument peripherals, which has reached an apparent end now that Activision's shuttered Guitar Hero and Harmonix is re-focusing after being sold by MTV. Like the console history video I posted a few months back, the chart's also a parade of also-rans and never-were manufacturers whose names have been lost to history. Take a gander and wistfully think back to the controllers you've owned and if you're so inclined, pick up the poster at Pop Chart Lab.