Guts Before Six Packs: Why Flab Is Funny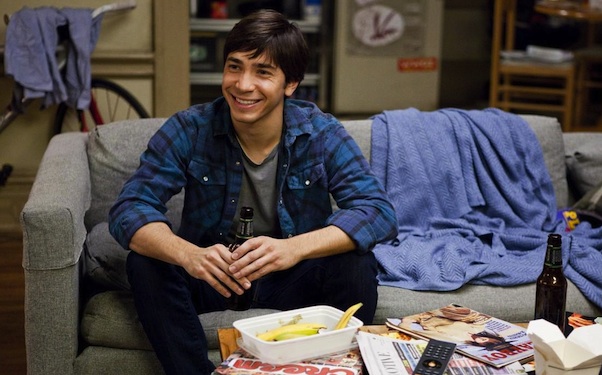 Posted by Matt Singer on
Two movies I saw in the last couple weeks threw something into relief for me: comic leading men are in danger of getting too buff to be funny. Let me explain why. The movies in question were last year's "Going the Distance" and the just-released "Cedar Rapids." Both try to wring laughs from uncomfortable situations involving heroes in the nude. One works, and one doesn't.
In "Going the Distance," Justin Long plays Garrett, a music executive with a long distance girlfriend named Erin (Drew Barrymore). In preparation for their first date in months, he decides to get a spray tan for the first time in his life. A disinterested attendant shoves Garrett into a private tanning room, but her vague instructions aren't enough. When the spray machine begins to start on its own, Garrett freaks out. He's not quite ready for his tan — is he supposed to wear his underwear during the spray or not? — which gives us the scene's punchline: Long, in his birthday suit, covering his junk and his butt with his hands, screaming for help and freaking out about how terrible the tanning spew tastes.
"Cedar Rapids" stars Ed Helms as Tim Lippe, a sheltered insurance agent from Wisconsin who's sent by his boss to represent his company at an insurance conference. The man he particularly needs to schmooze is conference president Orin Helgesson (Kurtwood Smith), who determines the winner the prestigious "2 Diamonds Award." After a workout in his hotel's fitness center, Tim bumps into Helgesson coming out of the locker room shower. Helgesson loses his towel so Lippe does likewise. Hence our punchline: an entire conversation between these two totally naked men about everything in the world except the fact that they're naked.
Like I said: similar scenes. But the one in "Cedar Rapids" is funny and the one in "Going the Distance" is not. There are a couple of differences between these two sequences, but none greater than the fact than Helms and Smith are schlubby and unshapely while Long is buff.
There are some genres in which big muscles and proper physical grooming are important: action films, probably; porn, definitely. Not comedy. There isn't anything funny about muscles unless you use them to make fun of the humorlessness of people with muscles (see: Ben Stiller as jacked movie star Tugg Speedman in "Tropic Thunder"). Long's muscles aren't there for meta commentary; they're there, I suspect, because he had a couple of nude scenes in the film and he wanted to look good in them. That's both totally understandable and totally antithetical to physical comedy, the art of being funny while looking stupid.
Long committed a cardinal comedy sin: putting vanity ahead of stupidity. Even if we ignore the fact that a record executive who never goes to the gym shouldn't look like a Chippendales dancer, the scene should be funny because Garrett is so uncomfortable in this alien environment. But without his clothes, Long looks like exactly the sort of body-conscious meathead who knows his way around a tanning salon. And he's already pretty bronze before he hits spray.
A comedian's body should be his weapon, not his shield. Will Ferrell runs marathons, but not when he's doing body humor in one of his films because when he streaks down the road, it's a lot funnier if he doesn't look like a marathon runner. That's why the comparable scene in "Cedar Rapids" gets so many more laughs. Even though we actually do see Tim Lippe working out, his body still looks like that of a regular guy: saggy and undefined. Helms' physique is an endearing sight. It fits the character, and it enhances the delightful awkwardness of his nude confrontation with Kurtwood Smith, whose body is even more saggy, even more undefinned, even more covered in scraggly, unsightly hair. As a general rule of comedy, any aspect of the human body that can be described as "unsightly" is funny.
I'm not blaming Justin Long here; he's good in the rest of "Going the Distance." I'm merely using him as an example of an ongoing change among comic leading men. Sure we've always had handsome comedians — Cary Grant was good looking and funny. And I'm well aware that a big part of the pleasure of movies is the pleasure of looking at pretty things. That's why we have movie stars. But the pleasure of pretty is not always compatible with the pleasure of funny. And as more and more fitness-obsessed leading men rush to get into incredible physical shape, the kind that's unattainable for anyone who doesn't have a trainer, a nutritionist, and four assistants, they get further away from the core values that make them funny. Visualize the Justin Long tanning scene with a young, scrawny, pasty Woody Allen and you see what I'm talking about.