A Spirited Q & A With "Everything Strange and New" Director Frazer Bradshaw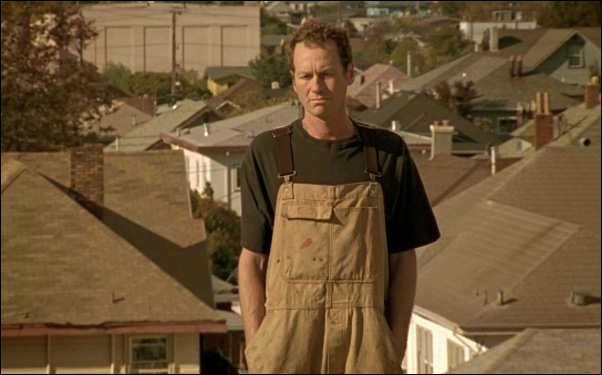 Posted by Stephen Saito on
As a way of celebrating this year's nominees for the Spirit Awards in the weeks leading up to the ceremony, we reached out to as many as we could in an effort to better understand what went into their films, what they've gotten out of the experience, and where they've found their inspiration, both in regards to their work and other works of art that might've inspired them from the past year. Their answers will be published on a daily basis throughout February.
Frazer Bradshaw has held nearly position on a film crew imaginable, from his beginnings as an editor to a cinematographer who continues to work on other people's films such as "Babies" and the recent Sundance entry "These Amazing Shadows." So after creating a collection of shorts over the past decade, it was high time for the filmmaker to put it all together for "Everything Strange and New," his first feature that has added the adjective "best" since being nominated for a Spirit Award and collected likeminded notices from the Gotham Awards and its celebrated festival run with stops in San Francisco and Munich last year.
Naturally, the film itself is also about a man (Jerry McDaniel) who is attempting to pull together disparate elements, not in art, but rather in life as he supports his wife and two children as a carpenter who unfortunately can't apply such craftsmanship to everything around him that seems to be falling apart. Set in Oakland, Bradshaw's film is no ordinary tale of suburban woe, especially since the consummate filmmaker constantly challenges convention with the inventive ways he shoots "Everything Strange and New" and as a film, it never succumbs to telling an audience how it should feel, instead only allowing its audience to feel as its lead character Wayne contemplates his life in voiceover and ponders the ways he can change the direction of his narrative.
What's exciting about "Everything Strange and New" is that Bradshaw is trying to change the direction of the way films are constructed, reminding us of the elasticity of the medium with the story of someone who must walk a very fine line.
Why did you want to make this film?
There are a lot of reasons. For one, I love the craft of cinema, and the experience of watching projected light; on a very immediate level, I just like to make films for the pure joy of making and seeing the aesthetic manifestation. On a deeper level, I wanted to talk about some of the profound complexities of human cultural/emotional/spiritual experience. Essentially, I wanted to give a voice to some of my personal struggles and experiences that I think are shared by many or are universal in human life. I also wanted to make a film about a huge cross section of America whose experience is radically underrepresented in America media: the working class.
What was the best piece of advice you received that applied to the making of this film?
In high school, an older photographer friend/mentor told me that if I made work that was truly honest, people would understand and appreciate that work. I took that to heart, and tried to make "Everything Strange and New" as honest a film as I could.
What was the toughest thing to overcome, whether it applies to a particular scene or the film as a whole?
It seems almost too simple, but the real answer is money. I'd wanted to make a feature for almost 10 years. I suddenly found myself with the most basic financial resources to make a feature, and with that stumbling block finally out of my way, I was able to write a first draft in three weeks and go into production a few months later. Of course, it turned out that the money I had in place really wasn't enough, and in the end, my fabulous executive producer Steve Bannatyne of Lucky Hat Entertainment signed on, along with some minor investors to give me the resources to make a film that was uncompromised.
What's been the most memorable moment while you've traveled with the film, either at a festival or otherwise?
I think my favorite moments are in Q & As. The film is designed to illicit very personal reactions from it's viewers, and it is very rare that I leave a Q & A without a new perspective on the film. Audiences bring themselves to the film in a way that often moves me, and they frequently observe things in the film that I missed in making it. In a way, I feel like the audience finishes the film for me, anew, in every screening.
In one specific case, a woman in the audience told me that she felt that the way women are represented in the film was problematic. Before I had a chance to respond, another woman on the other side of the theater responded by telling the first woman that her observation was ridiculous and that she was clearly not understanding what the film had to say. They had a short argument, back and forth across the theater, while I stood on the stage and watched.
What's your favorite thing about your film that's been largely uncommented upon?
I'd have to say the photography. I'm a director of photography for my living, and I shot "Everything Strange and New," as well as directing it. Because I have the skill set of a DP, and I wasn't working with someone else, I was able to craft the cinematography to be exacting, so that it completely integrates with the storytelling style. I intentionally made the photography both naturalistic and stylized. At the same time. It's not showy and not "beautiful," so it doesn't stand out, but for me, the film and it's cinematography are of a piece.
What's been the most gratifying thing to come out of this film for you personally?
With "Everything Strange and New," I tried to make a film that was really honest and to work from a vulnerable place. Though the narrative elements are largely not autobiographical, the film is very much true to who I am. Gratifying isn't even an appropriate term to describe the feeling I have, knowing that people "get" what I put out there.
What's been your favorite film, book or album from the past year?
I'd probably have to say the the film "Mundane Life" by the Korean director Jao Nok Krajok. It's almost guaranteed not to get any distribution in the U.S. (because it's that good), so if you happen upon it at a festival, be sure to check it out. By the way, you have to hold out for the end to see the magic.
"Everything Strange and New" is now available on DVD and will make its New York theatrical debut at the reRun Theater starting February 25th. The Spirit Awards will air on IFC on February 26th.