Five Insanely Romantic Fred Astaire Dances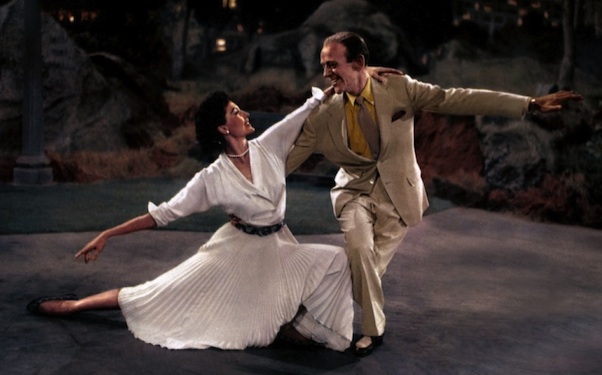 Posted by Matt Singer on
Call me old-fashioned, call me an insanely committed movie dork; hell, call me an insanely committed, old-fashioned movie dork but there's nothing I like better on Valentine's Day than a quiet night in with my wife, a home-cooked meal and great old films. Our favorites are the classic MGM musicals. You can't go wrong with Gene Kelly, of course, but I think Valentine's Day belongs to Fred Astaire, who produced many of his best onscreen moments with a woman at his side. The air of romance in Astaire's best films is so thick it's beyond intoxicating: it's positively infectious. Here are five of his most insanely romantic dance numbers.
---
"I'll Be Hard to Handle"
From "Roberta" (1935)
Featuring Astaire and Ginger Rogers
The first image we think of when we think of Astaire is the elegant gentleman in top hat and tails, squiring Ginger Rogers to some impossibly lavish Depression-era ball. And nobody made unattainable opulence look quite as warm and inviting as Astaire and Rogers. But the most famous dancing team in movie history often had their best chemistry in more casual numbers, like the ebullient "Pick Yourself Up" from "Swing Time" or the rambunctious "I'll Be Hard to Handle" from "Roberta," which captures the team at their most flirtatiously playful. Astaire and Rogers play former sweethearts who reunite in Paris and reignite their relationship. The routine, a high-spirited tap, finds the pair even finishing each others sentences — through dance of course — as they trade intricate steps back and forth like fast-paced screwball banter. Bonus points for the all-natural tap sounds, which are clearly coming straight from Astaire and Rogers' feet and not from any artificial post-production sweetening.
---
"So Near and Yet So Far"
From "You'll Never Get Rich" (1941)
Featuring Astaire and Rita Hayworth
Astaire built a persona of gentility and refinement, and as he aged he played opposite a lot of much younger leading ladies, a situation that often made him look like Mr. Rogers romancing one of his fans. He wasn't exactly known as a sensual dancer — which is why I love this Latin-flavored number he did with the gorgeous and very sensual Rita Hayworth in 1941's "You'll Never Get Rich." It's called "So Near and Yet So Far" — a title that could refer to fact that dance, while pleasurable, is not nearly as pleasurable as what dance often acts as a stand-in for in old movies, namely sex. Astaire seems genuinely enchanted by the hip-shaking Hayworth as they twirl on an ocean-view balcony. The number ends with Hayworth leaning back into Astaire's arms, so near and yet so far, as they cuddle and exit stage right. To do what, we'll never know.
---
"They Can't Take That Away From Me"
From "The Barkleys of Broadway" (1949)
Featuring Astaire and Rogers
"The Barkleys of Broadway" was Astaire and Rogers' final cinematic pairing, and it only came about after Astaire's original co-star, Judy Garland, needed to be replaced at the very last moment. When they made "The Barkleys," Astaire and Rogers hadn't danced together for ten years, adding a great deal of poignancy to the film's plotline, about a husband-and-wife dance team who split up and then reconnect, and to this touching final number, where Fred serenades Ginger with George and Ira Gershwin's "They Can't Take That Away From Me." The words are almost too perfect for a legendary couple reuniting for what would be the last time onscreen: "We may never, never meet again on that bumpy road to love / Still I'll always, always keep the memory of / The way you hold your knife / The way we danced 'til three / The way you changed my life / No, no they can't take that away from me." After Astaire's touching vocal, the pair enact an elegiac final dance, a celebration for has been and what will never be again. It's not one of their most intricate or most graceful scenes, but it feels more charged with genuine emotion than anything else they'd ever danced.
---
"Dancing in the Dark"
From "The Band Wagon" (1953)
Featuring Astaire and Cyd Charisse
A simple walk in the park becomes a rapturous dream of falling in love in "Dancing in the Dark" from Vincente Minnelli's "The Band Wagon." The scene contains no words of either the spoken or sung variety. Instead, everything is communicated through movement: Astaire and Cyd Charisse's hopeful glances, followed by their first tentative steps, and culminating in remarkable duet between two incredible artists. Astaire tended to be the most graceful member of any pair he danced in, but Charisse is his equal: watch the effortless way she bends in his arms around the 3:15 minute mark, or the her seductive swoon into Astaire's neck after the twirl at 2:03. The choreography perfectly matches the rise and fall of Arthur Schwartz's soaring music: the climactic crescendo is echoed by the dancers' symbolic climb up a small flight of stairs to a waiting carriage. Also: I'm no fashion expert, but I think dresses like Charisse's, which bounces and floats with her every movement as if it's made out of some kind of gravity-defying material, desperately need to make a comeback.
---
"He Loves and She Loves"
From "Funny Face" (1957)
Featuring Astaire and Audrey Hepburn
Here's one of those potentially creepy May/December romances I was talking about: Astaire was a full thirty years older than Audrey Hepburn when they made "Funny Face" together in 1967. After a series of comic confusions and misadventures, Astaire, a fashion photographer, and Hepburn, a model, have finally realized their mutual love for one another. Still dressed in her fashion show wedding gown, she looks adoringly into Astaire's eyes as he sings "He Loves and She Loves" then joins him for a low-key "stroll" through the French countryside. Most of Astaire's musicals were shot on soundstages, so there is something especially striking about watching him move through director Stanley Donen's lushly verdant mise en scene, and the choreography makes the most of the freedom that comes with location shooting — it's not every film that you see two dances connected via a ride on a river raft. Despite the age difference, the chemistry works. Hepburn seems genuinely smitten with Astaire; in my favorite moment from this dance, they're so enraptured by each other's presence they nearly dance themselves right into a pond.