Film Comment Selects Fires on All Cylinders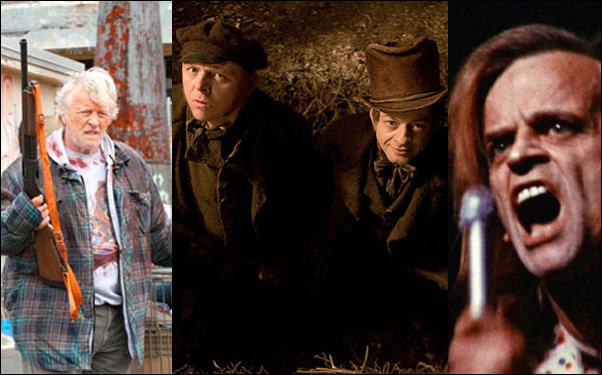 Posted by Stephen Saito on
Somehow the Walter Reade Theater at Lincoln Center seems like the last place you'd expect to see the Rutger Hauer thriller "Hobo With a Shotgun" blasting through, but it's a fitting way to introduce this year's Film Comment Selects series, which begins tonight in New York with both guns a blazin' and runs through March 4th.
As Nick Pinkerton noted in the Village Voice this week, there's "a downright dedication to evil" with this year's selections, which include the enjoyably excruciating Korean revenge thriller "I Saw the Devil" and the soon-to-play-SXSW return of "Saw" director James Wan's "Insidious." And yet there's so much goodwill on display since many of the films gracing the Film Society of Lincoln Center's screens are without American distribution and may prove to be hard to see in the future.
One of these gems that as of yet won't be appearing Stateside anytime soon is Thomas Vinterberg's "Submarino," which sees a return to form for the "Celebration" director in a story about two brothers who deal with tragedy as young boys and struggle to overcome their proclivity to be their own worst enemy in later life. Likewise, there will be rare U.S. screenings of "Love Exposure" director Sion Sono's darkly comic serial killer thriller "Cold Fish," the German murder mystery "The Silence," the French drama "Domaine," which has been repeatedly touted as a favorite of John Waters, and the series' closing night film, John Landis' latest comedy "Burke and Hare," featuring Simon Pegg and Andy Serkis as grave robbers who have to find a way to keep up with demand for product from the local medical school.
The real hellraising commences with special presentations of Alex Cox's "Straight to Hell Returns" (with the "Repo Man" director appearing in person), Gianfranco Rosi's documentary "El Sicario, Room 164," about a Ciudad Juarez hitman, and "Klaus Kinski: Jesus Christ the Savior," which sees Werner Herzog's favorite leading man play the son of God and work through his issues on stage in a reading of a 30-page monologue he wrote himself. Speaking of Herzog, the director's 3D documentary "Cave of Forgotten Dreams" that examines the paintings in France's Chauvet caves will be playing on February 20th.
As if to cleanse the soul, the series is also playing host to more somber films, but nonetheless thrilling for cinephiles. After an uncertain fate because of government intervention, Lu Chuan's triumphant epic about the Nanking massacre, "City of Life and Death" will come to U.S. shores, as will rare screenings of French actress/auteur Islid le Besco's gentle relationship dramas "Demi-Tarif," "Charly" and "Bas-fonds" on February 19th. Fresh off the triumphant re-release of "Shoah" in the States, there's also a tribute to the Claude Lanzmann with the docs "A Visitor from the Living," about the guilt of a Red Cross doctor who reported positively on the status of Jews in concentration camps, "Sobibor, Oct. 14," which centers on an interview with a Holocaust survivor who helped stage the only successful uprising in one of the camps, and "The Karski Report," the documentarian's latest film that centers on Jan Karski, a Polish whistleblower who tried desperately to expose the Holocaust before it grew and often went unheard.
The series will also offer once-in-a-blue-moon screenings of Rainer Werner Fassbinder's "I Only Want You to Love Me," the German director's 1976 parable about a young man who fills a personal emptiness with shopping, and the late "Bullitt" director Peter Yates' first film, the action-packed '60s potboiler "Robbery." If there's a set-up here, it's for a wild couple of weeks ahead at the Walter Reade.