Alejandro Amenabar's "Tesis" Statement and More New on DVD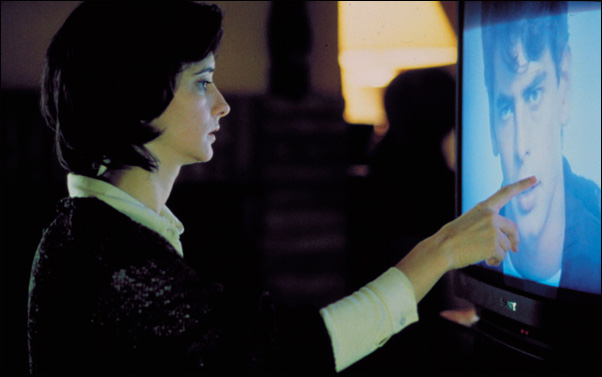 Posted by Stephen Saito on
A look at what's new on DVD today:
"Tesis" (1996)
Directed by Alejandro Amenabar
Released by Widowmaker Films
Long out of print, "The Others" director Alejandro Amenabar's debut about a grad student's discovery of a snuff film is being remastered and rereleased by Widowmaker Films.
"Alice in Murderland" (2011)
Directed by Dennis Devine
Released by Brain Damage Films
A year after Tim Burton's "Alice in Wonderland" scared the bejeezus out of kids in multiplexes everywhere, this horror take on Lewis Carroll's classic fairy tale aims to do so intentionally on DVD players around the country.
"America, America" (1963)
Directed by Elia Kazan
Released by Fox Home Entertainment
Elia Kazan's most personal film based on the story of his uncle's immigration to the United States from Turkey, where as a Greek his family is persecuted, was already released as part of last year's Kazan boxed set, but now will be available on an individual disc for the first time on the format.
"Bad Day to Go Fishing" (2009)
Directed by Alvaro Brechner
Released by Film Movement
Uruguayan filmmaker Brechner's drama revolves around a weightlifter and his manager who tour South American villages, putting on small-time wrestling matches, until their relationship threatens to be derailed when a major opportunity presents itself in the big city.
"Cake" (2011)
Directed by Will Wallace
Released by Osiris Entertainment
"Melrose Place"'s Thomas Calabro and "Police Academy"'s G.W. Bailey are two of the wedding guests in this comedy about a couple whose plans to elope are thwarted by relatives who want a big ceremony.
"Drop Dead Gorgeous" (2011)
Directed by Philip Alderton
Released by Peace Arch Trinity
Before his stint in "Celebrity Rehab," Jeremy London starred in this comedy set in the world of modeling.
"For Colored Girls" (2010)
Directed by Tyler Perry
Released by Lionsgate
Perry assembled one of his most accomplished casts to date for this adaptation of Ntozake Shange's much-beloved play comprised of a series of monologues detailing the African-American woman's experience. Janet Jackson, Kerry Washington, Anika Noni Rose, Phylicia Rashad, Whoopi Goldberg, Thandie Newton, Loretta Devine and Kimberly Elise star.
"French Gigolo" (2008)
Directed by Josiane Balasko
Released by MPI Home Video
"French Twist" writer/director Josiane Balasko returns with this comedy about a construction worker who earns a salary on the side by servicing rich women such as Nathalie Baye's businesswoman before his marriage and emotions get in the way.
"The Girl" (2009)
Directed by Fredrik Edfeldt
Released by Olive Films
Winner of prizes at Berlinale and the Athens Film Festival in 2009, Fredrik Edfeldt's character study follows a 10-year-old girl as she's abandoned by both her parents and her aunt and must spend the summer fending for herself.
"Group Marriage" (1974)
Directed by Stephanie Rothman
Released by Code Red
The rare female exploitation director of the '70s, Rothman's comedy about six people (three of whom are former Playboy Playmates) living with and loving each other isn't exactly a hard-hitting exposé on communal marriage.
"Hideaway" (2010)
Directed by Francois Ozon
Released by Strand Releasing
A young woman (Isabelle Carré) must cope with her husband's fatal drug overdose while being pregnant with his child in this character study from "Swimming Pool" director Ozon.
"High Lane" (2009)
Directed by Abel Ferry
Released by MPI Home Video
A group of French teenagers have two obstacles to conquer as they attempt to evade a killer while hiking in the mountains of Croatia in this thriller from French director Abel Ferry.
"I Spit on Your Grave" (2010)
Directed by Steven R. Monroe
Released by Anchor Bay Entertainment
A remake of the highly controversial 1978 horror film about a woman who seeks her revenge on the group of men who gangraped her is updated with Sarah Butler in the lead and still isn't for the faint of heart.
"It's Kind of a Funny Story" (2010)
Directed by Anna Boden and Ryan Fleck
Released by Universal Home Video
Considered a bit of a misfire when released theatrically, the team behind "Half Nelson"'s stab at a teen comedy may find a broader audience at home. Based on Ned Vizzini's novel, "United States of Tara" star Keir Gilchrist plays a depressed teen who checks himself into a psych ward where he finds himself more comfortable around the likes of Zach Galifianakis and Emma Roberts. (Matt Singer's review and his interview with Zach Galifianakis is here.)
"Kalamity" (2010)
Directed by James M. Hausler
Released by Screen Media Films
Nick Stahl stars in this thriller as Billy, who returns home after suffering a bad breakup and hopes to take comfort with close friends from the past. Unfortunately for him, his best bud Stanley (Joshua Jackson) has demonstrated increasingly erratic behavior as he becomes obsessed with a local girl who turns up missing, leading Billy to put his friend's troubles before his own as things dangerously spiral out of control.
"The Last Play at Shea" (2010)
Directed by Paul Crowder and Jon Small
Released by Lionsgate
The story of both Billy Joel's career and the famed New York stadium collide in this documentary about the singer/songwriter's final concert at Shea. (Matt Singer's review from the Tribeca Film Festival is here.)
"Life As We Know It" (2010)
Directed by Greg Berlanti
Released by Warner Home Video
Katherine Heigl and Josh Duhamel struggle to raise the child of their friends who died in an accident in this dramedy from Greg Berlanti, who returned to the screen 10 years after "The Broken Hearts Club" and making his fortune in television, creating shows like "Everwood" and "Brothers and Sisters."
"Middle Men"
Directed by George Gallo
Released by Paramount Home Entertainment
The film about the Internet that dealt with its seedier side, Gallo's lighthearted look at the early days of the World Wide Web centers on the invention of secure credit card transactions, popularized of course by their use on porn sites. Luke Wilson stars as the entrepreneur who gets involved in the underworld that accompanies such a business, alongside James and Scott Caan, Giovanni Ribisi, Jacinda Barrett and Kelsey Grammer.
"My Soul to Take" (2010)
Directed by Wes Craven
Released by Rogue Pictures
A young cast including "Half Nelson" star Shareeka Epps and "Jumper"'s Max Thieriot are tormented by a serial killer who were all born on the same day in the latest from Wes Craven.
"Nora's Hair Salon 3: Shear Disaster" (2011)
Directed by Rico Johnson
Released by 1-2-3-4-Go
Amazingly, this "Barbershop" knockoff for the ladies has stuck around for one more film than the original that inspired it, bringing Miguel A. Nunez Jr. into the fold as a reality show producer who wants to do a series on the salon, but may not be as benevolent as he appears.
"Ominous" (2011)
Directed by Justin Bergonzoni
Released by Midnight Releasing
This low-budget horror flick features a family haunted by some all-too-literal ghosts from their past when they're on vacation in a cabin in the woods.
"Ong Bak 3" (2011)
Directed by Panna Rittikrai
Released by Magnolia Home Entertainment
Only a month after it hit theaters, the latest installment of Rittikrai and Tony Jaa's deathdefying Muay Thai martial arts series centers on our hero Tien's (Jaa) discovery of the more dance-like Nathayut fighting style as he struggles to break free from his captors from "Ong Bak 2" and faces off against the supernaturally-charged Lord Crow Ghost.
"Paranormal Activity 2" (2010)
Directed by Tod Williams
Released by Paramount Home Entertainment
"The Door in the Floor" director Williams scored the gig of helming the spooky followup to Oren Peli's surprise haunted house hit that moves the action over to the house of the sister (Sprague Grayden) of the first film's Katie (Katie Featherston) and her husband (Brian Boland) where they believe they're under attack from evil spirits, but find that their young son is strangely unharmed.
"Political Promise" (2011)
Directed by Sef DeChristopher
Released by Maverick Entertainment Group
Sef DeChristopher's comedy stars Jack Shepherd as a governor who discovers politics is easy compared to what happens when one of his constituents makes a voodoo doll that accidentally lands in the hands of a group of children who have their way with the politician.
"Repo Chick" (2009)
Directed by Alex Cox
Released by CAV Distribution
A greenscreen-heavy "spiritual sequel" to Cox's landmark cult hit "Repo Man," Jaclyn Jonet (star of Cox's last film "Searchers 2.0") is a surrogate for Emilio Estevez's Otto as Pixxi De La Chasse, a spoiled brat who turns the repossession of her own car into an opportunity to become "Repo Chick," a position that somehow requires her to stop a group of tree-hugging terrorists from using the missiles on board an antique train to blow up Los Angeles.
"Riot" (1969)
Directed by Buzz Kulik
Released by Olive Films
Gene Hackman and Jim Brown team up to attempt to stage a riot in the prison yard and make a break for it in this William Castle-produced thriller based on the book by Frank Elli.
"Role/Play" (2011)
Directed by Rob Williams
Released by Guest House Films
An actor who's just been publicly brought out of the closet and a gay marriage activist licking his wounds from a divorce both repair to a Palm Springs resort and discover they have a lot to talk about in this drama from writer/director Rob Williams.
"The Romantics" (2010)
Directed by Galt Niederhoffer
Released by Paramount Home Entertainment
Romance gets ugly in Galt Niederhoffer's adaptation of her own novel about an incredibly tight-knit group of friends (including Malin Akerman, Adam Brody and Elijah Wood) who gather for the wedding of Tom and Lila (Josh Duhamel and Anna Paquin), though Tom may still carry a torch for the couple's mutual best friend Laura (Katie Holmes).
"See You in September" (2009)
Directed by Tamara Tunie
Released by Maya Entertainment
"Law and Order: SVU" actress Tamara Tunie recruited Estella Warren and Justin Kirk to star in her directorial debut, a romantic comedy about a commitment-phobic woman (Warren) who enters panic mode when her therapist goes on holiday, leaving her to develop her own support group.
"Speed Dating" (2010)
Directed by Joseph A. Elmore
Released by Image Entertainment
It's not often you'll see a cast including Clint Howard, Chris Elliott and Chingy, but that's the case with Joseph A. Elmore's urban comedy about three bachelors on the prowl who put together a speed dating night to meet women while making money in the process.
"Still Walking" (2008)
Directed by Hirokazu Kore-eda
Released by Criterion Collection
Criterion has put together a package of video interviews and an on-set documentary to accompany Kore-eda's delicate drama about a family who comes together on the anniversary of the death of their eldest son and focuses in on the ripple effect that's had on each of their lives. (Mike D'Angelo's review is here.)
"Tamara Drewe" (2010)
Directed by Stephen Frears
Released by Sony Pictures Home Entertainment
An underseen gem when it was released in the fall, Frears' latest film is a cheeky update of Thomas Hardy's "Far From the Maddening Crowd" by way of Posy Simmonds' wicked graphic novel about a young woman (Gemma Arterton) who upsets the balance in a small, sleepy village that is home to a writers' commune when she arrives to help prep the sale of her parents' home and attracts the attention of a rock star (Dominic Cooper). (James Rocchi's review and my interview with Stephen Frears can be found here.)
"Trapped: Haitian Nights" (2010)
Directed by Jean-Claude La Marre
Released by 1-2-3-4-Go
Vivica A. Fox stars in this thriller as a detective investigating the mysterious disappearance of a doctor's wife in Haiti.
"Unmade Beds" (2009)
Directed by Alexis Dos Santos
Released by MPI Home Video
Threesomes, crazy costumes and wild parties are just a part of the sophomore feature from Dos Santos, which follows Axl (Fernando Tielve) and Vera (Deborah François), two young, foreign-born bohemians in London as the former pursues his long-estranged father and the latter attempts to forget her recent heartbreak. (R. Emmet Sweeney's interview with Dos Santos is here.)
"When I Rise" (2010)
Directed by Mat Hames
Released by PBS
A documentary about the struggle of African-American mezzo-soprano Barbara Smith Conrad, who raised the ire of some members of the Texas legislature when she was cast in an opera opposite a white classmate while at the University of Texas in 1957.
"Wild Target" (2010)
Directed by Jonathan Lynn
Released by Fox Home Entertainment
Emily Blunt and Bill Nighy can't help but be winning in this occasionally funny conman comedy about a hitman (Nighy) who loses his passion for the job when he meets his latest intended bullseye (Blunt), an art forger, and decides to protect her from the man she duped (Rupert Everett) and the assassin who he's hired (Martin Freeman) to chase after them. (My review is here.)
"WUSA" (1970)
Directed by Stuart Rosenberg
Released by Olive Films
Paul Newman plays a radio deejay who goes off-script at the right-wing station in the Deep South in this drama that reteamed him with "Cool Hand Luke" director Stuart Rosenberg.
"Year of the Fish" (2007)
Directed by David Kaplan
Released by Gigantic Pictures
Adding a bit more whimsy to the time-old Cinderella story by applying the rotoscoping technique used in Richard Linklater's "Waking Life," Kaplan's drama set in New York's Chinatown finds an immigrant (An Nguyen) living a rough life in the U.S. until she meets an accordion player (Ken Leung) who could hold the key to her happiness. (Aaron Hillis' interview with Leung is here.)
"You Again" (2010)
Directed by Andy Fickman
Released by Disney Home Entertainment
Somehow Kristen Bell's high-flying publicist doesn't learn that her brother (James Wolk) is about to marry the girl who tormented her in high school (Odette Yustman) until the weekend of the wedding, nor does her mother (Jamie Lee Curtis) seem to realize that she had the same problem with the girl's aunt (Sigourney Weaver) a generation earlier. However, that's what makes the fur fly in this comedy that throws Betty White into the mix.
New to Blu-ray: "Amarcord" (Criterion), "Barb Wire", the Jodie Foster drama "Five Corners", "Flipper", "Legends of the Fall", the Michael Palin comedy "A Private Function", "The River Wild", "Thelma & Louise", "Uncle Buck", "Waist Deep"
[Additional photos: "For Colored Girls," Lionsgate, 2010; "High Lane," IFC Films, 2009; "Middle Men," Paramount Vantage, 2010; "Tamara Drewe," Sony Pictures Classics, 2010; "Wild Target," Freestyle Releasing, 2010]