Hitchin' a Ride on "Black Lightning" and More New DVDs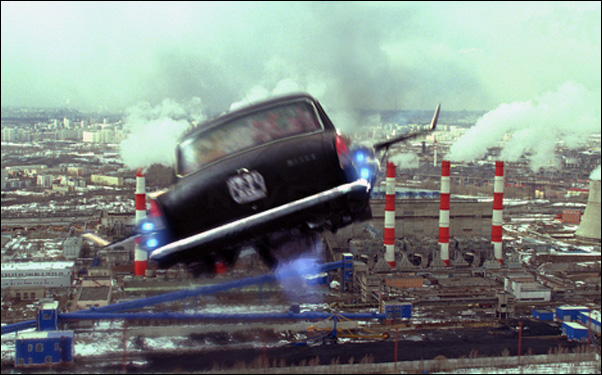 Posted by Stephen Saito on
A look at what's new on DVD today:
"Black Lightning" (2009)
Directed by Dmitriy Kiselev and Aleksandr Voytinskiy
Released by Universal Studios
"Wanted" director Timur Bekmambetov produced this Russian action flick about a man and his flying car, using the same effects team that worked on all of his previous films including "Night Watch." A Russian trailer is here since where we're going, we don't need to understand words.
"7th Hunt" (2010)
Directed by Jon Cohen
Released by Vanguard Cinema
A motley group of young adults are abducted and forced to fend for their survival at an abandoned military training center in the middle of nowhere in Jon Cohen's thriller.
"Alien Vs. Ninja" (2010)
Directed by Seiji Chiba
Released by Funimation
A selection of last year's New York Asian Film Festival, Seiji Chiba's crazy genre mashup may just be "the best and wittiest movie ever to air at 2am on the SyFy Channel" in the future, says our Matt Singer.
"All Star Superman" (2011)
Directed by Sam Liu
Released by Warner Home Video
While you wait for Zack Snyder's take on the material in 2012, this animated adaptation of Grant Morrison and Frank Quitely's series about the Man of Steel will help fill the void as Lex Luthor's most recent plan to kill Superman actually begins to drain the superhero's powers and Superman starts to check off his bucket list, including revealing his true identity to Lois Lane.
"Armless" (2010)
Directed by Habib Azar
Released by Vanguard Cinema
One of the first six films to be a part of Sundance's NEXT section in 2010, Habib Azar's dark comedy stars "Old Joy"'s Daniel London as a married suburban insurance exec who longs to have his arms amputated, but his secretive quest to find someone to perform the procedure is mistaken for an affair by his wife (Janel Moloney).
"Birdemic: Shock and Terror" (2010)
Directed by James Nguyen
Released by Severin Films
Made by a software salesman-turned-aspiring-Ed-Wood James Nguyen, "Birdemic" threatened to take the mantle of favorite contemporary cult film away from "The Room" this summer with its exceptionally low budget take on a bird invasion.
"Black Rodeo" (1972)
Directed by Jeff Kanew
Released by Scorpion Entertainment
Kanew's 1972 documentary about African-American cowboys has been in hiding in recent years, but will finally see the light of day on DVD where a wider audience will be able to see the rodeo in Harlem where Muhammad Ali is amongst the spectators to see the buckin' broncos.
"Cam Girl" (2010)
Directed by Philip Gardiner
Released by Chemical Burn Entertainment
Bad things await a medical student who decides to make money for tuition by going online and acting out the fantasies of strangers on her webcam in this thriller by Philip Gardiner.
"Change of Plans" (2010)
Directed by Daniele Thompson
Released by MPI Home Video
The latest comedy from "Avenue Montaigne" writer/director Daniele Thompson boasts a typical star-studded cast including "Micmacs"' Dany Boon and Emmanuelle Seigner as part of a dinner party in Paris where the surprises are served up as frequently as the courses since there's romantic complications aplenty within the group of friends.
"Climate of Change" (2010)
Directed by Brian Hill
Released by New Video Group
Expect the soothing sound of Tilda Swinton's narration and Nitin Sawhney's score in this Participant Media-produced doc about people worldwide who are striving to bring attention to the issue of global warming, from a group of 13-year-old Indian middle schoolers organize demonstrations against plastics to a British PR exec who uses her ability to sway opinion to help corporations become more earth-friendly.
"Due Date" (2010)
Directed by Todd Phillips
Released by Warner Home Video
Zach Galifianakis plays an aspiring actor who is Robert Downey Jr.'s only option to make it across the country in time for the birth of his child after the two get kicked off a plane in this comedy from "The Hangover" director Todd Phillips.
"Eyes of the Mothman" (2011)
Directed by Matthew J. Pellowski
Released by Virgil Films and Entertainment
Matthew J. Pellowski's documentary inspects the mystery of a West Virginia town that's long been suspected of being haunted.
"Fish Tank" (2010)
Directed by Andrea Arnold
Released by The Criterion Collection
Even though "Red Road" director Arnold's sophomore feature tells of a rebellious teen's quest to leave behind her ramshackle life with her mother (Kierston Wareing) and her mother's new boyfriend (Michael Fassbender), Arnold already lifted lead Katie Jarvis out of obscurity when a casting director spotted her screaming at her boyfriend at a train station. After learning she could dance — the way her character Mia sees an opportunity to escape — Arnold cast the 18-year-old, who's been winning raves ever since, as is the film, which picked up a Jury Prize at Cannes.
"Forgotten Pills" (2009)
Directed by David Hefner
Released by Synkronized USA
A winner at last year's Dances With Films festival, "Hell Ride"'s Larry Bishop stars in David Hefner's thriller about a group of friends who decide to raise hell when they have a vial of pills that erases their memory from the night before, though unfortunately it won't erase the memories of who they harm in the process.
"Get Low" (2010)
Directed by Aaron Schneider
Released by Sony Pictures Home Entertainment
This $7 million Southern-fried dramedy set in 1930s Tennessee stars Robert Duvall as a crotchety shut-in (Duvall) who emerges from his cabin to plan a funeral for himself while he's still alive after receiving word of the death of one of his only friends. (The story was based on an ancestor of screenwriter Chris Provenzano's own family tree.) Bill Murray co-stars as the funeral director who attends to his wishes in the feature debut of Schneider, a second-unit cinematographer on "Titanic" before going on to direct the Oscar-winning live-action short "Two Soldiers" in 2004.
"The Goatherd" (2009)
Directed by León Errázuriz
Released by Virgil Films and Entertainment
Things don't go well for three hikers in the Chilean Andes who must fight for their survival in León Errázuriz's high-altitude drama.
"Kartemquin Films Collection Early Years: Volume 2" (1969-1970)
Released by Facets
The Chicago-based documentary outfit continues to release their early treasures in these collection, this time covering the years 1969 through 1970 with the student protest shorts "Anonymous Artists of America, "Hum 255," "What the Fuck Are These Red Squares?"
"The Killing Jar" (2010)
Directed by Mark Young
Released by Image Entertainment
Michael Madsen stars as a drifter with a shotgun who ends up having a cup of coffee in an out-of-the-way diner and is suspected of a horrific local murder by the strangers gathered there, some of whom are eager to take matters into their own hands. Danny Trejo, Amber Benson and Harold Perrineau co-star.
"Last Train Home" (2009)
Directed by Lixin Fan
Released by Zeitgeist Video
Winner of Best Feature at the International Documentary Film Festival in Amsterdam, first-time Chinese-Canadian feature filmmaker Fan takes a year to document the lives of the Zhangs, a family of migrant workers as they come together to celebrate Chinese New Year at their ancestral home and must make the same trek as 130 million others during that time.
"Leaving" (2009)
Directed by Catherine Corsini
Released by MPI Home Video
Kristin Scott Thomas stars in this French drama about a bored housewife who falls into a torrid affair with the man (Yvan Attal) hired by her husband (Sergi Lopez) to build her an office in their backyard.
"Massillon" (1991)
Directed by William E. Jones
Released by Facets
Documentarian Jones describes his coming out process in this impressionistic autobiography divided into three chapters about the small town of Massillon, Ohio where he grew up, the adversity to homosexuality in his community and a look at Santa Clarita, California.
"Mesrine: Killer Instinct" (2010)
Directed by Jean Francois Richet
Released by Music Box Films
Richet, who last made his American debut with the "Assault on Precinct 13" remake a few years back, returned to France to make a biopic of Jacques Mesrine, the legendary French criminal who terrorized an entire country through a run of robberies, home invasions, kidnappings and murders that earned him the title of "Public Enemy No. 1" during the 1970s. Vincent Cassel's Mesrine is joined by Jeanne Schneider (Cecile de France) on the run from the police in the first part of four-hour epic. (Aaron Hillis' interview with Vincent Cassel is here.)
"Midsummer Madness" (2007)
Directed by Alexander Hahn
Released by Vanguard Cinema
Alexander Hahn's ensemble comedy from 2007 takes place on the Latvian celebration of Janu Nakts where a group of friends and lovers meet and reflect on their lives.
"The Patriot" (1979)
Directed by Alexander Kluge
Released by Facets
A take-off on Kluge's "Germany in Autumn" segment about a teacher, this 1979 drama follows Hannelore Hoger's educator as she discovers the body of a deceased German soldier who begins to speak to her about his experience at Salingrad during World War II as the director presents documentary footage, illustrations and recreations to reconcile the story of Germany's past.
"Purple Sea" (2011)
Directed by Donatella Maiorca
Released by Strand Releasing
The romantic relationship between two women in Sicily during the 19th century shakes up the whole community in this true-life drama from director Donatella Maiorca.
"Psych: 9" (2010)
Directed by Andrew Shortell
Released by Lionsgate
Sara Foster, Cary Elwes and Michael Biehn star in this thriller about a woman (Foster) with a shaky psychological past who begins to see things while working the night shift at a hospital that make her think there's a doctor there may be involved in a series of murders that are going on in the community.
"Room in Rome" (2010)
Directed by Julio Medem
Released by MPI Home Video
While we're on the subject of European sapphic romance like "Purple Sea," "Sex and Lucia" director Julio Medem's latest pretty much revolves around two women who check into a hotel, make love and let the personal revelations follow.
"See What I'm Saying" (2010)
Directed by Hilari Scarl
Released by New Video Group
Hilari Scarl spends a year with four deaf entertainers — actor Robert DeMayo, Beethoven's Nightmare drummer Bob Hiltermann, stand-up comedian CJ Jones, and singer TL Forsberg — as they cross paths and endure the usual struggle for stardom, albeit with additional hurdles towards mainstream acceptance.
"Senso" (1954)
Directed by Luchino Visconti
Released by The Criterion Collection
Expect this Technicolor-bursting romantic drama from the master filmmaker Luchino Visconti to test the color settings on your television as it tells the story of an Italian countess who turns to the arms of an Austrian soldier and risks the reputation of her nation while at war. The Criterion package is packed to the gills with a making-of documentary, a new doc on Visconti as well as a 1966 one from the BBC, a visual essay from Peter Cowie, and much more.
"Sunny & Share Love You" (2007)
Directed by Matthew Buzzell
Released by Vanguard Cinema
Matthew Buzzell's comedy stars Michele Mulroney and Micah Craft as a rock duo that's turned to the world of children's music when they feel they've run their course, yet beome something parents wouldn't want to take their kids to see. Chris Parnell and Diedrich Bader co-star.
"Sweet Smell of Success" (1957)
Directed by Alexander Mackendrick
Released by The Criterion Collection
Burt Lancaster stars as the most ruthless gossip columnist ever in this classic from Alexander Mackendrick, who gets the recognition he deserves with this Criterion edition of his most famous film that includes a 1986 documentary about the filmmaker, an interview with his pupil, "3:10 to Yuma" director James Mangold, a 1973 doc on the film's cinematographer James Wong Howe and plenty more.
"Sword of War" (2009)
Directed by Renzo Martinelli
Released by Lionsgate
Rutger Hauer stars as the German Emperor Frederick Barbarossa, who sought to quell the insurrection by the Italian province of Lombardy in order to firm his grasp on the German empire in this historical epic from Renzo Martinelli, co-starring F. Murray Abraham.
"Teenage Paparazzo" (2010)
Directed by Adrian Grenier
Released by HBO Home Video
"Entourage" star Adrian Grenier's documentary follows around 14-year-old paparazzi photographer Austin Visschedyk, who started following the actor when he took an interest in Paris Hilton. Noam Chomsky and Alec Baldwin are among those offering perspective.
"The Temptation of St. Tony" (2009)
Directed by Veiko Ounpuu
Released by Olive Films
Estonian writer/director Õunpuu follows up the well-received 2007 film "Sügisball" with an equally visually dazzling religious drama about a middle-aged manager (Eelmaa) who contemplates his goodness as a series of gradually surreal events begin to test him.
"Ten Inch Hero" (2007)
Directed by David Mackay
Released by Phase 4 Films
One young woman's attempt to find the daughter she gave up at 15 by working at the same sandwich shop she believes her daughter's working at is the driving force behind David Mackay's ensemble dramedy, co-starring Clea Duvall, Sean Patrick Flanery, John Doe and Jensen Ackles.
"Two in the Wave" (2010)
Directed by Emmanuel Laurent
Released by Lorber Films
This documentary chronicles the rivalry and friendship between contemporaries Jean-Luc Godard and François Truffaut, who both made the transition from writing about films for Cahiers du Cinemato making them and sharing Jean-Pierre Léaud as a lead before a falling out in 1968 separated them. Former Cahiers editor Antoine de Baecque wrote and narrates this look back through archival footage and rare interviews.
"Waiting for Hockney" (2007)
Directed by Julie Checkoway
Released by Littlest Birds Films
Julie Checkoway's documentary takes on a bit of a thriller aspect as she unspools the story of Billy Pappas, a Baltimore waiter who harbors dreams of being an artist and has worked tirelessly for years on a single sketched-out recreation of Richard Avedon's famous portrait of Marilyn Monroe before seeing whether he's got the goods from no less of an authority than David Hockney. (My interview with Checkoway is here.)
"Water" (1985)
Directed by Dick Clement
Released by Image Entertainment
Michael Caine stars in this comedy about a small island that becomes a big interest of a host of nations looking to tap into its recently discovered mineral water supply. Valerie Perrine, Brenda Vaccaro and Billy Connolly co-star.
"Where Were You My Son?" (2008)
Directed by Robert Alfoldi
Released by Facets
Robert Alfoldi brings a melodramatic flair from his days as an opera director to this Hungarian drama about a mother and son whose questionable relationship has reached its boiling point when he brings home a new girlfriend.
"Zenith" (2010)
Released by Cinema Purgatorio
Ever see those posters around New York of this film saying "In Theaters Soon" and wonder where it would be? Well, the conspiracy thriller "directed by Anonymous" is hitting DVD where it follows a son's quest to finish his father's work to understand a world in which everyone is drugged into happiness after the apocalypse.
New to Blu-ray: "48 Hrs.", "Killshot", brace yourself for Radley Metger in hi-def with "The Lickerish Quartet", "Memento: The 10th Anniversary Edition"
[Additional photos: "Armless," A/M Entertainment, 2010; "Due Date," Warner Bros., 2010; "Last Train Home," Cinema Guild, 2010; "The Purple Sea," Strand Releasing, 2010; "Sword of War," Lionsgate, 2010; "Waiting for Hockney," Littlest Birds Films, 2009]