Wesley Snipes Plays the "Game of Death" and More New DVDs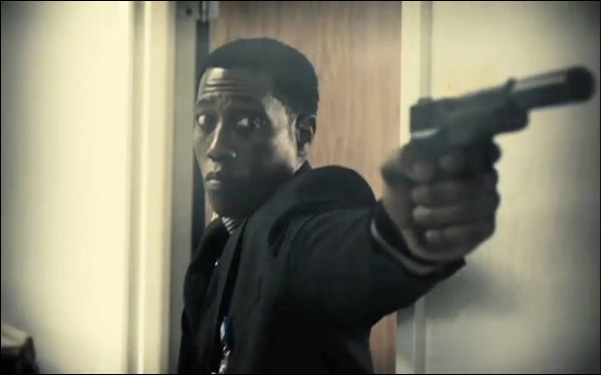 Posted by Stephen Saito on
A look at what's new on DVD today:
"Game of Death" (2011)
Directed by Giorgio Serafini
Released by Sony Pictures Home Entertainment
Quite possibly Wesley Snipes' last film for a long, long time, this action flick features the "Passenger 57" star as a CIA agent who is betrayed by his employer after he's deployed to take out an arms dealer in Detroit. "Grindhouse" star Zoe Bell is onhand to provide backup.
"Celestial Films: Lady Hermit" (1971)
Directed by Meng Hua Ho
Released by Funimation
An aspiring female kung fu warrior searches for an elusive master who turns out to pretend to be a servant in this Shaw Brothers produced action flick.
"Daylight Robbery" (2008)
Directed by Paris Leonti
Released by Well Go USA
Paris Leonti's heist flick involves a group of misfits who plot to rob the London Exchange of the loot in their underground vault.
"Disconnect" (2011)
Directed by Robin Christian
Released by Osiris Entertainment
Think of Robin Christian's thriller as a gender-switching "Frequency" where a college student is able to connect with her dead mother on the phone and attempts to use it to warn her of her impending death at the hands of another.
"Gangland" (2008)
Directed by Crew Hamilton
Released by Indican
After a well-to-do couple enters the bad part of town and only one leaves, a man takes the law into his own hands to clean up the streets of Los Angeles from the rival gangs that have taken control in this thriller.
"Glorious 39" (2009)
Directed by Stephen Poliakoff
Released by Entertainment One
Stephen Poliakoff's drama features an all-star cast including Romola Garai, Bill Nighy, Julie Christie, Juno Temple and Eddie Redmayne as the Keyes family, a distinguish English family that sees their way of life unravel on the eve of World War II.
"A Kiss of Chaos" (2009)
Directed by Ricardo Sean Thompson
Released by Maya Entertainment
This thriller, co-starring "CSI: Miami" star Adam Rodriguez and Paul Calderon, revolves around a woman who is having a hard time when she's forced to take in her ex-boyfriend and HIV-positive sister on the same day, which also puts her at the mercy of a local drug dealer. ("The Wire"'s Michael K. Williams).
"Kiss the Bride" (2011)
Directed by Ibrahim Yilla
Released by Phase 4 Films
Two domineering mother-in-laws threaten to ruin a young African-American couple's wedding in this comedy from Ibrahim Yilla.
"Kites" (2010)
Directed by Anurag Basu
Released by Image Entertainment
Americans will get Brett Ratner's edit of this Bollywood love story starring Hrithik Roshan and Bárbara Mori as a couple who fall in love with each other on the eve of her wedding in Vegas to his girlfriend's sadistic brother in order to get a green card, but must find a way to get out of town in one piece.
"The Last Lovecraft: Relic of Cthulhu" (2009)
Directed by Henry Saine
Released by Dark Sky Film
A Slamdance 2010 selection, this comedy sees the last living relative of H.P. Lovecraft band together with two friends to fight off an invasion of Lovecraft's monsters while protecting an ancient relic, presumably without the budget of Guillermo del Toro's Lovecraft adaptation "At the Mountains of Madness" at their discretion.
"Lemmy: 49% Motherf**ker, 51% Son Of A Bitch" (2010)
Directed by Greg Olliver and Wes Orshoski
Released by Red General Catalog
This documentary about the indefatigable Motörhead frontman boasts interviews with Dave Grohl, Alice Cooper and Scott Ian about the enduring influence of the heavy-metal rocker as well as probably a few NSFW backstage tales.
"Love at First Kill" (2011)
Directed by John Daly
Released by Anchor Bay Entertainment
Noah Segan and Margot Kidder headline this thriller from director John Daly (once called "The Box Collector") about a mother who will stop at nothing to keep her son away from a new love interest in town.
"National Lampoon's Dirty Movie" (2010)
Directed by Jerry Daigle and Christopher Meloni
Released by Lionsgate
Aside from his turns in "Wet Hot American Summer" and "Harold and Kumar," Christopher Meloni rarely gets the chance to show off his funny side, so consider this comedy where he plays the producer of a raunchy comedy a nice change of pace. Mario Cantone, Robert Klein and Cyndi Lauper also appear in this meta-sketch comedy film.
"October Moon 2: November Son" (2008)
Directed by Jason Paul Collum
Released by Tempe Video
Jason Paul Collum follows up his 2005 horror comedy with another installment where the survivors of the murder massacre of the first film seek revenge for those that they lost while welcoming the arrival of two new men of mysterious origin.
"Paroled" (2007)
Directed by Sal Martino
Released by Urban Home Entertainment
Master P puts in an appearance in this 2007 drama from Sal Martino about a recently-released criminal who must resist going back to a life of crime or risk getting his third strike.
"Promised Lands" (1974)
Directed by Susan Sontag
Released by Zeitgeist Films
The feminist icon's only documentary centers on Israel after the Yom Kippur War of 1973, gauging reaction from Israeli author Yoram Kaniuk and physicist Yuval Ne'eman as she captures the scorched landscapes and wonders whether there could ever be peace, considering that even Israelis are divided over Palestinian sovereignty.
"Respire" (2009)
Directed by David A. Cross
Released by MTI Home Video
The owner of a novelty store (Tracy Teague) tries an experimental treatment created during the 1930s to cure her disease, but doesn't realize she'll take on the traits of a killer as an aftereffect in this horror film from writer/director David A. Cross.
"The Sinatra Club" (2010)
Directed by James Quattrochi
Released by Otter Creek Motion Pictures
Danny Nucci takes on the role of John Gotti in this drama from James Quattrochi that centers on the mafioso's early days trying to prove himself by stealing a trove of silver bullion.
"Stag Night" (2008)
Directed by Peter A. Dowling
Released by Lionsgate
Kip Pardue, Vinessa Shaw, Breckin Meyer and Scott Adkins fight off a tribe of cannibals in a subway station in this horror flick from Peter A. Dowling that will finally see a DVD release courtesy of Ghost House.
"The Storm Warriors" (2009)
Directed by Oxide and Danny Pang
Released by Lionsgate
The Pang brothers continue to recover from their ill-fated Nicolas Cage remake of their own "Bangkok Dangerous" with this sequel to their martial arts epic "The Storm Riders" about a pair of Chinese warriors who do their damnedest to prevent the invasion of a Japanese warlord.
"Summer Wars: The Movie" (2009)
Directed by Mamoru Hosoda
Released by Funimation
A teen geek gets the chance to get closer to the girl he has a crush on by posing as her boyfriend and winds up accidentally unlocking an equation that leads to the escape of a dangerous virtual world into the real world where he's just trying to impress the girl's family on the 90th birthday of her grandmother in this much-lauded animated sci-fi/cyberpunk film.
"A Time for Drunken Horses" (2000)
Directed by Bahman Ghobadi
Released by Lorber Films
A double prize winner at Cannes at the turn of the century, Ghobadi's harrowing drama tracks a family that must fend for themselves in the wake of their parents' death and find a way to make it to the Iran-Iraq border for an operation to save the youngest brother.
"Unstoppable" (2010)
Directed by Tony Scott
Released by Fox Home Entertainment
Denzel Washington and Chris Pine commandeer a train carrying potentially explosive materials in the hopes of steering it away from school children and a city full of unwitting victims in this Tony Scott thriller.
"Waiting for Superman" (2010)
Directed by Davis Guggenheim
Released by Paramount Home Entertainment
After "An Inconvenient Truth" and "It Might Get Loud," Guggenheim turns his attention to the public school system by chronicling the fates of five children and their families, finding that the results aren't pretty.
"White Lion" (2010)
Directed by Michael Swan
Released by Screen Media Films
A young child in Africa befriends a lion cub who must grow up away from his family and protect itself from a poacher in this children's film.
"William S. Burroughs: A Man Within" (2010)
Directed by Yony Leyser
Released by Oscilloscope Laboratories
In addition to never before seen footage, Patti Smith, John Waters, Iggy Pop, and naturally "Naked Lunch" director David Cronenberg all give interviews in this biography about the pioneering author of the Beat Generation who may have survived having his book banned by the U.S. government and the accidental murder of his wife, but struggled with addiction and other inner demons while becoming one of the most famous writers of the 20th century.
"Women Without Men" (2010)
Directed by Shirin Neshat and Shoja Azari
Released by IndiePix Films
Banned in its native Iran, Neshat and co-director Azari have picked up prizes elsewhere including a Silver Lion in Venice, for their adaptation of Shahrnush Parsipur's novel that sets the travails of five women looking to free themselves from the gender inequality and oppression of Tehran through visits to an imaginary garden against an American/British-backed overthrow of the government in 1953.
"Working Girls" (1974)
Directed by Stephanie Rothman
Released by Code Red
Boasting an early performance from the future Elvira, Cassandra Peterson, this exploitation flick features a fair amount of nudity, but in the context of a painter of nudes and her roomie who try to make ends meet in a world dominated by men.
"You Will Meet a Tall Dark Stranger" (2010)
Directed by Woody Allen
Released by Sony Pictures Home Entertainment
Woody Allen's latest comedy centers on a father (Anthony Hopkins), recently separated from his wife who pursues a much younger prostitute (Lucy Punch), and his daughter (Naomi Watts), whose own husband (Josh Brolin) has a wandering eye for the neighbor across the street (Freida Pinto).
New to Blu-ray: "A.I.: Artificial Intelligence", "All the President's Men", "Big Daddy", the 1992 biopic "Chaplin", the noir "Kansas City Confidential", "Last Tango in Paris", "Moonstruck", "Mr. Deeds", "Network", "Rain Man", Orson Welles' "The Stranger"
[Additional photos: "Glorious 39," Entertainment One, 2009; "Lemmy," Red General Catalog, 2010; "Promised Lands," Zeitgeist Films, 1974; "Summer Wars," GKids, 2010]