A Spirited Q & A With "Winter's Bone" Director Debra Granik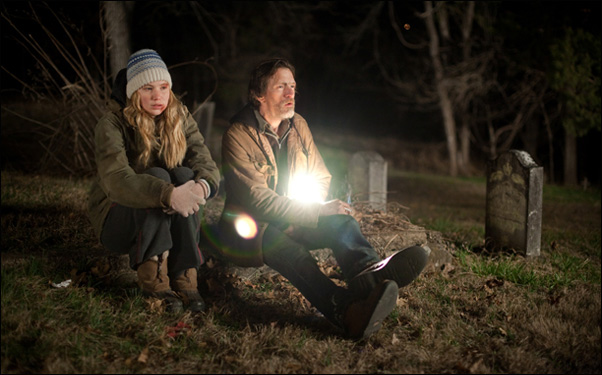 Posted by Stephen Saito on
As a way of celebrating this year's nominees for the Spirit Awards in the weeks leading up to the ceremony, we reached out to as many as we could in an effort to better understand what went into their films, what they've gotten out of the experience, and where they've found their inspiration, both in regards to their work and other works of art that might've inspired them from the past year. Their answers will be published on a daily basis throughout February.
Over the past few weeks, Jennifer Lawrence has complained of the cold, cinematographer Michael McDonough lamented an unforgiving schedule, and Dale Dickey spoke of the challenge of balancing a chainsaw while on a boat. And these were only a few of the obstacles that were overcome under the watchful eye of Debra Granik to make "Winter's Bone" one of the year's most unforgettable films.
That might sound like needless hyperbole, but in the case of Granik, it's accurate since along with producer and co-writer Anne Rosellini, she does not let you forget. In addition to the searing 2005 Spirit Award-nominated debut "Down to the Bone," Granik continues to reach into the crevices of American consciousness to elevate intimate stories of struggle, whether it's the hold of addiction in "Down" or the strength of blood ties in "Winter's Bone," to the epic emotional journeys worthy of the big screen as art and demanding of attention as social issues.
Needless to say, such rich storytelling isn't easily achieved and Granik and her crew spared no detail in recreating the world first documented in Daniel Woodrell's novel about the resourceful Ree Dolly, a teen who is forced to care for her family and, with her uncle Teardrop (a brilliant John Hawkes), save their home from repossession when her father disappears into the wilderness of the Missouri mountains after being busted for cooking meth. Three years of trips to the Ozarks produced countless pictures, stories and the strains of mandolins and banjos to draw upon for texture, not to mention some of the film's cast — beyond the gender switch of one of Ree's two brothers into a sister when the young Ashlee Thompson, the seven-year-old granddaughter of the landowner of where the film was shot, charmed the director during tours of the property, a touching moment on the film's DVD making-of shows Billy White, a local cast as Blond Milton in the film, telling the camera, "I wake up and have something to be proud of now."
That everyone who worked on "Winter's Bone" can say the same is a testament to their hard work and their leader Granik, a Spirit Award nominee for Best Director and Best Screenplay, not to mention someone who has established herself in just two features as one of the best filmmakers working today.
Why did you want to make this film?
Two things attracted me to this story, primarily. First was the heroine, Ree Dolly. I was attracted by her moxie and the unexpected aspects of her character. Secondly, I was drawn to the challenge of depicting a life in a region of the U.S., the Ozarks, with which I was totally unfamiliar. I wanted to know what it might be like for a girl like Ree growing up in that area. Daniel Woodrell's novel, which is the source of the story, is full of very specific observations, dialect and a clear point of view, so there was a lot of material there to get us started.
What was the best piece of advice you received that applied to the making of this film?
Get a local guide, someone who can help you in the long process of finding your way and winning people's trust. We found that person in Richard Michael, who comes from the area in which we filmed. Also, do everything possible to strip the production needs down to the nub. No condors, no cranes, no snow machines, no giant lights. That allowed us to be more nimble, to film quickly and get into spaces that we wouldn't be able to fit into otherwise.
What was the toughest thing to overcome?
I had to overcome my resistance to allowing Teardrop's fate appear to be determined by a continuing cycle of revenge. This was an aspect of the story that I did not want to accept. I wanted Teardrop's future to remain open-ended. The script originally left it that way, and we added the lines that are more definitive, partly at John Hawkes' insistence. Ultimately, there was a debate among me and my colleagues in the editing room over John's lines in the last scene. And it was Affonzo Goncalvez, the editor, who finally found the solution that resolved the question to everyone's satisfaction.
What's been the most memorable moment while you've traveled with the film, either at a festival or otherwise?
It's been gratifying to see that diverse audiences can relate to this story, including people whose life experience is close to that of the characters in the movie, as well as those whose lives have been totally different.
What's your favorite thing about your film that's been largely uncommented upon?
It feels like almost everything has been commented upon at some point. Sometimes, the same loyal dog in one of our locations is seen on both sides of the frame. He got there not by CGI, but through his humble disregard of continuity. I loved working with an editor, Affonzo Gonzalves, who can make those kinds of anomalies work. Fonzie is one of our team's heroes, yet his contribution has been largely unnoticed. It is hard to comment on editing, because of the old saying that when the editing is working, you don't see it. But we all know how deeply his creativity runs through this. Another aspect is the collaboration between Michael McDonough, the director of photography, and Al Pierce, the camera operator. Working with two people putting their skills and smarts together to see how we can make this work — that is getting everything you want and more.
What's been the most gratifying thing to come out of this film for you personally?
Roadside Attractions' creative and humane distribution of the film really surpassed our expectations. They took a film that was regional and had no TV ads, and dared to open it not just in the major markets, but in locations from Paducah, Kentucky to Red Deer, Alberta that almost never see arthouse fare.
The warm response to "Winter's Bone" overseas was also gratifying. Being told at first, "[An] indie film with no recognizable stars? No go," but then one by one, the European nations came through, the distributor in Australia came through big time. And from this experience, I was able to meet filmmakers and journalists from many different places. Very invigorating. Cultural dialogues erupt when you leave home.
Also, many of the friendships we made have continued to nurture us, and working relationships that we established while making this film have carried over to new projects.
What's been your favorite film, book or album from the past year?
Laura Poitras' documentary "The Oath" is one of the best things I encountered in 2010. My favorite book this year is "Methland" by Nick Reding. My favorite music this year is from Southern Missouri. I got really turned on, got to see music made up close and it's unforgettable what talent is pulsing in those parts.
"Winter's Bone" is still playing in limited release and is now available on DVD, Blu-ray and iTunes. The Spirit Awards will air on IFC on February 26th.