Craig Wedren's 360° Interactive Video, "Are We"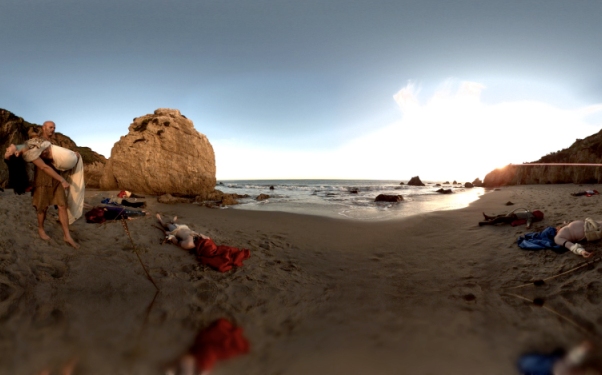 Posted by Brandon Kim on
Craig Wedren, who once fronted Shudder to Think, has become an accomplished composer for TV and film (having scored "School of Rock," "Roger Dodger," and "Wet Hot American Summer"). His latest project is an album and interactive film called "Wand." The first chapter and single, "Are We," is up today in a fully 360° panoramic style you can only watch, or rather explore, on this site.
Wedren's inspiration for "Wand" struck at a flea market deep in Mexico. "A Chilean man was selling this wand-shaker made out of animal bones and shells. It was stunning, magical — truly a magic wand," Wedren believes. "When I tried to buy it, he asked me where I was from. When I told him 'New York City,' he refused to sell me the wand on the grounds that it was 'too powerful' to risk falling into the hands of George W. Bush, who was still President at the time. I promised — and eventually convinced him — that Bush would NEVER touch the thing, indeed that I would protect and keep it from his entire regime; and the guy finally, reluctantly took my (American) money in exchange for the wand."
"Are We" was shot in this pioneering panorama by director Tim Nackashi (OKGO, Gnarles Barkley). "Wand" releases in May on Nerveland Recordings. Head to craigwedren.com to check it out.