"Cold Weather," Reviewed: The Case of the Disappearing Ex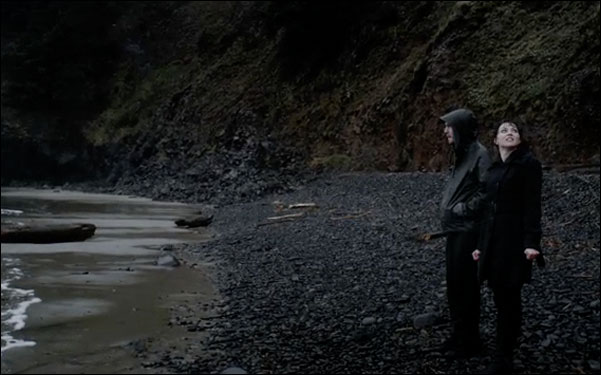 Posted by Alison Willmore on
This review originally ran as part of our coverage of the 2010 SXSW Film Festival.
There's a scene, maybe a third of the way through "Cold Weather," in which the drifting main character Doug (Cris Lankenau) meets up with his ex-girlfriend Rachel (Robyn Rikoon) when she arrives in town for a business trip. Coming in out of the rain — the film's set in Portland, and it's perpetually raining — she gets a bit of a luminous, It Girl entrance, and as the two catch up over coffee, you consider how, in most movies, this would be the point at which Doug would be inspired to win Rachel back. He'd get his life in order, discover some unexpected aptitude in his job at an ice factory, fix up his sister/roommate Gail (Trieste Kelly Dunn) and his coworker Carlos (the very likable Raúl Castillo) and tidy away all of the other messy loose storylines in his life before the credits roll.
None of these things happen, naturally — director Aaron Katz is a graduate of the movement sometimes known as mumblecore, and the idea that anything so gauchely movielike would take place, even in what is, without argument, a full-blown, fully realized, non-mumbly movie, is inconceivable. Instead, it's here that "Cold Weather" hops the fence to become a kind of funny, expressly low-key detective story, as enacted by a handful of your more eager, though not necessarily most competent, friends.
Doug has moved home to Portland after dropping out of school, where he was studying forensics, to work at a restaurant, out of which he also dropped. He didn't aspire to be, as Carlos asks, some sort of CSI — he wanted to be Sherlock Holmes, which sums up his level of fuzzy-edged dreaminess (he always seems to be falling asleep on the couch). His sister, Gail, seems a little older and a little more together — the two have an easy, teasing rapport, though they're also only just figuring out how to relate to one another as adults in addition to as two people who've grown up together.
It's Rachel who provides a whiff of intrigue when she vanishes, after joining Doug and Gail and Carlos for a few nights out — she doesn't show up somewhere she was supposed to, and Carlos, convinced something's wrong, drags Doug to her motel room, where the lights are all on, but no one's home. Doug may have studied forensics, but his approach to investigation, not to mention that of Carlos and, eventually, Gail, is pure Hardy Boys mystery. They don disguises, dig through garbage, do research in the library, run pencils over notepads to see what was last written there, look for (and find!) coded messages. And when Doug needs help thinking, he buys a pipe. Well, he has Gail, who owns the car, drive him to buy a pipe. And then drive him back, when he realizes he's forgotten to buy tobacco.
"Cold Weather"'s mystery is real, if a bit of a red herring, and its characters aren't ridiculous — they ring fumblingly true, not the least because of the half-concealed delight they take in getting to play amateur sleuths. And the film looks and feels, fittingly, as sheeny as an upper-bracket thriller, shot, gorgeously, on the Red, soaking in the moody greys and cool lighting of its setting, and getting fancy with depth of field — the opening shot, of condensation on a window that refocuses on action in the courtyard below and beyond, is a quiet show stopper.
Gumshoe antics aside, "Cold Weather" is really a story about Doug and Gail and the peculiarities of siblinghood, how you can know everything there is about another person while also having no idea about their internal landscape and how he or she has chosen to navigate the inscrutable kingdom of adulthood. At one point, Doug carefully asks Gail if she has any friends, noting that she never seems to hang out with anyone else, and Gail lets slip him that she recently got out of a six-month relationship that she never told him about because, well, when do you discuss your dating life with your little brother? Some things come easy, and some things you have to learn, but it seems, on the parking lot rooftop where the film ends, that Doug and Gail might actually manage to teach themselves to be friends.
"Cold Weather" opens February 4th in New York.