Clip Analysis: "Green Lantern" Takes Flight in Movie Tie-In Game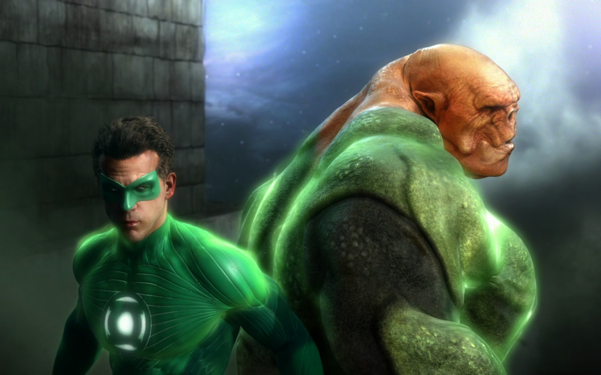 Posted by Evan Narcisse on
Right now, Ryan Reynolds looks like a alpha dog in this summer's crop of big-budget superhero flicks. The hunky actor's playing Green Lantern in the adaptation of DC Comics' long-running sci-fi series about an intergalactic police corps. Reynolds' Hal Jordan is a test pilot who gets recruited into the Lanterns and quickly must learn all about the abilities of a ring that turns his willpower into energy constructs to help face down a massive cosmic threat.
So, of course, there's a video game attached to such an action-heavy premise. "Green Lantern: Rise of the Manhunters" looks to be a side story, adjacent to the movie's origin narrative. The two aliens next to Hal Jordan are Sinestro, the red-skinned mentor who teaches Hal about the ring, and Lantern Corps drill sergeant Kilowog. The Manhunters showing up to wreak havoc have long been a part of Lantern lore and make for great cannon fodder for a video game.
DC Comics–wholly owned by Warner Bros–recently re-branded as DC Entertainment and the "Green Lantern" game marks the first time that the studio's film and interactive units have worked in sync around an upcoming project. Other recent video games based off of DC properties, like "DC Universe Online" and "Batman: Arkham Asylum," have developed by outside studio, with the MMO coming from Sony Online Entertainment and the Bat-game delivered by Rocksteady Studios. The potential rewards here for WB, then, are great: complete oversight of a adjunct tie-in and no money leaving the larger corporate behemoth.
We'll get to see if the new system works when both the "Green Lantern" game and movie come out in June.