Bite into a Playable "Angry Birds" Cake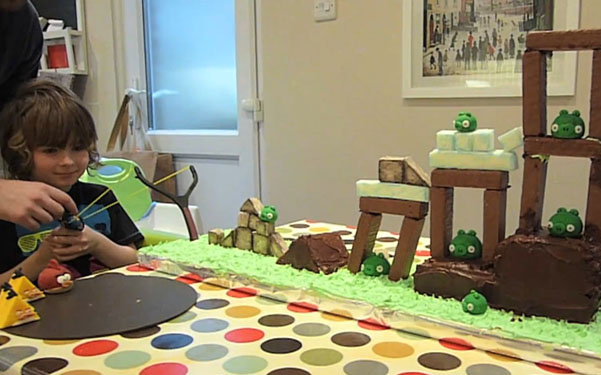 Posted by Chris Plante on
In an shrewd effort to make all other men pale by comparison, Mike Cooper has baked his son an "Angry Birds" cake. Not an ordinary "Angry Birds" cake (as if there could be such a thing), this is a playable treat equipped with a working slingshot. Of course Cooper documented the project for YouTube.
Cooper, editor at UK tech site Electricpig, has been baking increasingly complex cakes for years. How he will top this collapsible concoction next year is hard to imagine.
His son smiles through the short video, quite impressed by the final product, taking aim at the chocolate candy bar walls and green icing grass. The rest of the Cooper clan gathers round the kitchen table in awe — especially the younger brother.
We can't one-up this project, not with our skills in the kitchen, but Cooper penned instructions should you plan to imitate it.