A Spirited Q & A with "The Last Exorcism" Actress Ashley Bell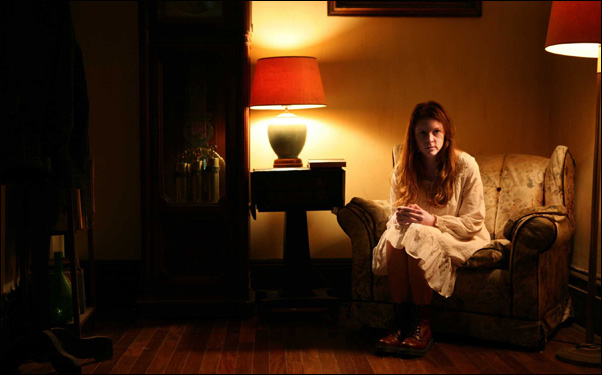 Posted by Stephen Saito on
As a way of celebrating this year's nominees for the Spirit Awards in the weeks leading up to the ceremony, we reached out to as many as we could in an effort to better understand what went into their films, what they've gotten out of the experience, and where they've found their inspiration, both in regards to their work and other works of art that might've inspired them from the past year. Their answers will be published on a daily basis throughout February.
You're not supposed to know Ashley Bell was acting. And until she got a much-deserved, yet nonetheless pesky Spirit Award nomination for Best Supporting Female, there was reason to believe she might never be found out. Sure, she had appeared in other roles before and it's every actor's job to make you forget what you're watching is fiction. But in the case of "The Last Exorcism," Bell had the entire credibility of the film's found-footage premise resting on her dainty shoulders as Nell Sweetzer, the painfully shy and sheltered teen girl whose fragile mental state might just be a byproduct of demonic possession.
Nell is hardly the first girl to have her sweetness thought to be corrupted by Satan on screen, but Bell makes the act of writhing around in a battle for her soul is an experience as complex emotionally as it is physically since the role calls for contortions of all kinds. Amidst the backbends and overextended fingers, Bell is able to project an air of mystery and vulnerability as Nell, the endearing 15-year-old we meet who serenades the Reverend Cotton Marcus (Patrick Fabian) and the camera crew he brings to her family's farm with a rendition of "Greensleeves" on her recorder and treats a cameraperson's gift of boots like someone's given her the gift of life – of course, shortly before her feet make a tub of water bubble.
Caught between the cynical pastor brought to cure her and a defiant family, Nell wrestles with much more than just spiritual matters and to do so, Bell faced the challenge of bringing several different personas to the screen, yet remaining a consistent force in each to keep the audience invested. While horror isn't a genre usually acknowledged for its subtlety or the demands it places on its actors, Bell's high-wire act in "The Last Exorcism" is undeniably worthy of applause, if of course, you don't faint from the frights first.
Why did you want to make this film?
The chance to play a character with a split personality is an actor's dream. Add to that the possibility that Nell may be possessed made it even more of a challenge. I had to ask the question as to whether she was truly possessed, or emotionally disturbed. I love researching for a role, and to be faithful to the character I read accounts of exorcisms, interviewed people who were present at exorcisms, went to extremist churches, as well as looked into possible psychological aspects of her behavior such as hysterical mania, and post traumatic stress disorder.
What was the best piece of advice you received that applied to the making of this film?
Once I got the role Daniel Stamm, the director, gave me the clue to Nell's character. He suggested I preserve the hope that she is not possessed, and that she could be going through a psychological breakdown.
What was the toughest thing to overcome, whether it applies to a particular scene, or the film as a whole?


Despite being attacked by fire ants, having an alligator wander onto set and swallowing a moth, the toughest part was knowing that this would all end with the last day of shooting. I would honestly have to say that everyday was a welcome challenge. Daniel Stamm provided me the freedom to explore the character. As an example, the night before the second exorcism was filmed, I was asked if I had any ideas. I said I'd been working on a backbend and other possible physical manifestations predicated on my research. Daniel said to do it, and it was incorporated into the film.
What's been the most memorable moment while you've traveled with the film, either at a festival or otherwise? 


The most memorable experience was an adrenalin producing evening, sitting under the stars, in the Ford Amphitheatre at the L.A. Film Festival, seeing the movie for the first time with an audience, hearing them laugh nervously, then gasp and scream. It was a ride, and we were all together on it.
What's your favorite thing about your film that's been largely uncommented upon?
I can't recall anyone commenting on my brilliant rendition of "Greensleeves" on the recorder. I was hoping to go on tour, or at least an iTunes single.
What's been the most gratifying thing to come out of this film for you personally?
The fact that I was in an independent film that was seen and accepted by both a national and international audience is hugely gratifying. For my performance to be singled out and awarded an Independent Spirit Award Nomination is an incredible honor.
What's been your favorite film, book or album from the past year?
It's a tie between F. Scott Fitzgerald 's "The Beautiful and Damned," and "Everyone Poops."
"The Last Exorcism." is now available on DVD and Blu-ray. The Spirit Awards will air on IFC on February 26th.