An MMO May Be a Perfect Fit for "Battlestar Galactica"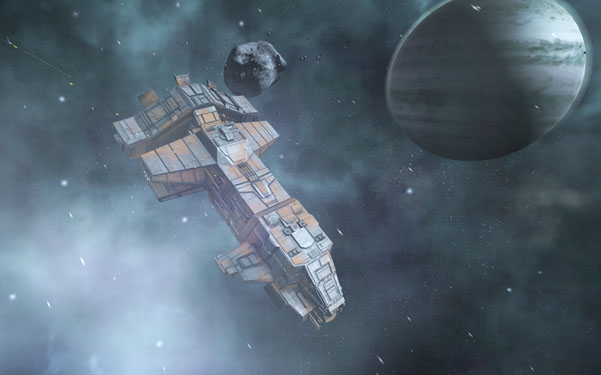 Posted by Chris Plante on
Developer Bigpoint Games has launched the open beta for "Battlestar Galactica Online." As an MMO, the game encourages thousands of players to interact in a unified, persistent world. Want to team up with friends? Maybe meet new comrades? Or just strike into space alone? You're welcome to do all of the above. The genre meshes nicely with a story, at its core, about trust, leadership and survival. There is the concern that fans of the series might not have the money or expensive PC to run an MMO. That's why the game is free and playable in a web browser.
Free-to-play MMOs have a stigma amongst hardcore gamers, which is to say, they are garbage. When "BGO" was announced as free-to-play last year, the news sunk to the bottom of gamers' collective stomach like a 5 ton space rock.
Fans can exhale, for now. Syfy appears to have invested heavily in this product, filling it with the goodies expected in a traditional MMO.
Action takes place both on foot and in a ship's pilot seat, and players choose a character from two factions — Humans and Cylons. Both the ships and characters can be modified to the player's liking. Does this mean players can be a Cylon that looks exactly like a toaster? We sure hope so.
The graphics are good for an MMO and incredible for a game running on the browser-based Unity Engine. By comparison, here's an example of another popular Unity game. Polished 3D models like these are a far cry from the 2D flash games that congest Facebook's news feeds.
But the appeal of "BGO," if it works, will be less about graphics and gameplay and more about consistently providing two things to its users: a friendly place for fans and newcomers to meet, interact and discuss the property, and a convincing extension of the "Battlestar Galactica" canon. A bad story could spell bust.
It's too early to say one way or another if the game will deliver on either points, but the possibility should please fans not just of "Battlestar," but cult hits like "Lost," "Firefly" and "Star Trek."
The latter has a for-pay MMO, "Star Trek Online," that recently celebrated its one year anniversary, but with other MMOs released in that time, "STO" seems to have fallen outside many gamers' radar.
It will take more than fandom to retain "Battlestar" players — perhaps a $0 price tag is that hook.