A Spirited Q & A With "Life During Wartime" Actress Allison Janney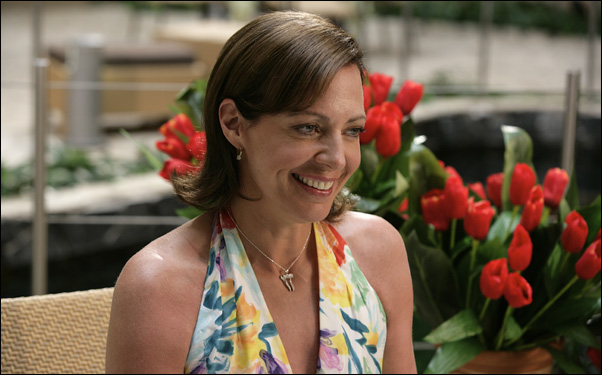 Posted by Stephen Saito on
As a way of celebrating this year's nominees for the Spirit Awards in the weeks leading up to the ceremony, we reached out to as many as we could in an effort to better understand what went into their films, what they've gotten out of the experience, and where they've found their inspiration, both in regards to their work and other works of art that might've inspired them from the past year. Their answers will be published on a daily basis throughout February.
"You know what I like about you? You're so normal!" Allison Janney exclaims in her first line in "Life During Wartime." It's a funny line on many levels, first because it appears in a Todd Solondz film where questioning what normal is merely is par for the course — after all, if things were normal, there wouldn't be much of a film — and then as uttered by Janney's Trish in front of her soon-to-be-husband (Michael Lerner) for lunch, it takes on that breezy, yet clearly exasperated tone that makes you instantly empathize with her, even if it suggests she's clearly in over her head.
With that rare ability for toeing the line between drama and comedy, it's a wonder why it took so long for Janney and Solondz to work together, but it's clear that Solondz relished the opportunity to work with her since he expands the same role occupied by Cynthia Stevenson in "Happiness" to arguably serve as the film's central character. If you were to argue otherwise, you could simply say Janney pulls everyone else into her orbit as Trish, the harried housewife whose husband turned out to be a pedophile and projects a sunny disposition for her son to avoid confusion on his part but ultimately brings it upon herself.
It's a considerably tricky role, even if it didn't involve unbridled and unwieldy scene of simulated lovemaking or another scene in which she's forced to confront her young son when he calls her a "bitch" after he discovers his father isn't dead as Trish has told him. And Janney rises to the challenge with one of her finest performances to date, which is saying something, that is every bit as emotionally complex as Solondz's largely ambiguous work demands. Indeed, "Life During Wartime" can indeed be hell, but watching Janney's beatific expressions as Trish wrestles with the possibility of hope after years of dissatisfaction and disappointment is pure heaven.
Why did you want to make this film?
I have always admired Todd Solondz's work and I've tried to work with him for many years. Finally for "Life During Wartime," the timing was right and I jumped at the chance. I am a huge fan of the film "Happiness" and thought the idea of continuing the story with different actors was an interesting challenge; one that I was gladly up for.
What was the toughest thing to overcome, whether it applies to a particular scene or the film as a whole?
Hmm….negotiating the choreography of the sex scene.
What's been the most gratifying thing to come out of this film for you personally?
It certainly feels great to be recognized by festivals and groups around the world including Film Independent for this film. It is gratifying to be received so kindly…to know that you've put in the hard work, the emotional effort and that someone appreciates that effort.
Your favorite film, book or album from the past year?
My favorite books have been "The Millennium Trilogy" – "The Girl with the Dragon Tattoo," "The Girl Who Played with Fire," and "The Girl Who Kicked the Hornets' Nest" As for films, there were some terrific performances in "The Fighter" and "The King's Speech" that I am excited about right now.
"Life During Wartime" is currently unavailable on DVD, but airing on Showtime and The Movie Channel. The Spirit Awards will air on IFC on February 26th.