A Spirited Q & A With "Get Low" Director Aaron Schneider and Producer Dean Zanuck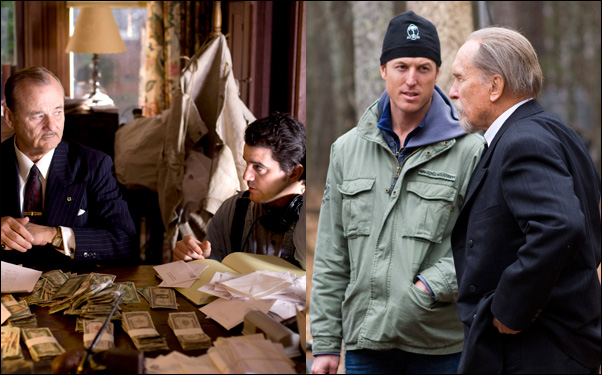 Posted by Stephen Saito on
As a way of celebrating this year's nominees for the Spirit Awards in the weeks leading up to the ceremony, we reached out to as many as we could in an effort to better understand what went into their films, what they've gotten out of the experience, and where they've found their inspiration, both in regards to their work and other works of art that might've inspired them from the past year. Their answers will be published on a daily basis throughout February.
It's a sad state of affairs when a film like "Get Low" takes eight years to get off the ground, despite the fact that its story is about a man who announces his intentions to be buried at its beginning. Yet although the true tale, which was passed along to screenwriter Chris Provenzano by a friend, may not have inspired much excitement amongst the studios who missed the potential in having Robert Duvall portray a crotchety hermit whose announcement of a living wake after 40 years in seclusion sets his small Tennessee community into a frenzy, the project did have two true believers in producer Dean Zanuck and director Aaron Schneider, who have been nominated in this year's Spirit Award category for Best First Feature despite the fact that both men have already established impressive résumés, with one carrying on the proud tradition of one of Hollywood's greatest filmmaking legacies and the other already having an Oscar to his name.
In some ways, what's refreshing about "Get Low" is just how old fashioned it is, set in 1930s Tennessee and delighting in the eccentricities of the Deep South without disrespecting the fundamental goodness of the region that allows Duvall's Felix Bush to reenter society on his own terms with the help of a money-minded funeral director (Bill Murray), his assistant (Lucas Black) and Mattie Darrow (Sissy Spacek), the woman who attracted Bush's interest before retreating into his forest home. But that feeling of what's old coming across as new again also has very much to do with the way Schneider and his crew put such care into every scene, whether it's the nuanced performances of the cast that have such an ease about them or the skilled production design and cinematography that makes every moment of the picture fit to be framed and cherished.
If that makes it sound as though the film is slow, rest assured "Get Low" gets on like a house on fire from the opening shot depicting that very act. However, good things come with time and it was the long gestation period for "Get Low" that resulted in, among other things, the casting of the elusive Bill Murray and the discovery of rustically elegant Crawfordville, Georgia, where the film made the most of a relatively meager budget. As Schneider and Zanuck explain below, it was just getting there that was the hard part, but thankfully they did, crafting a film that stands to live on as long as the story that inspired it.
Why did you want to make this film?
Aaron Schneider: I had made a short film ["Two Soldiers"] in 2003 that won a short film Oscar in 2004 and it was the beginning. I was a cinematographer for 15 years and I made a decision that I wanted to tell my own story, so I threw every dime I had into a short film. I basically didn't have a house, I didn't have a family at the time and I took all my money and essentially invested it in myself in one big attempt to try and steer my career in the direction I wanted it to go. And it paid off. I was able to get an agent and meet around town, but when the dust settled from all that, [the script for] "Get Low" was there. It was the only project I had come across that I really felt something for, the story really spoke to me.
I like how the screenplay told the story of a man whose life had been altered by a tremendous loss early in his life and it struck me that in many ways, all of our lives are accumulations of all of our past and we are now because of what happened in our past and I found it fascinating that this guy had chosen a life of isolation as a result of this tragedy. I thought that was something everybody could identify with. We all walk around with these events that fundamentally change our lives, but what I really loved about the story is he recognizes it and makes an effort to reconcile it. Plus, at the time I was attached, Robert Duvall had expressed interest and I thought I can't possibly pass up the opportunity to develop a script and a project worthy of Robert Duvall and work with him.
Dean Zanuck: I take a very simple approach – you know it when you read it. And when the screenplay first hit my desk in early 2002, I was first struck by its originality compared to most of the stuff that comes across your desk, so it had my attention right away. Beyond that, and the fact that it was based on an actual event, which was compelling as well, I just connected to the themes that were inherent in the story — the guilt, the reconciliation, the loss, the love — all those themes sort of connected in a way that I hadn't seen before. I couldn't really compare this movie to anything I'd either read or seen and I knew there was a great central character. Once Bobby [Duvall] became interested, each time I would get turned down along the way trying to make it, I'd just think about how I felt when I first read it and how I knew it would be good if I could ever get the money with Robert Duvall at the core.
What was the best piece of advice you received that applied to the making of this film?
AS: There was no one single piece of advice. I'd say that I used every single thing that I'd been taught, every single thing I'd learned, I put to use in making this film. The process is too complex, for me anyway, to boil it down to one jewel of information.
DZ: I was stepping into new uncharted territory with independent film. I had cut my teeth working as an executive at my dad [Richard Zanuck's] company for many years on big studio projects and produced "Road to Perdition" with him, so I had a good understanding of that world and what it took. But it's a remarkably different world than when you're out there alone. You don't have the apparatus and the muscle and all the departments behind you. As far as advice goes, and it applies to both independent and studio filmmaking, was imparted by my dad, which is just always keep an eye on the story and don't think about the one-sheet in China or how you're going to market it. Just tell a good story and people, more likely than not, will respond to it.
What was the toughest thing to overcome, whether it applies to a particular scene or the film as a whole?
AS: The toughest thing to overcome was getting the film made and financed. The shoot was great. We're all filmmakers and we've got a job to do and that's what we do best. It's never easy to make a movie, but relative to getting the film off the ground — it was a five, six-year journey getting the film financed –the tough part was hanging in there and sticking with it when there was absolutely no reason to believe it was ever going to happen.
DZ: It was clearly the film as a whole. [slight laugh] Just getting people to pay attention to a period drama in the South that doesn't have any sort of obvious foreign appeal. You've got a first-time director. You've got an older cast of characters. These are all things…I call them dirty words to financiers and people who are looking for explosions and spectacle and then you give them this – this is a very quiet, intimate piece, the kind of film that doesn't get made very often. It wasn't like the mini-majors and the usual suspects didn't think it was a good screenplay or Robert Duvall was a great actor – I think they acknowledged that. They just simply don't make these kind of movies and it was a situation where we kept hearing "Show it to us when it's done." And we realized without any foreign value, it was basically going to come down to private equity that believed in the material and wasn't looking for a goldmine, but believed in the material, believed in the people behind the material and wanted to be involved in a quality project.
Fortunately, after years of searching high and low and near and far, we came across those individuals and I always say making the movie is the reward. All the major battles are fought… the blood, sweat, and tears happen before you make the movie, not that the production of the movie is without its challenges and complications. We had a limited amount of money and a limited amount of time – we shot for $7 million in 24 days, so you have to brace yourself for what that's going to be like, but I'm telling you, once you're on a set and you look over and there's Robert Duvall and then you look next to him and there's Bill Murray and then you look next to him and there's Sissy Spacek, you figure it out. [laughs]
What's been the most memorable moment while you've traveled with the film, either at a festival or otherwise?
AS: I'd say my best memories are of probably the six months we spent in between Toronto and the release of the film where we went across the world to various film festivals – Sundance, Tribeca, Torino, Italy, Camerimage. My best memories were of sharing the film with those audiences and being a gypsy family for about eight months traveling the globe with this movie and the actors – Bill and Sissy and Robert Duvall and Lucas Black.
DZ: Listen, you're traveling to a lot of places that you've never been and that in itself is a real treat, but beyond that, having that opportunity to share your film – we're all very proud of this – with these crowds at these festivals and seeing their response and enthusiasm to it is…that's a great feeling. If you're talking about just the most outlandish, memorable "Get Low" experience, it's got to be me and Bill Murray cruising around Poland for four days and four nights. We were at a film festival there, Camerimage in Poland, Lodz and we were all over the place – at a fashion show, house parties, you name it. It was sort of an improvisational itinerary. [laughs]
What's been your favorite thing about the film that's been largely uncommented upon?
AS: I would probably say I'm proud of the crew's ability to get every single dime of our budget onscreen. I think people think we're a bigger movie than we really are. We worked really hard to make sure the movie didn't look like its budget, but of course when you succeed at that, it goes unnoticed, so I'm proud of how everybody made the movie look far more expensive than it really is.
DZ: I'm so indebted really to not only these wonderful performances, but the incredible craftsmanship. You can tell it's a film, despite its budget that there's a lot of care that went into every detail. It's obvious as far as the performances, the bigger names are always going to get the most attention, but I think someone like Bill Cobbs does a wonderful, wonderful job in his supporting role, acting opposite these screen giants, as well as Lucas [Black]. Our director also edited the film. That's something that he did in his apartment on his own basically and there's a lot of little things like that that might go unnoticed that's sort of that commitment to make this thing as good as it could be.
What's been the most gratifying thing to come out of this film for you personally?
AS: People's enjoyment of the movie, whether that's an audience member at a festival or a friend back home that's called me who's seen it or a family friend or an agent or an actor or a fellow director, producer, it doesn't matter who. The most satisfying part is hearing from somebody that they really enjoyed the movie. That's what we do it for. We're storytellers. We need an audience.
DZ: I think the feat of getting it made, but I think what was very important to me was not only getting it made – this is more personal, but doing it on my own. I have a famous father in the business who's accomplished quite a bit and he had to deal with the same thing with perhaps an even more famous father. But to actually go out and do something – I didn't lean on anybody. I figured out a way to make it just completely independent, which was something I wanted to do. It was important to me, even though I think people know my commitment to films and my reputation, when you're second position on the producing card to Richard Zanuck [laughs] and you're his son on a plum project like "Road to Perdition," people are going to assume certain things. [laughs] And it was just one of those things I had to do and fortunately it all turned out well.
What's been your favorite film, book or album from the past year?
AS: My favorite film was "Toy Story 3." I'm constantly amazed at Pixar's ability to both entertain and artfully render a story today for the maximum amount of people possible and the digital craftsmanship is…I would say, "Toy Story 3" is my most enjoyable filmgoing experience of the year.
"Get Low" is now available on DVD, Blu-ray, iTunes, and Amazon on Demand. The Spirit Awards will air on IFC on February 26th.