Your Winter Indie Film Preview: Anywhere But a Movie Theater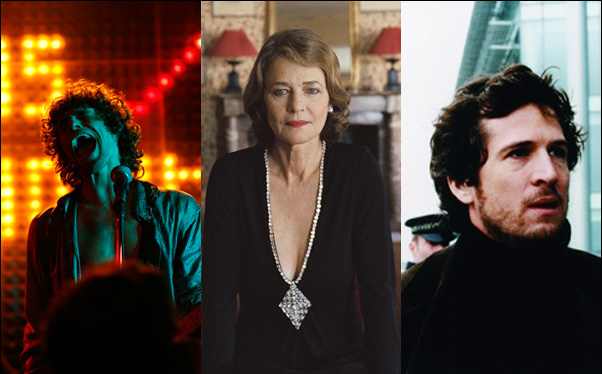 Posted by Stephen Saito on
If it's too cold to leave the house for your local theater, there's plenty of options if you stay inside online, on demand and on DVD. What follows is your guide to all the new releases coming your way between now and April.
Online and On Demand
Thanks to bids for Oscar consideration, the winter is traditionally one of the rare times foreign films get plenty of attention in the States, particularly at West Coast festivals such as Palm Springs and Santa Barbara. However, Francophiles in particular will be excited to know you won't have to go to California or New York — or even Paris for that matter — to be able to catch some of the most recent cinema from France since uniFrance is unveiling My French Film Festival, which is being billed as the "first exclusively online film festival celebrating French talent" that will run from January 14th through January 29th.
And there is a considerable amount of talent to celebrate. 2009 Cannes Critics' Week winner "Goodbye, Gary Cooper," with "The Taste of Others" star Jean-Pierre Bacri, "All About Actresses," featuring Charlotte Rampling and Karin Viard, and the thriller "Spy (ies)," starring "Tell No One" director/actor Guillaume Canet are amongst the eleven features that will be available at your fingertips, as well as new films from exciting directors lesser known in the U.S. such as Christopher Thompson ("Bus Palladium"), Léa Fehner ("Silent Voices"), Patrick Mario Bernard & Pierre Tridivic ("The Other One") and recent Cesar Award winner Riad Sattouf ("The French Kissers"). Ten short films will also be available and although films will be available individually, one will be able to stream the entire collection for under $20, which is better than trolling Amazon.fr for that region-less DVD of any one of these titles.
---
Speaking of bringing a film festival home, IFC Films' offshoot Sundance Selects is wasting no time in delivering five films straight from this year's Sundance Film Festival to their video-on-demand outlets to correspond with their premieres in Park City. These include "The Doom Generation" director Gregg Araki's sextastic and satirical thriller "Kaboom" and "Hannah Takes the Stairs" director Joe Swanberg's latest comedy "Uncle Kent" (January 21st), Paul Mariano and Kurt Norton's films-as-history documentary "These Amazing Shadows" (January 22nd), "Cocaine Angel" (and /HammertoNail mastermind) Michael Tully's backwoods family dramedy "Septien" (January 23rd), and the Australian director Brendan Fletcher's cross-generational action flick "Mad Bastards" (January 24th).
Beyond the Sundance Film Festival, Sundance Selects and IFC Films will continue to release a deluge of international hits and festival favorites throughout the winter. In just the opening week of the new year, IFC jumped into 2011 with both feet with the VOD premieres of the Natalie Portman dramedy "The Other Woman" and the VOD-exclusive IFC Midnight titles "Exorcismus," a Spanish chiller from Manuel Carballo, and "Tetsuo: The Bullet Man," Shinya Tsukamoto's third entry into his cyberpunk series. (The latter two are in English for the subtitle-weary.) But in the weeks to follow, IFC will present the acclaimed Korean thriller "The Housemaid" (January 21st), the VOD-only Hong Kong horror film "Dream Home" (February 9th), the Guy Pearce-Miranda Otto kidnapping drama "In Her Skin" (February 11), Mexican director Jorge Michel Grau's cannibal family flick "We Are What We Are" (February 23rd), Jordan Scott's debut feature, the British schoolgirl drama "Cracks" (March 18th) and Barry Blaustein's ensemble comedy "Peep World" (March 25th) with Sarah Silverman and Rainn Wilson.
Meanwhile, Sundance Selects recently launched Elia Suleiman's "The Time That Remains" on VOD, which will be followed by a slew of other critically acclaimed films hitting VOD and theaters simultaneously in the early months of 2011 including Aaron Katz's visually acoustic detective story "Cold Weather" (February 4th), Xavier Dolan's light romantic drama "Heartbeats" (February 25th), Zeina Durra's "The Imperialists Are Still Alive" (March 4th), and Abbas Kiarostami's "Certified Copy" (March 11th).
---
The good folks over at Cinetic are starting the year off right with the only film besides "The Social Network" that landed on all three of IFC.com's ten best lists in 2010 – "Dogtooth," Yorgos Lanthimos' darkly satirical look at a family that has kept their grown children confined to their home for their entire lives, will be available on VOD and iTunes beginning January 18th. Also available on iTunes that day is "Paper Man," which has Ryan Reynolds playing a superhero, only it's inside the mind of a writer (Jeff Daniels) having a mid-life crisis before he forms an unusual bond with a 17-year-old (Emma Stone) who was forced to grow up a little too quick in this dramedy. A week later on January 25th, the Chris Kattan camp comedy "Scout's Honor: Badge to the Bone" arrives on VOD, iTunes and Amazon VOD, followed by the environmental doc "2012: Time For Change" on February 15th (available on VOD, iTunes, Amazon VOD, Xbox and PlayStation) and the acclaimed musical portrait "Strange Powers: Stephin Merritt and the Magnetic Fields" on February 28th (also available on VOD, iTunes, Amazon VOD, Xbox and PlayStation). In March, FilmBuff will debut the coming out drama "A Marine Story" on March 1st (available on VOD and iTunes) and the Broken Social Scene-infused Bruce McDonald-directed rock 'n' roll romance "This Movie is Broken" on March 15th (also on VOD and iTunes).
Gravitas continues to bring indie film to homes everywhere by the boatload – between January and March, they will release over 100 films on video on demand – and not surprisingly, they roared into the new year with the VOD premieres of the Charlie Murphy-Jayma Mays comedy "Bar Starz," the Lukas Haas-Adam Scott dramedy "Who Loves the Sun?", the Lyme disease doc "Under Our Skin," Coury Deeb's plea for peace "The New Sudan," and the stoner comedy "Bad Batch" about the aftermath of a tray full of pot brownies. This week, those titles will be joined by the crime thriller "At the Sinatra Club," based on the exploits of a young John Gotti (Danny Nucci), on January 11th.
February doesn't let up with the VOD debuts of the 2009 festival fave romantic comedy "16 to Life," the Rob Schneider comedy "Chosen One," the Barbara Hershey drama "Bird Can't Fly," the Serbian zombie flick "2012: Apocalypse of the Dead," the horrific circus chiller "House of Fears," the conspiracy thriller "Zenith" and the black metal doc "Until the Light Takes Us" on February 1st. From there, there's a little something for everyone with the inspirational breast cancer awareness doc "1 A Minute," the '09 Toronto Film Fest-selected coming-of-age tale "Down for Life" with Laz Alonzo and Danny Glover, and the wilderness thriller "Bear" on February 8th, followed by the teen drama "Sex and the U.S.A.," about two girls caught between their abstinence pledge and their burgeoning sexual urges, on February 22nd.
In March, we can heartily endorse the Fantastic Fest-selected Korean drug trafficking thriller "The Man From Nowhere," which will premiere on VOD along with the romantic comedy "Amanda," on March 8th, but that's getting ahead of ourselves. On March 1st, Gravitas will unveil a wave of nonfiction titles that include the basketball doc "Fathers of the Sport," Kate Davis' acclaimed gay flashpoint doc "Stonewall Uprising," the maternity ward exposé "Pregnant in America," and "A/K/A Tommy Chong" about the comedian's stint in prison for selling bongs. Those will be accompanied on the same day by the race-against-the-clock thriller "An American Wreck," the Alfred Molina drama "The Little Traitor," the Melissa Joan Hart-Robert Guillaume road movie "Satin," and the Mindy Cohn comedy "Violet Tendencies." Gravitas will round out the month with the dual release of the Canadian sci-fi actioners "2022: Recon" and "2023 Recon: The Gauda Prime Conspiracy" on March 15th, followed by Doug Pray's great doc on ad men "Art & Copy" on March 22nd and "Janis Joplin: The Final 24 Hours" on March 29th.
---
Even though "Ong Bak 3" and Brad Anderson's latest thriller "Vanishing on 7th Street" have yet to hit theaters, they are very much available through the array of outlets that offer Magnolia's Ultra VOD from Amazon on Demand to iTunes. Starting February 4th, the Sean Bean-Eddie Redmayne period horror film "Black Death" will make its Ultra VOD premiere, followed by the eagerly awaited debut of Quentin Dupieux's Cannes sensation "Rubber" on February 25th.
---
For once, the big news regarding SnagFilms doesn't have to do with their latest acquisitions of amazing documentaries to add to their already considerable collection (though they've done that, too, just see below). No, to start the New Year, SnagFilms launched a free app for the iPad, which allows users to stream 50 of the doc site's most popular titles including Ondi Timoner's "DiG!", "Confessions of a Superhero," the James Toback doc "The Outsider," and Morgan Spurlock's "Super Size Me."
Yet of course they haven't stopped finding nonfiction gems to make available for free and between the end of January through mid-February, audiences everywhere will have no excuse not to watch Fenton Bailey and Randy Barbato's funny and heartrending 2000 biopic "The Eyes of Tammy Faye," "At the Death House Door" director Peter Gilbert's unusual climate change doc "Burning Ice" (with appearances from Robyn Hitchcock, Moby and Feist, among others), "A Small Act" director Jennifer Arnold's beloved 2001 cult doc "American Mullet," Herman Vaske's short "Digital Bomb" and 2008's "I Think We're Alone Now," Sean Donnelly's kinda creepy doc about obsessed fans of '80s pop star Tiffany (and yet so good, Matt Singer was hard-pressed to pick a favorite moment).